Resources
Interpreting Transgender Stories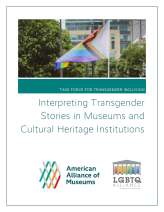 Transgender and gender-nonconforming people deserve dignified and respectful representation of their lives and communities in museums and cultural institutions. The Task Force for Transgender Inclusion developed this guide on Interpreting Transgender Stories to recognize and address the marginalization of transgender identities throughout history, and the politicization of transgender identity in the twenty-first century.
Interpreting Transgender Stories in Museums and Cultural Heritage Institutions (October 2022)
Transgender Inclusion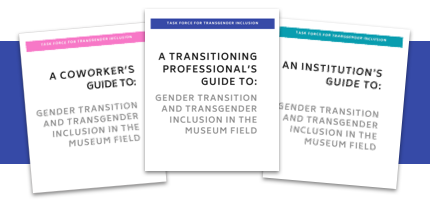 Created by the Task Force for Transgender Inclusion, the Toolkit is intended to prepare institutions, coworkers, and transgender museum professionals for gender transitions and to better implement transgender inclusion in policies and practices.
Institutions are encouraged to maintain copies of A Transitioning Professional's Guide and A Coworker's Guide in places where staff can access them discreetly. If you are a professional preparing to transition, provide your institution with An Institution's Guide and A Coworker's Guide, and use A Professional's Guide to help you plan out the process.
Even if there are no transgender individuals that you are aware of at your institution, many of the policy recommendations can be implemented ahead of time to ensure that the institution is ready for future gender transitions. A Coworker's Guide is also helpful in ensuring that staff are able to competently welcome transgender patrons and volunteers, as well as future staff members.
Please remember, every person and transition are different, so the Toolkit should be adapted for each unique situation.
A Transitioning Professional's Guide (March 2019)
An Institution's Guide (March 2019)
A Coworker's Guide (March 2019)
Welcoming Guidelines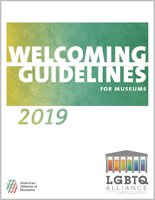 The "LGBTQ Welcoming Guidelines for Museums" outline preferred practices for museums to use when working with LGBTQ professionals, audiences, and communities. The guidelines reflect our belief that museums are community anchors where visitors and staff should safely encounter and find meaning in various cultures, objects, people, and ideas. Sexual orientation and gender identity are threads in the vibrant tapestry of any community. Museums benefit from interweaving or even highlighting those threads, among many others, in our work.
LGBTQ Alliance Offers Welcoming Guidelines for Museums (May 2019)
The Latest from the LGBTQ+ Alliance
Task Force Tackles Dearth of Resources for Transgender Museum Professionals (November 2018)
Members Speak Out Against Withdrawal of Title IX Transgender Protections (March 2017)
On February 22, the Trump administration rescinded guidelines issued under Title IX of the Education Amendments of 1972 by the Obama administration last year that sought to protect transgender students in schools and colleges from discrimination, including allowing them to use bathrooms and facilities corresponding with their gender identity.
Joint Statement on Orlando Assault of LGTBQ and Latino Communities (June 2016)