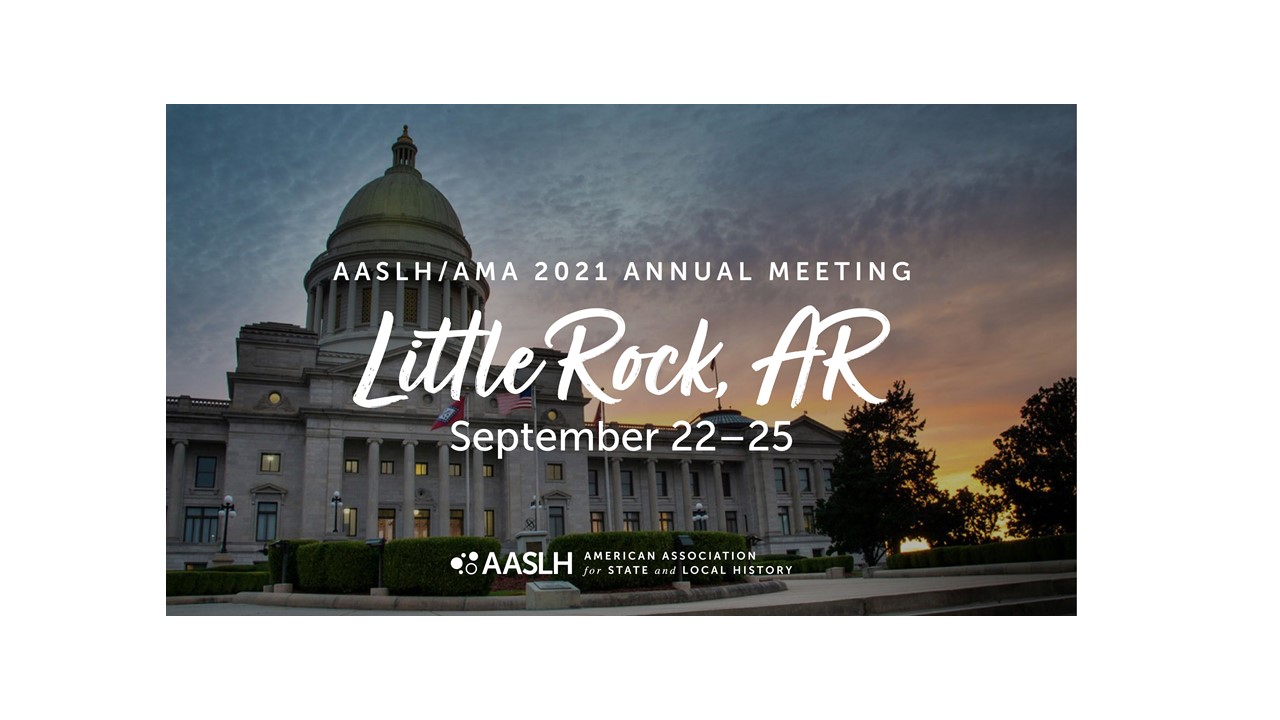 Event Information
Date(s):

Thursday, September 23, 2021 - Saturday, September 25, 2021

Time:

9:00 am to 5:00 pm Eastern Time

Location:

Statehouse Convention Center and the Little Rock Marriott
The AASLH Program Chair, Michelle Moon, the 2021 Program and Host Committees, and AASLH staff are working to turn the Annual Meeting in Little Rock into a transformative experience. Every attendee will have the opportunity to be a true participant in a rich offering of workshops, tours, in-depth discussions, hands-on experiences, and social events. Days spent onsite with colleagues will include additional plenary events and more shared experiences inside and out of the conference program. Attendees will also be encouraged to visit history institutions and sites in the Little Rock area with colleagues or on their own and to participate in workshops and tours that maximize the history, culture, and places of the host city.
What's New?
Starting with this annual meeting in Little Rock, we begin an experiment to craft a more personal, retreat-like conference. We encourage each person to step beyond the observer mode of being an audience member or attendee and to use this chance to really engage with colleagues from across the country. This new, more participatory venture in Little Rock complements the AASLH Online Conference, which will take place a few weeks later, in October, and allow hundreds of history professionals share stories, strategies, and expertise virtually.
We encourage your full participation in the Little Rock sessions, workshops, and tours outlined in this program and hope you will try the in-depth discussions, hands-on experiences, and social events we have planned. Each session type is categorized so that you can see the level of participation it involves. We have created more plenary sessions for this onsite conference, bringing everyone together for a shared experience. We also encourage you to visit history institutions and cultural sites in the area and to participate in workshops and tours that accentuate the history, culture, and sense of place of this capital city. In addition, we have placed throughout the program times when there will be an opportunity to get out and explore on your own or in an informal group. Program and Host committee members, and the staff, have striven to make this conference unique to Little Rock and to the theme, Doing History/Doing Justice.
Our Partner, Arkansas Museums Association
AASLH is pleased to partner with the Arkansas Museums Association (AMA) for the 2021 conference. The Arkansas Museums Association (AMA) is an organization of museums and museum personnel dedicated to the promotion of professional standards in Arkansas museums, the encouragement of interaction between members and the development of public support for and interest in Arkansas Museums.
Keynote Speaker Meals
This year, our keynotes will include a meal. We will have breakfast with Dr. Hasan Kwame Jeffries on Thursday, September 23, and lunch with Dr. Rhonda Y. Williams on Friday, September 24. These meals are included in your meeting registration.
Make plans now to join us in Little Rock this fall. The early bird registration deadline is August 6. Don't miss out on this amazing time with your colleagues.
The statements and opinions expressed by panelists, hosts, attendees, or other participants of this event are their own and do not necessarily reflect the opinions of, nor are endorsed by, the American Alliance of Museums.
While I'm compiling my fantasy guest blog list to build out the themes of …
Last month we asked readers of our Field Notes newsletter to share their shoutouts for …