Corporate Partnerships
Partner with AAM
Connect with nearly 35,000 individuals and museums through a variety of sponsorship opportunities to help promote your corporate brand within the museum industry. When every dollar counts, you can rely on a partnership with AAM to yield results. Sponsorship opportunities support initiatives that foster excellence across all areas of museum operations and unify those serving in the field.
AAM's Annual Meeting & MuseumExpo
The AAM Annual Meeting & MuseumExpo is the largest gathering of museum professionals in the world, with 5,000+ attendees from more than 50 countries. To learn more, review sponsorship opportunities and the list of 2019 sponsors.
---
Advocacy: Speak up for Museums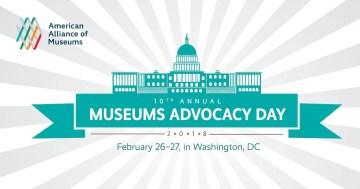 Support the field's annual Museums Advocacy Day on Capitol Hill, where hundreds of advocates gather to bring a unified message to Congress about why museums are essential. View the list of 2019 Museums Advocacy Day Supporters.
---
TrendsWatch Report
The Center for the Future of Museums produces the most consumed programs, products and services in AAM's portfolio, including the annual TrendsWatch report. CFM equips museums to address the challenges of coming decades by exploring the rapidly changing economic, cultural, ecological, political and technological landscape.
To learn more about partnership opportunities and customized options, please contact Eileen Goldspiel.