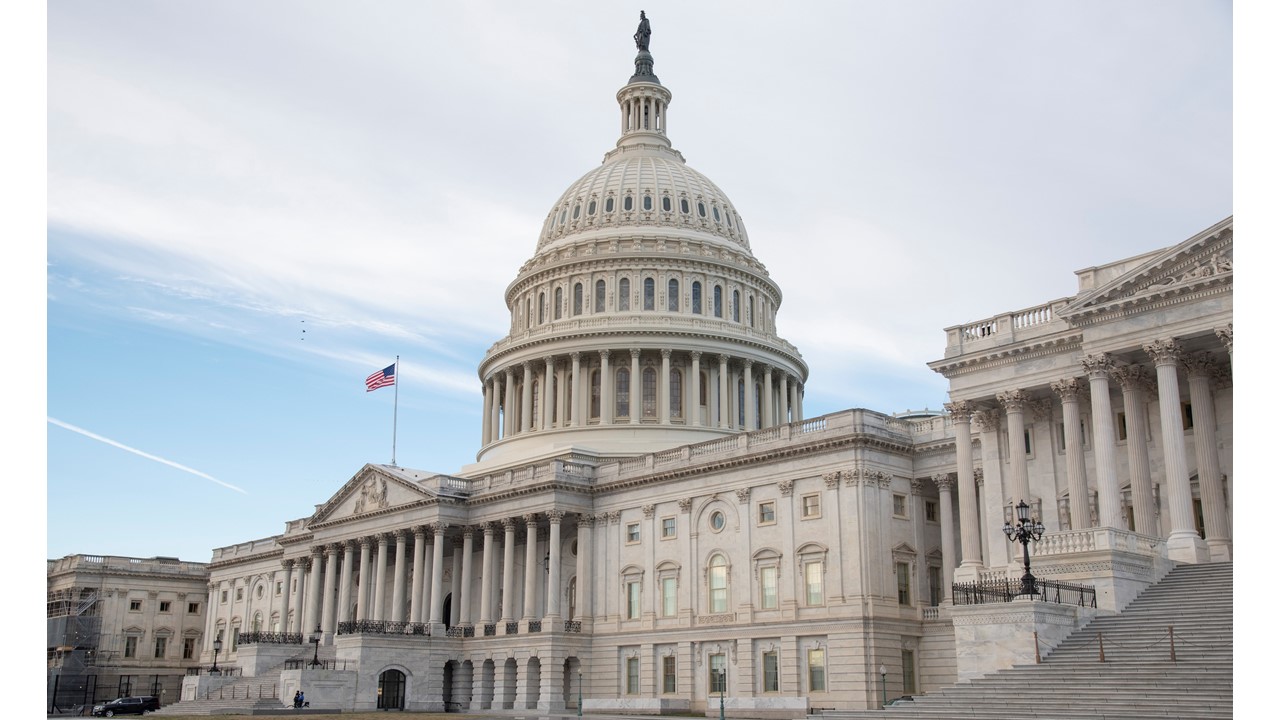 Advocacy
Museums of all kinds are critical educational, cultural, and scientific institutions in our society, but the value of our work is not always fully understood. The American Alliance of Museums helps museums tell the stories of their important activities and contributions and promotes a deeper understanding of museums with policymakers, the press, and the public.
February 26-27, 2024
Washington, D.C.
At Museums Advocacy Day 2024 and throughout the year, you have the power to help create lasting change that can sustain museums and museum jobs into the future. Stakes will be high this coming election year and we must continue to share our data and stories if we are to secure continued and future support for museums from Congress.
Learn more and register today.
Alliance Advocacy for Museums
There's never been a more critical time to advocate for museums and your role in the field. The Alliance has been working hard to advocate for the museum field and provide you the resources needed to let your legislators know the impact the pandemic has had on you and your museum, and how museums and museum professionals are continuing to serve their communities. During this time more than 65,000 messages have been sent to Congress over the Alliance's online advocacy tools – messages that continue to be critical to securing important funding and resources for museums. Use the information and links below to learn more about the Alliance's advocacy for museums and ways you can advocate today.
Alliance Advocacy Alerts
Museums Advocacy Day 2023 Materials
Museums Advocacy Day 2023 took place Feb. 27-28 in Washington, D.C.
Additional Resources, Guides, and Data
More Ways to Speak up for Museums Now:
Also Available:
Ways to Advocate Today
Your voice matters. Members of Congress carefully consider input from their constituents when making policy decisions and casting votes. See recent calls-to-action and stay up-to-date on opportunities to weigh-in with your federal legislators. Sign up for Alliance Advocacy Alerts.
The Alliance closely monitors a variety of legislative and policy issues that affect museums. See our Issue Briefs, testimony and related materials on key issues affecting museums, including funding for grantmaking federal agencies, tax incentives for charitable giving and education policy.
This is a critical and valuable time to let your federal legislators know about the work you are doing in the community and the ways you can be a resource to them. Start with our template and personalize to share additional information about your work or your museum. It takes just a few clicks to make that first important contact.
Museums Advocacy Day, in Washington, D.C., is a unique opportunity to join with other museum professionals and supporters to make the case for museums. A new Congress has convened, facing an enormous list of timely policy debates, including support for museums. Together as a field we've defeated several threats to eliminate or de-fund federal agencies supporting museums, but we must keep making our case.
The Alliance offers a wide variety of resources for building your own advocacy skills, learning about Congress, making your case effectively, and getting involved in advocacy for museums.
Download and Share Critical Data
Museums as Economic Engines: Did you know that the total economic contribution of museums in 2016 amounted to more than $50 billion in GDP, 726,200 jobs, and $12 billion in taxes to local, state, and federal governments? Get the full, free report and download the your state's infographic.
Museums & Public Opinion: National public opinion polling shows that Americans overwhelmingly appreciate and recognize the work of museums as educational and economic assets to their communities. Even more, Americans broadly support federal funding of museums and approve of lawmakers who take action to support them. The data speaks clearly, Americans value the museums in their communities.
Museum Facts and Data: See and share key facts about museums' economic impact and how they support and partner with schools and serve their communities.
Stand for your Mission: Engage Your Board in Advocacy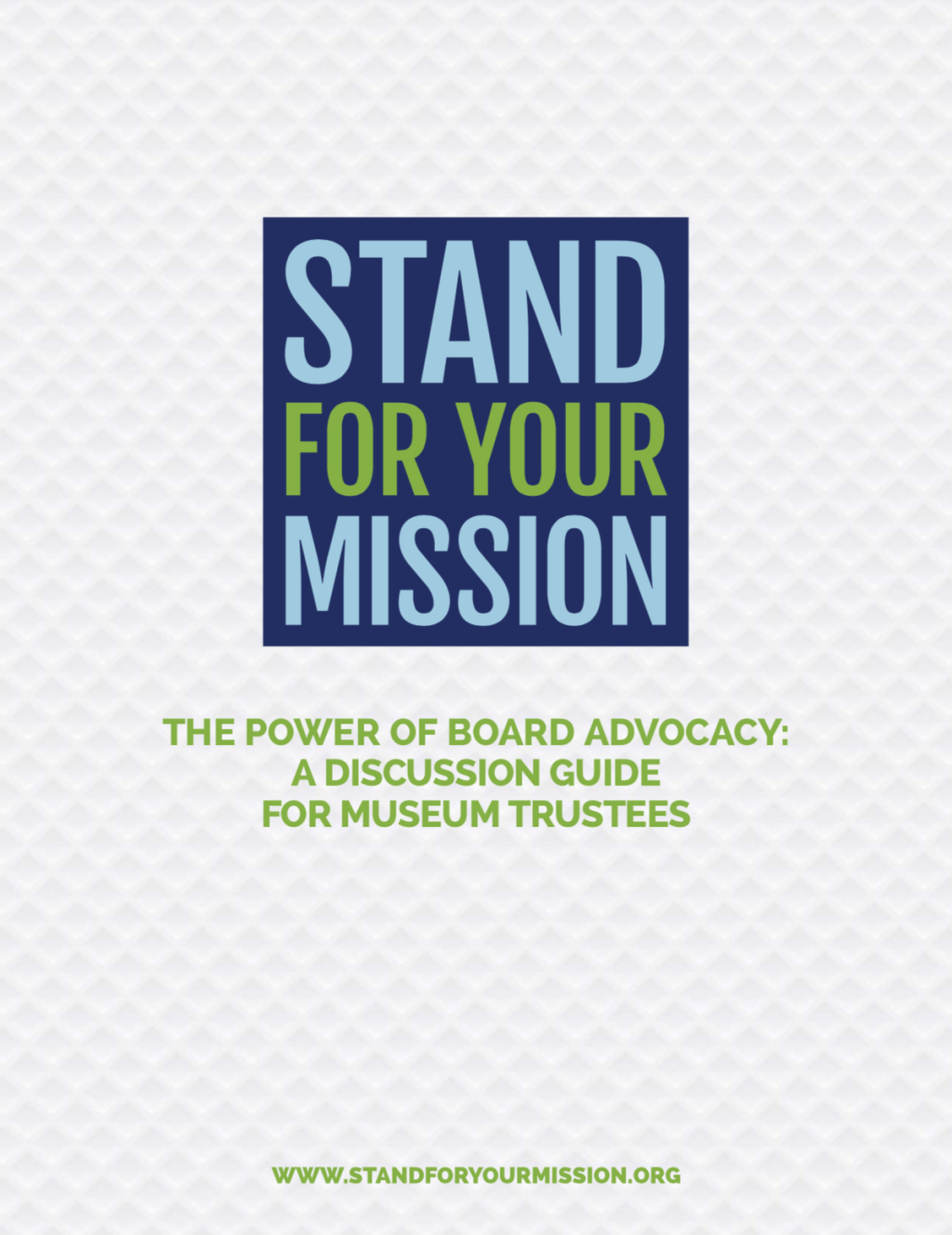 Download our report and discussion guide on how your museum and trustees can be more effective at integrating advocacy into the work of your board. Download your copy of Stand for Your Mission now.
And visit our Trustee Resource Center for additional information about working with your museum's trustees.
Advocacy Alert – November 17, 2023 In this Alliance Advocacy Alert: FY 2024 Funding for Museums: A Critical Time to Contact Congress in Support of OMS Registration Now Open: Museums …