The news for museums is excellent. National public opinion polling shows that Americans overwhelmingly appreciate and recognize the work of museums as educational and economic assets to their communities. Even more, Americans broadly support federal funding of museums and approve of lawmakers who take action to support them. Whether young or old, conservative or liberal, or a museum-goer or not, the data speaks clearly. Americans value the museums in their communities.
About the Report
This report summarizes a study conducted by AAM and Susie Wilkening and fielded by the opinion polling agency, Ipsos. The team was interested in exploring how the American Public feels about several key questions concerning museums.
Are museums educational for children and adults in their communities?
Do you think that museums contribute to their community's economy?
If an elected official took legislative action to support museums in your community, how would that affect your opinion of them?
Should federal funding for museums be increased, stay the same, decreased, or reduced to zero?
More than 2,000 responses were collected from every part of the US along with information about age, income, politics, and whether respondents visit museums or not.
Highlights and Findings
The results are compelling and overwhelmingly supportive for museums.  Download the free report to get all the details.
97% of Americans believe that museums are educational assets for their communities
89% believe that museums contribute important economic benefits to their community
96% would approve of elected officials who took legislative action to support museums
96% want federal funding for museums maintained or increased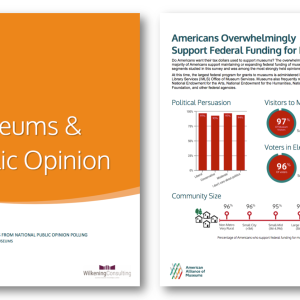 The report concisely summarizes the findings of the study and provides single page tear-outs to use as leave behinds as you work with your board, elected officials, or community stakeholders.
Museums & Public Opinion is produced as a companion study to accompany AAM's Museums as Economic Engines survey and study of the economic impact of US museums.  Please download both and use them in your advocacy efforts. Don't miss out on the national and state-by-state infographics of economic impact as well.
Download the Report