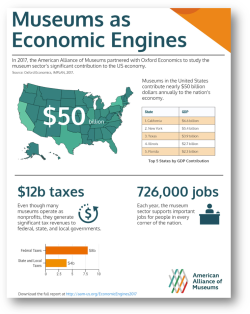 While the Museums as Economic Engines – Full Report gives you all the detail you'll need to understand the facts of museums' economic contributions, sometimes you'll only have just a few minutes to communicate how museums contribute job, value, and tax revenues.
To help out, we've created a series of one-page infographics that contain all the key facts in an at-a-glance format.  These are great discussion starters and leave behinds intended to support your advocacy efforts.
Download the Economic Engines – National Infographic now! (PDF)
We also know that local data is often the most compelling. That's way we've created state-by-state infographics for each state in the US. These one-pages are really valuable when communicating with stakeholders and lawmakers from your local community.
Use the dropdown menu to select your state and then download!