Advocate from Anywhere
You don't have to be in Washington, D.C. to make the case for museums. Your voice matters wherever you are advocating from. Use the advocacy tools below to join the cause and speak up for museums during Museums Advocacy Day and throughout the year.
COVID-19 Advocacy for Museums
There's never been a more critical time to advocate for museums and your role in the field. The Alliance has been working hard to advocate for the museum field, and provide you the resources needed to let your legislators know the impact the pandemic has had on you and your museum, and how museums continued to serve their communities even when closed. During this time more than 62,000 messages have been sent to Congress over the Alliance's online advocacy tools – messages that continue to be critical to securing support for museums. Learn more about about ways you can advocate today.
Take Action: Contact and Connect with Congress
Throughout the year Congress considers many legislative issues affecting museums. Our template messages make communicating with your legislators easy. The templates include key issue information. You can personalize and send messages to your legislators with just a few clicks.
Also download your copy of the AAM Guide to Working with a New Congress!
Invite Congress to Visit Your Museum
There's never been a more important time to engage with the elected officials and stakeholders that represent you and your museum. Our updated Invite Congress to Visit Your Museum materials – including information on participating in and hosting virtual events and telephone meetings – make it easy for museums of all types and sizes to participate and connect with your elected officials each summer and throughout the year. Don't forget to use #InviteCongress on social media!
Download and Share Critical Data
In February the Alliance released the results of our most recent snapshot of the impact of the COVID-19 pandemic on US museums. We launched this series of surveys in June 2020 (see July 2020, November 2020, and June 2021 snapshots), a little over 3 months after the World Health Organization declared that the novel coronavirus constituted a global pandemic. At that point virtually all museums were closed to the public and one-third of directors felt their organizations were at some risk of permanent closure. The newest data reveals both the first signs of recovery, for at least part of the sector, but also signals of deep and continued damage.
National public opinion polling shows that Americans overwhelmingly appreciate and recognize the work of museums as educational and economic assets to their communities. Even more, Americans broadly support federal funding of museums and approve of lawmakers who take action to support them. The data speaks clearly, Americans value the museums in their communities.
Alliance Advocacy Alerts
Your voice matters. Members of Congress carefully consider input from their constituents when making policy decisions and casting votes. See recent calls-to-action and stay up-to-date on opportunities to weigh-in with your federal legislators. Email us to sign up for Alliance Advocacy Alerts.
Alliance Policy Issues
The Alliance closely tracks several legislative and policy issues affecting museums—including funding for grant-making federal agencies, tax incentives for charitable giving and education policy. See the Issue Briefs (PDFs) and related information below for a detailed look at these priorities and how policymakers can advance them, then contact your legislators to speak up for museums!
Nonprofit Voter Resources
The Alliance shares these materials providing answers to frequently asked questions about how nonprofits, including museums, and their staff and leadership can participate in advocacy and lobbying, nonpartisan election activity and voter engagement.
Build Your Advocacy Skills
We offer a deep bench of advocacy resources and tools to make it easy for you to join the cause and make the case for your museum and the cause of museums, no matter your current position or advocacy experience level. Get started today.
Engage Your Board in Advocacy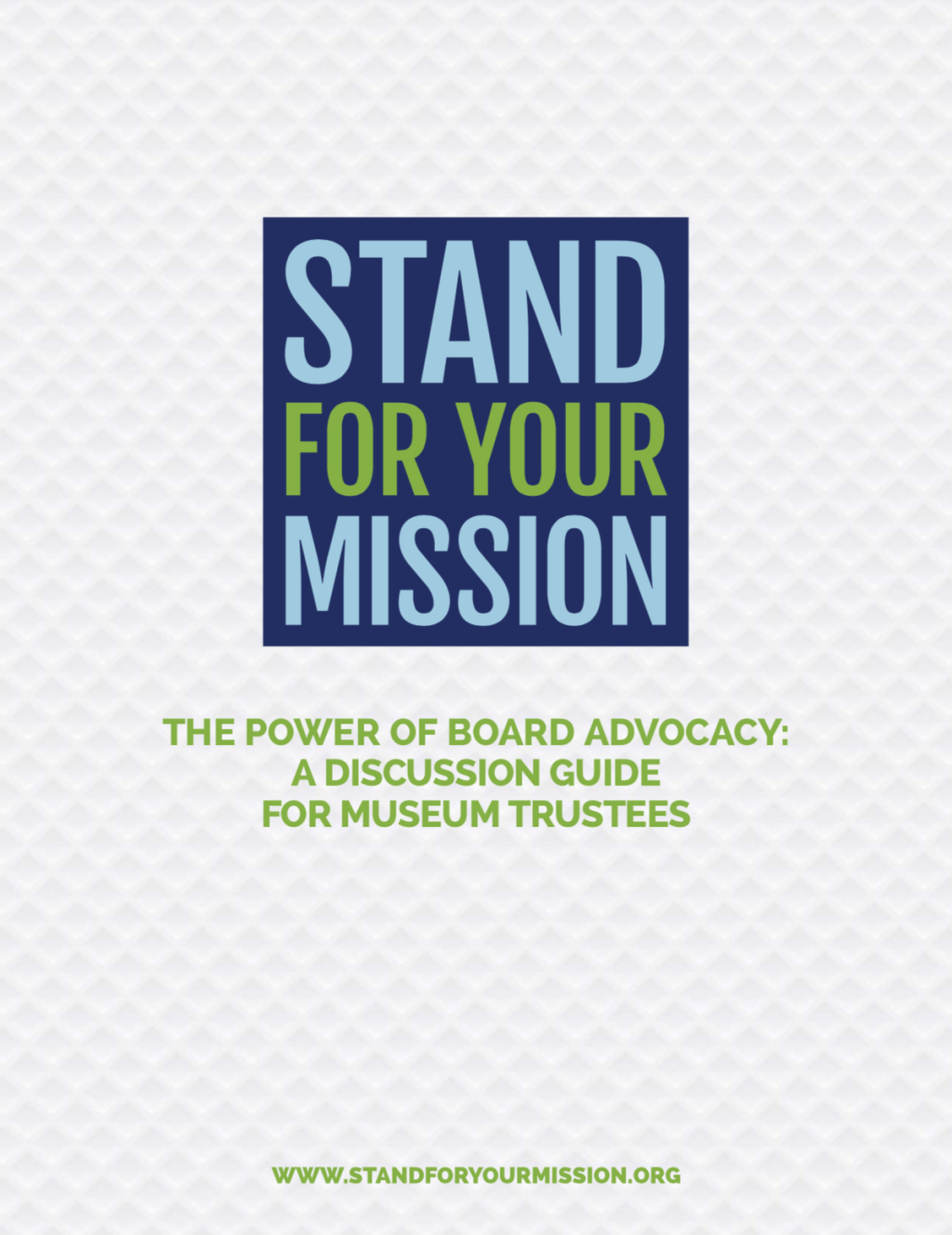 Download our report and discussion guide on how your museum and trustees can be more effective at integrating advocacy into the work of your board. Download your copy of Stand for Your Mission now. Learn more about the role your board can play and visit our Trustee Resource Center for additional information about working with your museum's trustees.
Museums Advocacy Day Videos – Get Inspired!
See and share these short videos to get inspiration for Museums Advocacy Day and year-round advocacy for museums.
Learn more about Museums Advocacy Day and get the Advocate Materials.
Speak Up for Museums on Social Media
Looking for ways to share about Museums Advocacy Day in your communications or social media posts? Check out these Digital Engagement Kits:
If you're looking to share or join the conversation on social media throughout your participation in Museums Advocacy Day 2022 and beyond, check out these resources and tips:
Tag us in your posts! Twitter: @aamers | Instagram @aamersofficial | Facebook or LinkedIn: American Alliance of Museums