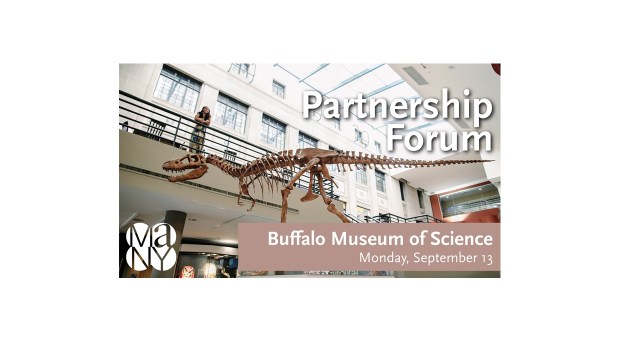 Event Information
Date(s):

Monday, September 13, 2021

Time:

10:00 am to 4:00 pm Eastern Time

Location:

Buffalo Museum of Science

1020 Humboldt Pkwy
Buffalo, NY, 14211
In this multi-presentation forum, museum professionals will have the opportunity to learn from leaders in the field and spend valuable time with colleagues in small group settings.
Western NY Partnership Forum
Buffalo Museum of Science
Monday, September 13
10 AM – 4 PM
Sessions
Museums and Universities in Partnership
Presenters:
Becky Wehle, President & CEO, Genesee Country Village & Museum
Juilee Decker, PhD, Associate Professor, Rochester Institute of Technology
Peter Wisbey, Curator of Collections, Genesee Country Village & Museum
Description:
Genesee Country Village & Museum and Rochester Institute of Technology might seem like an unlikely pairing, but they have forged a mutually beneficial partnership that encourages collaboration to develop tangible skills and undertake projects that have scholarly research and long-term benefits. Learn more about this unique partnership from faculty, staff, and students involved.
Lavada Nahon, Interpreter of African American History, New York State Office of Parks, Recreation and Historic Preservation
William Sweitzer, Marketing Director, NYS Canal Corporation
David Brooks, Education Director, Schoharie Crossing State Historic Site
Registration:
MANY Members $25
Non-members $30
Registration includes lunch and museum admission.
Schedule is subject to change. Forum is limited to 30 people. Advance registration required.
Partnership Forums are sponsored by the New York State Council on the Arts, Humanities New York, Aria Strategies, Erie Canalway National Heritage Corridor, NYS Canal Corporation, and the New York Council of Nonprofits.
Click Here to Register
The statements and opinions expressed by panelists, hosts, attendees, or other participants of this event are their own and do not necessarily reflect the opinions of, nor are endorsed by, the American Alliance of Museums.
CFM has explored museum applications of artificial intelligence (AI) since 2017, notably …
For Immediate Release Arlington, VA – The American Alliance of Museums (AAM), the only …
The American Alliance of Museums offers the following information from Violet Rose Arma, …