Support the Alliance Scholarship Program on Giving Tuesday

This Giving Tuesday (December 3) you can help the next generation of museum leaders—especially people of color, members of the LGBTQ community, and other underrepresented populations—break into the field, gain experience, and jump-start the career of their dreams.
By supporting the Alliance Scholarship Program, you will be giving rising museum professionals access to the skill-building sessions and invaluable networking opportunities available at the 2020 AAM Annual Meeting & MuseumExpo in San Francisco. The knowledge and connections they make there will prepare them for a lifetime of leadership.
Think of the impact on these individuals and the field. For museums to be truly inclusive they must have leadership with diverse perspectives that reflects the communities they serve. The Alliance Scholarship Program creates opportunities for future leaders to become inspired, ambitious, empowered, and confident.
You can help make this a reality and help us advance the careers of these scholars, making museums—and the world—better.
Meet four AAM Scholarship recipients from 1997, 2005, and 2018 and read more about the impact of the scholarship from alumni James Burns and Jeanine Pollard!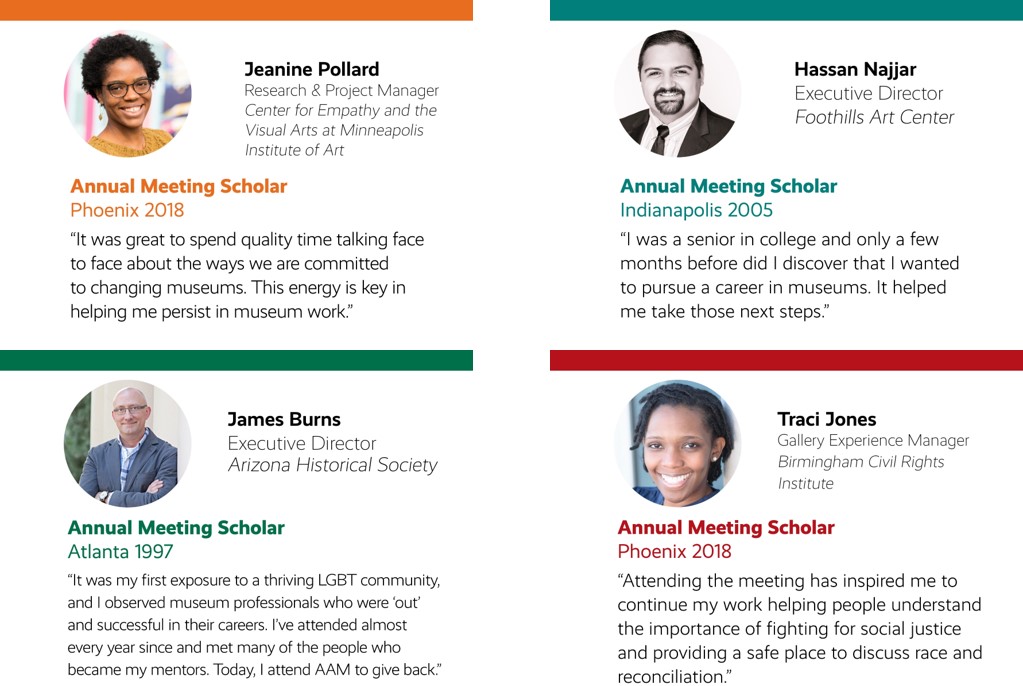 100% of donations on Giving Tuesday will be directed to the Alliance Scholarship Program.
AAM is a 501(c)3 and all gifts are tax-deductible according to the extent of the law. Our tax identification number is EIN 53-0205889. Thank you!
We recently had a chat with Jeanine Pollard, Research & Project Manager at the Center for Empathy and the Visual Arts, Minneapolis Institute of Art, who was awarded an AAM scholarship …
We recently had a chat with James Burns, Executive Director of the Arizona Historical Society, who was awarded an AAM scholarship all the way back in 1997. Here he talks about how that …