My mind is still reeling from the boffo lecture Gregory Rodriguez delivered for the Center for the Future of Museums Wednesday night at the Embassy of Canada here in Washington, DC. It is going to take some time to process all these thoughts as we race to prepare a discussion guide for the webcast of the lecture on January 27, 2010, at 2 pm EST. (Stay tuned for instructions on how to register.)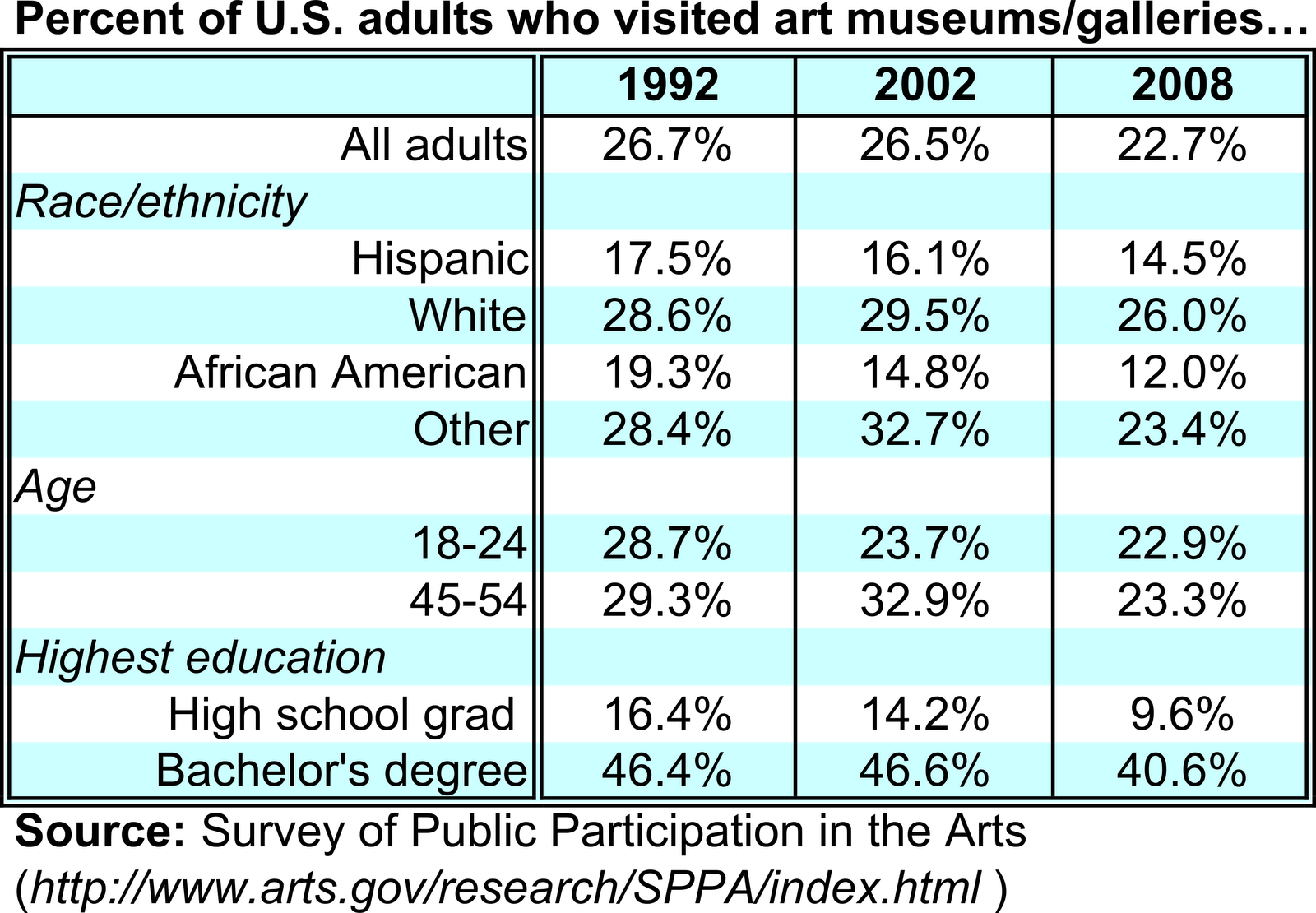 Gregory's talk,Towards a New Mainstream?, explored the future of museums in a majority-minority nation. It is particularly timely given the release yesterday of the NEA's 2008 Survey of Public Participation in the Arts. This report documents a drop in nearly every kind of arts participation —including a drop in the percentage of adults who visit art museums/galleries each year (from 26.5% in 2002 to 22.7% in 2008). The underlying factors for this decline are complex, but the role of Boomers is especially important: as they get older, they are participating less in the arts – while the generation behind them is participating at lower rates than the Boomers did at the same age.
Latinos are the fastest growing segment of the population, and the NEA reports that Latin music concerts are doing better than most other musical events, "attracting larger groups of young audiences, including adults at lower education and income levels." Are culturally-specific patterns of arts participation of concern to museums? The report notes that 15% of Hispanic adults reported visiting an art museum in the previous year, compared to 26% of non-Hispanic whites. (African Americans visited less often than whites or Hispanics.) But Gregory spent some time pushing the audience to go beyond the facile conclusion that Salsa concerts and annual Day of the Dead exhibits are the answer to diversifying museum attendance.
I'm not going to go further into Gregory's' comments—you will have a chance to hear them for yourself during the webcast. I do want to share some of the things that surfaced as he probed my brain while preparing for the talk. Rodriguez is a journalist and a scholar. He freely admits to knowing nothing in particular about museums (though his conversation suggests that he's no stranger to culture—high, low or in-between). This made our conversations particularly interesting—as some science fiction luminary pointed out, in encounters with alien cultures, you find out more about yourself than you do about them. And I certainly count Gregory (as a journalist and a Californian) as alien to my usual world!
Skip over related stories to continue reading article
One question Gregory posed bluntly went to the heart of the subject he was asked to address—i.e., the challenges facing museums in an increasingly diverse society. "Is this really a problem for society?" he asked, "and is it really a problem for museums?" My answer was "no and yes."
No, the imminent status of the US as a majority minority nation isn't a problem. It's a fact—and a neutral one at that. I don't subscribe to the notion that an American society without a dominant ethnic group will fragment our culture or undermine our political system. (Here I'm straying onto Gregory's turf. He addressed at some length the fact that assimilation, in a good sense, is something that America does well and will probably continue to do well in the future.) And in fact "majority minority" may be an ephemeral concept. It is quite possible that we are on the cusp of a truly blended society. An increasing number of our fellow Americans either identify themselves as being of mixed heritage or refuse to categorize themselves at all, at least not in terms of race or ethnicity. And individuals increasingly pick and choose which traditions—cultural or religious—they want to incorporate into their lives, whether or not the traditions are part of their ethnic or family heritage. I myself, grandchild of Russian Jews and flinty New England whalers, choose to celebrate the Day of the Dead because it has personal meaning for me.
Whether the increasing demographic diversity of the US is a problem for museums depends on which museums over what time frame. I think it will be a big problem for many institutions, now and in the coming few decades. Reach Advisors has documented a gap between the composition of the US population (1/3 minority trending to majority minority in a few decades) and the core museum-going audience (1/10 minority with no sign of budging). Those trend lines collide in a very ugly way. And the problem isn't simply attendance (though we often focus on that); it is also whether those who control resources (legislators, philanthropists, corporate donors) see museums as serving the needs of an increasingly specific, historically-privileged segment of society rather than the community and society as a whole.
For culturally-specific museums, the cultural blending I cite above may be an even greater threat, if their existence depends on an audience that strongly self-identifies with that specific cultural designation. Already, here in the nation's capital, I hear debate about how many more culturally-specific museums will be created within the Smithsonian, and whether at some point it would not be better to integrate all these stories into "American History" rather than isolating them in silos.
I hope listening to and discussing Gregory's lecture will send your thoughts spinning in interesting directions as well. Keep an eye on the CFM website as we post essays and links to related material in the weeks leading up to the webcast. And think about what interesting group of people, inside our outside your museum and community, you might assemble to view the lecture and discuss the issues it explores.