This week's guest blogger is Silvia Liu, speaking as a representative of future museum founders/directors. Silvia has visited numerous museums in four countries. When she was four years old she collected a dead baby turtle while on a walk with her grandmother. That afternoon she declared that she wanted to have a natural history museum in her home. A year later, with help from her parents, Silvia installed her ever-growing collection of bones, shells, and flora in a corner of her family's basement. Silvia gives guided tours of her museum, which she calls "Silvia's Nature Museum", to any visitor willing to sign the guest book. Recently, Silvia decided to add a small gift shop to her museum that she keeps stocked with merchandise that she has made herself.

Silvia was interviewed by her parents at their home in Lawrence, Kansas.

Interviewer: What is it about museums that you enjoy the most?
Silvia: Fossils and dinosaur bones and lots of fun things to do and gift shops!
Interviewer: What is your favorite kind of museum?
Skip over related stories to continue reading article
Silvia: Now let me think, natural history!
Interviewer: What is your favorite part about visiting natural history museums?
Silvia: [Getting] to see bones and fossils
Interviewer: What makes you want to spend time in a museum?
Silvia: Looking at things…if they are not too scary.
Interviewer: What do you think museums will be like in the future, when you are grown up and living in your own house?
Silvia: Bigger. And maybe they'll find some dragonfly fossils.
Interviewer: What else do you think there will be in museums in the future? I know it is kind of hard to imagine what it will be like when you are all grown up.
Silvia: I think they'll still have computers, but they won't be old fashioned – like power cords that look like rope (cloth-covered).
Interviewer: Do you think there will be iPods?
Silvia: Of course there will be. Giant iPods.
Interviewer: If there were giant iPods at the museum, would that make you want to go there?
Silvia: Yes, if they were at an art museum. It would be an iPod that they could put pictures of art on so that people could touch it and look at pictures of the art that they have in the museum on it. So it helps the people find the art, you know, like a map.
Interviewer: Did you know that they're called iPads? They have a special name. What do you think the museum will be doing with iPads?
Silvia: Using them for frames, like showing the art on them. I would like to see it if there was like a painting on the screen, using the iPad as a frame. If it is not too interesting, I wouldn't want to see it again. If I like the museum a lot, I would want to go there again.
Interviewer: What will other museums be like in the future?
Silvia: Like the museum in Canada?
Interviewer: The ROM (Royal Ontario Museum)?
Silvia: Yeah. They'll have more fossils, if they find them.
Interviewer: Who are they?
Silvia: The paleontologists.
Interviewer: What type of fossils?
Silvia: Dinosaur bone fossils.
Interviewer: What else will they add to that museum?
Silvia: Cool rocks, like volcano rocks. Volcano rocks covered in dirt.
Interviewer: What do you think will be the most popular type of museum in the future?
Silvia: Natural history museums, because I like them the most. I love natural history museums.
Interviewer: Why do you like museums natural history museums the most?
Silvia: Because I like being scared a little bit, but I don't like being scared too much. Fossils are awesome.
Interviewer: Will museums that have fossils have art in them too?
Silvia: Maybe.
Interviewer: In the future, do you think there will be more museums that have both fossils and art?
Silvia: No. But, what if there was a silly museum with dinosaur bones, pterodactyls, hanging from the ceiling holding picture frames! That would be awesome! And the gift shop could have little models of it.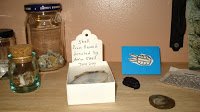 Gentle readers—did you have your own museum when you were a kid? (I did! With accession numbers and everything…) Are your children or grandchildren curating their own collections now? This is our next generation of colleagues, and I would love to hear about their museums. How old is/was the founder? What is/was in the museum? Share your stories here, in comments to the blog; and upload photos to the CFM Flickr group (where you can also find more photos of Silvia's Nature Museum).