….to respond to Elizabeth Merritt's "Call to Action" issued in Museum related to the CFM's Demographic Transformation report?
Apparently, 40 is a good start.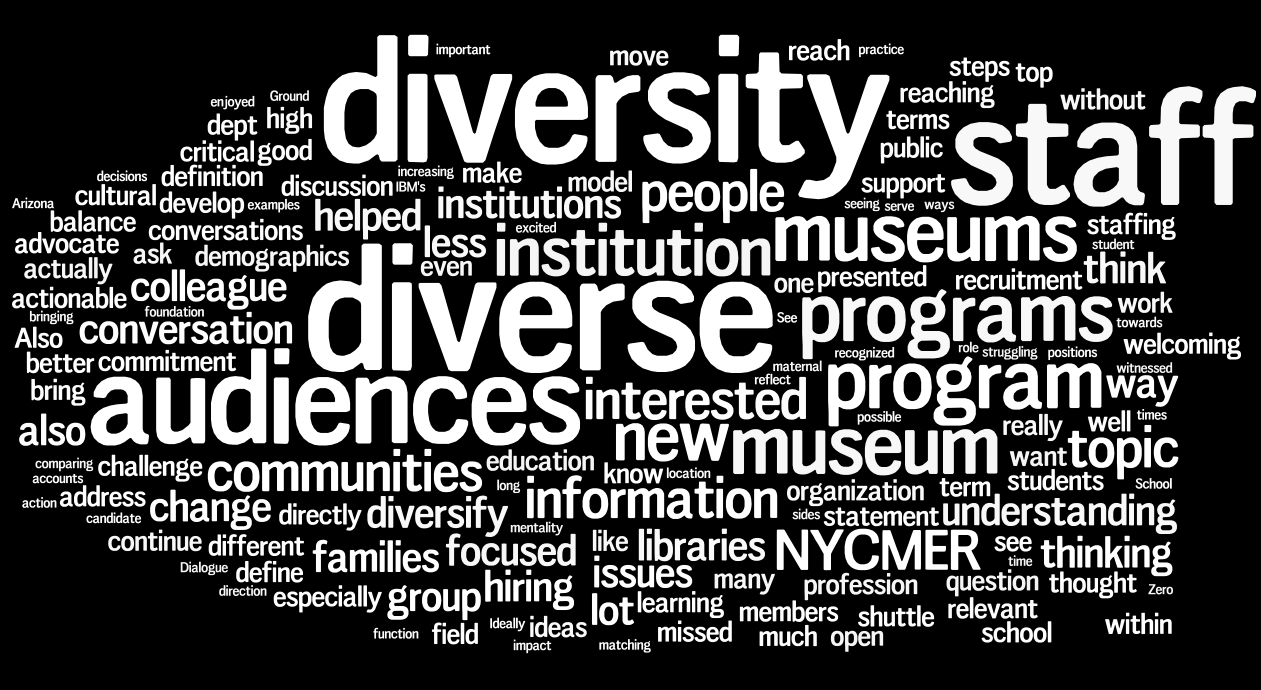 Word cloud of participants' responses to the question "What lingering thoughts, questions and ideas do you have after this program?"

New York City Museum Educators Roundtable (NYCMER) recently convened an afternoon program for its members and colleagues on the topic. Cathleen Wiggins (director, Leadership in the Arts Programs, Bank Street College) moderated a roundtable discussion with:

In our short two hours together, from a range of personal perspectives, job responsibilities, and seniority levels, we just scratched the surface. Below are some lingering questions and ideas that came from the program participants and panelists. We extend sincere thanks to Cathleen, Barbara, Edwina and Lauren for sharing their experiences and kick-starting the discussion.
Skip over related stories to continue reading article
We discussed the "d" word
We were going to challenge ourselves to write this post without actually using the word "diversity," but that's an exercise for another time.
In our discussion, the panelists and NYCMER members brought up race, gender, ethnicity, sexuality, ability, income and education levels, and skill set or discipline. We spoke of diversity in museum audiences, staffing, and programs. We agreed that word, "diversity," gets slung around a lot—coded favorably, coded unfavorably. Shorthand is good, but so is clarity—we were far from arriving at a working definition, but clearly there is a need for one.
We identified barriers to diversity

Desire to preserve status quo rather than embrace new audiences

The fact that non-profit organizations are not required to publicly share diversity statements. We wondered if this could be a part of accreditation?

The time it takes to chip away at the us/them mentality; each person brings their own perspective from their membership in a minority and/or majority group.
AAM and Diversity
Barbara Cohen-Straytner brought us up to speed on history and activities of the AAM Diversity Committee.
We brainstormed questions and further actions
Broaden audience

Invite community members to co-create or run programs.

Be relevant. What roles can museums play in advocating for equality in society at large? How do we respond to current issues like Arizona's SB1070 and the Islamic center at Ground Zero?

• Conduct focus groups to find out why certain populations aren't attending. Edwina Meyers shared the process of doing so when Cool Culture was founded over 10 years ago to equip all parents to support their children's learning through cultural participation.

Work to prevent new divides, such as access to technology.

Initiate advisory groups or partner with other organizations that already interact with the audiences you seek to reach.

Raise awareness within our organizations about the disparity between the demographics of school programs audience and other realms of the museum (high level staff, general visitorship). Use it to leverage the merit of school programs, and the need for new initiatives in the other realms.
Get organized
Network and collaborate
Establish a local peer group on diversity.

Diversify NYCMER membership through outreach to institutions and museum studies programs not currently represented. Offer scholarships/discounted memberships to fellows that are underrepresented.

Ask what can museums learn from libraries (whose audiences are notably more diverse than ours). What is it about their structures, services, programs, staff, architecture, etc. that make them accessible and welcoming to all?
Diversify our staff

Attend high school career fairs to woo today's youth into the field. During school visits, demystify for students the variety of potential careers within the museum.

Increase compensation levels and benefit packages (including tuition benefits!) to attract and retain young employees.

Develop model of mentoring and promotion which seeks to diversify museum leadership.

Investigate graduate museum studies; how do they prepare students for the changing demographics of America?

As the lists above indicate, there is a hunger for concrete examples and successful models. Almost every survey respondent mentioned an interest in the extensive award-winning diversity initiatives that Lauren States contributes to at IBM. Their strategic system examines diversity in all levels of leadership and early on identifies employees to prepare for management roles. Vertical groups representing a single demographic, up and down the career ladder, meet to identify the needs and desired outcomes within their group. Periodic meetings across groups help to cross-fertilize successful practices. IBM also has a history of working to understand clientele differences culturally and regionally. As Lauren remarked, "Diversity is now a business imperative," a key to success and innovation. The audience's response to IBM's model was mixed. Some expressed frustration at not having the buy-in, resources or agency to impact such systematic change in their own organizations. Others were more optimistic and eager to begin strategizing with colleagues.
Initially, it appeared that IBM's Diversity 3.0 program was very different from the other two models our presenters discussed, but we realize now that they each represent a different way of responding to demographic shifts. IBM demonstrates a systematic way of working for equal representation within an organization, whereas Barbara Cohen-Stratyner's work as the chair of AAM's Committee for the Diversity of Museum is looking across institutions and examining the role AAM might play in instigating change.
Finally, Edwina Meyers spoke about founding Cool Culture over 10 years ago to seek equal educational opportunities for all children. By collaborating with 90 NYC cultural institutions Cool Culture provides 50,000 under-served families with free, unlimited access to cultural resources—enabling them to support children's learning during out-of-school time. The variety of the methods and aims of these programs demonstrate that there's a lot of work to be done. We look forward to continuing the conversation.
Today's post was authored by Barbara Palley, a NYCMER board member and the education manager at Cool Culture, and Alexa Fairchild, president of NYCMER and school programs manager at the Brooklyn Museum. NYCMER (founded in 1979) is a forum for museum education colleagues to address issues of museum and educational interest, exchange and disseminate relevant information, and to explore and implement cooperative programming opportunities such as roundtable discussions, workshops, and an annual spring conference. We currently have 425 members.