This weekend, the city of Waltham, Mass. will host International Steampunk City. Presented by the Charles River Museum of Industry & Innovation, this "con" (convention) mashes together industrial history, Victorian culture and fashion, Jules Verne and alternative pasts (and futures.)
Museums across the country are asking, "How are we going to be sustainable in the future, all of our traditional income streams are drying up? How do we find people who really care about what we do and will support us?" Here is a story of how one museum found a vital new audience, albeit somewhat unconventional, to love and support it.
Housed in the historic 1814 Boston Manufacturing Company textile mill, The Charles River Museum of Industry and Innovation (CRMII) is on the National Register of Historic Places as America's first factory. Its focus is American innovation and invention from 1812 to the present, and highlights local companies such as the Boston Manufacturing Company, Orient Bicycle, Metz Automobile and the Waltham Watch Factory. In the past decade the museum struggled with low attendance (sometimes serving 20-30 visitors a day) and the prospect of an aging volunteer base with irreplaceable knowledge of how to maintain their complex historic machinery. Then in spring 2010, the Charles River dealt a terrible blow, flooding twice in quick succession and leaving the museum with a half-million dollars in damage and no prospect of relief.
Enter an unlikely savior—the international steampunk community.
[Quick background primer: "Steampunk" is an alt-history movement that envisions a world based on steam-powered technology including computers (a la Babbage's "difference engines"), cars and flying machines. The aesthetic is Victorian (frock coats, bustles) meets Mad Max (leather gauntlets, goggles, lace cozying up to brass). Think Jules Verne or H.G. Wells. In recent movies, think "League of Extraordinary Gentlemen," "Hellboy" or the "Wild Wild West."]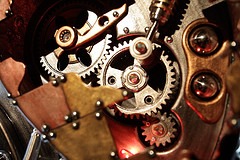 Detail of a mechanical heart from Steampunk: Form
& Function at the Charles River Museum of Industry &
Innovation. (Nicholas Dynan for WBUR)
Turns out CRMII is pre-adapted to a steampunk aesthetic. (Watchs are very steampunk. Especially pocket watches. With lots of gears.)
CRMII had begun cultivating a relationship with the steampunk community about a year before the flood—a planned New England Steampunk Festival was delayed several weeks by the rising waters. When it did take place, and now-director Elln Hagney saw 1,000 people in full steampunk attire swanning through the museum (far exceeding the 200-300 attendees they expected), she realized they were on to something. A Google search for the term "steampunk" yielded over 60 million hits, yet while the steampunk community has homes online (Brass Goggles, out of England and the U.S.-based Steampunk Empire) there wasn't a physical location for these steampunks to gather together on a regular basis.
As Elln reported in a recent interview, she thought to herself, "Well we can become that. I saw the steampunk community as a future audience, future volunteers and future donors for the museum" she says. "At some point within the next 20 years these steampunkers, the majority of who are between 18 and 40, are going to have kids and stop running off to conventions. But they're still going to have that passion. If we can create a home for them, if we can create a place that they feel welcome, we're going to get volunteers. And when they take those goggles off and they have expendable money in their pockets they're going to remember us and they're going to come back and become our future donors."
The ingenious steampunk machinists and makers also offered a solution to one of the museum's other significant challenges—all that wonderful antique machinery supported by an aging, and shrinking, population of volunteers who know how to maintain them.
Now the museum has a Steampunk Exhibition growing out of an International Steampunk Form and Function design competition in which artists from all over the world vied to create for the best functional piece of steampunk art. The museum hosts monthly meet-ups where steampunks exchange stories, show off their latest projects and swap creations. And the national steampunk community as a whole is starting to support the museum. A number of steampunk events this year will devote space to the museum as well as doing fundraising for their recovery. (See for example: New Jersey, Nashua, N.H. and Detroit.)
"We truly are becoming the home to steampunk" says Elln. "The trick is not to become a steampunk museum. We are a museum that loves and embraces steampunk but this is just one of the communities that we are tackling."
So, what's happening at the International Steampunk Festival this weekend? A steampunk school bus camper will be parked next to a 1922 12-ton Buffalo-Springfield steamroller. An authentic Victorian picnic will pair with a steampunk New Orleans style parade leading people from the picnic to the closing ceremonies. At an authentic New England-style town hall attendees will debate whether or not Steampunk International City should have a dirigible station; robot's rights and whether or not to allow artificial intelligence inside its borders. Outside, suffragettes will march for women's rights. There will be workshops on Victorian oratory and lectures on Eadweard Muybridge, gunsmithing and left-wing politics. Heck there is so much going on I can't describe it all—see for yourself.
Has your museum cultivated connections with unexpected communities? Share your stories in the comment sections, here. And let us know if you plan to attend International Steampunk City this weekend!
Skip over related stories to continue reading article