This week's guest blogger, Dr. Joseph R. Mendelson, is Curator of Herpetology at Zoo Atlanta and President of the Society for the Study of Amphibians and Reptiles. Joseph's essay helps set the stage for Tracy Hick's installation on the future of natural history museums at the AAM annual meeting in Houston next week.
At the scene of a murder, one of the first priorities of the crime investigation professionals is to determine the name of the victim. This crucial piece of information does not, of course, change the fact that they have been murdered, but it is important nonetheless. Recently I realized my career has taken a morbid turn, and I needed a new name for my role as a scientist. I settled on the term Forensic Taxonomist, because that is what I am doing now—assigning names to recently deceased victim-species that turn up the shelves of natural history museum collections.
More conventionally, I'm what's known as a herpetologist—I specialize in amphibian taxonomy. If you've ever noticed in field guides or museum or zoo, those unpronounceable scientific names that accompany the illustration or display, well then you know me. I'm the guy (or one of them, anyway) that conjures those unpronounceable names and ascribes them to species newly discovered by science. My career has been built helping to catalog the amphibians of the world and bringing taxonomic order to the world by following the simple edict of "one species – one name."
I've spent half of my career working in natural history museums, and my entire career as a constant user of museum collections. I mostly study Central American frogs, having named about three dozen new species of them. Museum collections allow me to compare the anatomy and DNA of specimens from, for example, southern Mexico and northern Nicaragua side-by-side on my lab bench. Are they the same, or are they different? Really, that's all I do every day.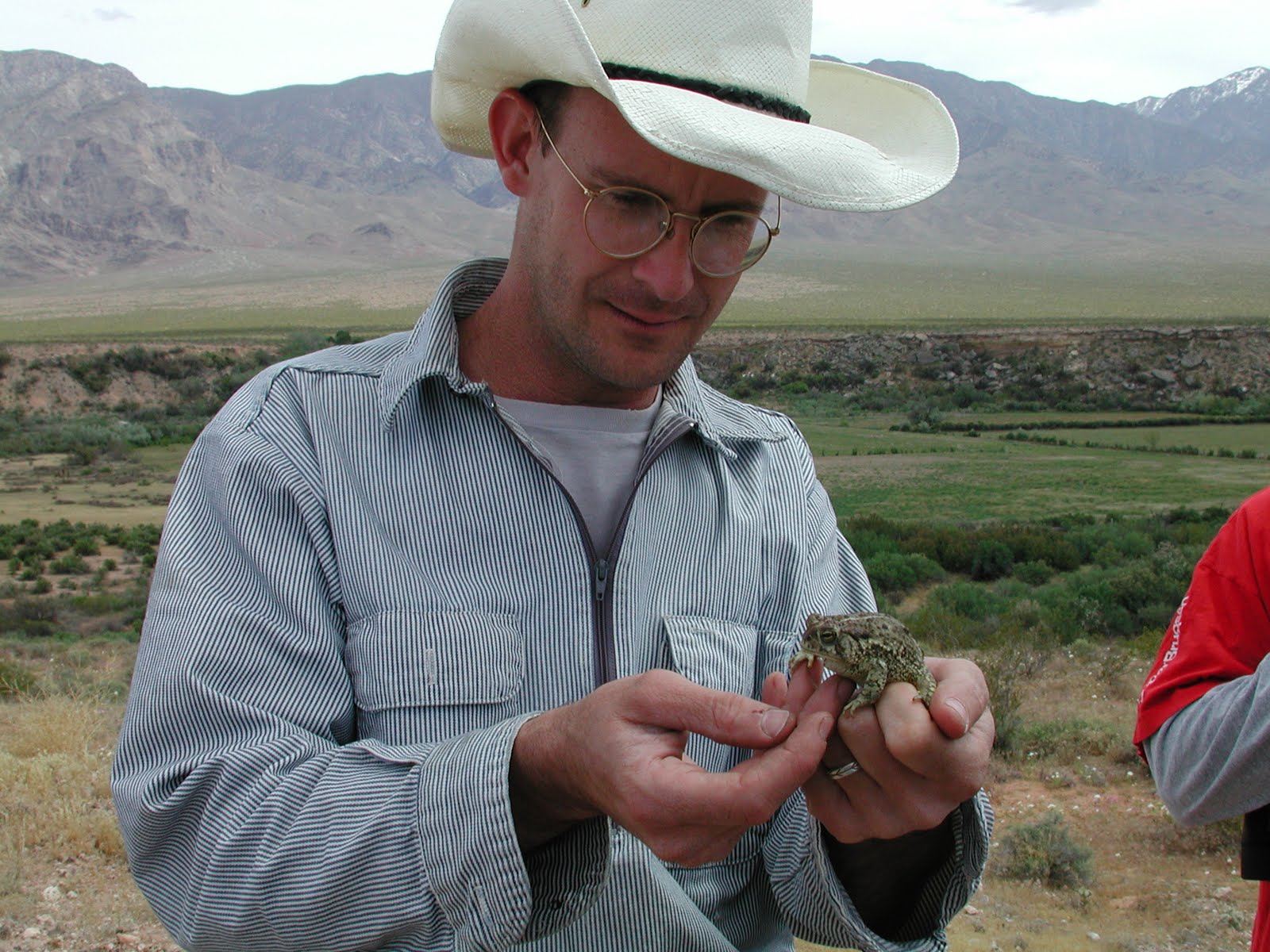 Joe Mendelson with toad.
Skip over related stories to continue reading article
The date of collection of these specimens was never of any particular importance to me, until I started to notice that the specimens in the jars represented populations that no longer exist in the wild. Museum specimens collected as recently as the 1980s are the "new fossils," representing entire species that have gone extinct within our lifetime. Dozens and dozens of them. Suddenly and awfully, the time-stamp museums dutifully put on specimens when they enter the collection has become a simultaneous epitaph, representing the last time this species was seen alive on the planet. No longer do the specimens on the shelves represent ongoing, vibrant populations in nature. They are gone, and all we will ever know of them is these preserved specimens.
I never had poignant moments in natural history collections, until now, because the samples there were always intended to be mere subsamples of ongoing, renewable, timeless, vibrant populations in nature that were collected merely to help us catalog the Earth's wondrous biodiversity. Paleontology collections represent the extinct past of our natural history, but while paleontologists may yearn for the time-travel experience to see their study subjects alive, I doubt they feel much emotion in cataloging that biodiversity based on fossils. After all, it's clear that humans played no role in that mass extinction. Now I have emotions about natural history collections.
When I first met Tracy Hicks in the mid-1990s, I told him that our biodiversity surveys and collections were essentially "running in front of the bulldozer" to document populations being vanished by the never-ending expansion of humanity. I did not anticipate those endeavors translating into Forensic Taxonomy. I am grateful for Tracy's work to give us natural historians a novel perspective on our collections, our efforts, our careers, and allowing us insight into our own perspectives on obsessive collecting and annotation, and the very notion of permanence. Little did we know that taxonomy would become the new paleontology, documenting contemporary extinctions. Tracy Hicks' work helps give us that much needed perspective.
Come see Tracy's installation in the AAM Showcase of MuseumExpo next week in Houston. You can tweet your musings on the piece with #AAM2011, or post your comments here at the blog!