Bonjour, привует, Guten Tag, سلام !
This is a shout-out to and call for input from CFM's international followers.
In the past month, the traffic to this blog has come from:
United States: 5,634
France: 1,173
Canada: 334
United Kingdom: 266
Russia: 143
Australia: 132
Germany: 110
Iran: 78
Ukraine: 72
Slovenia: 68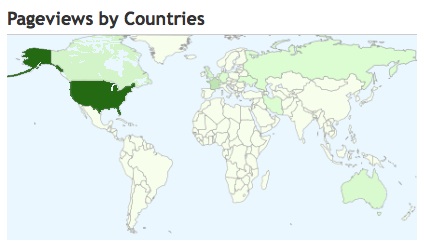 I'm stunned that almost 1/3 of the CFM Blog readership is from outside the U.S. of A. (And I'm hoping this reflects real readers, not bots probing for weaknesses in the US nonpo sector.) It makes me reflect on the perspective my colleagues and I bring to our forecasting. Are we too U.S.-centric in our focus? Are many, or most, of the trends we talk about global in any case? Are museums in other countries being strongly affected by trends that are not even on our (national) radar?
Skip over related stories to continue reading article
Global, but happening at different rates (e.g., demographic transformation—aging, immigration, blurring of cultural boundaries).
Global, but locally buffered (like the growing economic divide in wealth).
Local/specific to a particular country or region. I suspect such trends are most likely to be political. In the U.S., for example, threats to tax-exempt status (though the same driver of change–need for new government income–may be playing out in different ways elsewhere).
I know these stats on international readership are going make me more conscious, as I go about scanning, summarizing and reporting on trends, of the need to have a trans-national perspective.
And I'm asking your help. Please, if you are a reader of the blog from France, or Canada, or Ukraine or Slovenia, anywhere outside the U.S. borders, tell me what, from your perspective, we may have missed. Which parts of our work resonate most strongly with you, and which are not as important? Are there additional issues and trends we should be following that will strongly shape your future?
Please comment on the blog to share your thoughts with all our readers, or write to me at emerritt@aam-us.org.
Even better, send a postcard (Elizabeth Merritt, CFM at AAM, Suite 400, 1575 I Street NW, Washington, DC, 20005, USA). I'd love to collect the stamps…