Michael
Balderrama
, programs coordinator at AAM, shares news about next week's
Technology, Interpretation and Education
online conference—an opportunity for readers to glimpse of how an organic approach to technology can transform the future of learning in museums.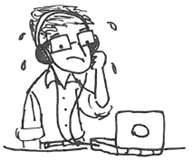 When I sat down to reflect on this guest post, I had a whirlwind of ideas—"oh! Wouldn't it be cool if I did a video podcast?" And "let me see if I have my mini microphone. I'll do a regular podcast, but mix in some tech music with it!"
Notice you're
reading
this; in my case, using technology didn't work. I sat at my laptop for about two hours, listening to my voice over and over again—muting out the ums and ahs, cutting and pasting audio—but it still didn't feel right. I realized I was trying technology for technology's sake—for the novelty of it—which ultimately misses the point.
Skip over related stories to continue reading article

"To do less with less is to focus on the things that are core to our institutional mission, things that are being done for the right reasons which everybody is clear about, and are done in a way that maximizes resources and finances. We should plan for flexibility because we don't know where this "thing" is going; we should plan for scalability because we don't know how big this "thing" might get; we should use standards because we want to play and share in a much bigger arena; we should collaborate and stop trying to re-invent the wheel. And most importantly, we should address the long term—the sustainability of the things we've created for our institutions after we've moved on."
So what is this core we need to be thinking about? When my colleague Greg Stevens and Isat down
with the chairs of AAM's Media and Technology professional network last month—Suzy
Sarraf
and Jack Ludden—we agreed that technology is a vehicle for storytelling. I strongly believe that technology serves a transformative purpose in peoples' lives, a role that can support the mission of the museum field.
Next week, at this year's TIE online conference, we will be trying something a little different. We have challenged presenters representing ten Muse award-winning projects
to make the conference experience interactive. They will devote half of their time to conversing with you, the audience. It's an opportunity to learn from others' experiences, and take away a little inspiration for
yourself
. Most importantly, it will demonstrate that products such as video podcasts, alternate reality cell phone games, or interactive websites are merely the
outputs
of a project, and should not be confused with the desired outcomes. These technologies are tools for storytelling, not the stories themselves. We as museum professionals need to look at the long-tail effects of how technology transforms the storytelling capabilities of the museum, and how our audience's reaction to our work will build and change how the institution may use the technology. In a way, we need to look at technology as an organic process (I know, it's a strange phrase to type).
I see TIE as a chance to prove a very important point about museums' use of technology: it does not (and cannot) exist in a vacuum. I've worked with a unique blend of museum professionals, technology vendors, writers, and designers over the last four months. Drawing on a wide spectrum of experience from outside the museum field makes the use of technology so much more robust and worthwhile. The Muse projects have fostered long term partnerships that will grow for years to come. It is clear to me that collaborative partnerships are essential in charting the technology path in the coming years.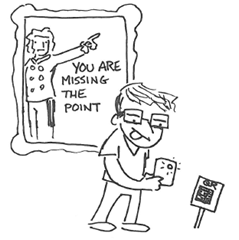 In preparing for the conference, I've reflected on the conference's own history. What began as a one-day face-to-face program has transformed into an online interactive multi-day experience. We as storytellers—maybe even story
sharers(
?)—
want
our voices to be heard by everyone who wants to listen; technology helps to do that–if done right. Take me for example: two hours ago, I had an audience of one. When I planned my technology poorly, I
still
had an audience of one. But now I have you. I find that so unbelievably cool.
I invite all of you to join us next week to hear some fascinating technology stories, and share your own, as we chart a path to the future of museums.