Skip over related stories to continue reading article
As Let's Move! Museums & Gardens continues to roll out, the campaign has engendered some interesting discussions about potential tensions between a museum's mission and health related activities. Nutrition and exercise may be a natural fit for a science museum, health museum, or children's museum, but maybe it is a harder stretch for others. Many art museums, for example, are offering yoga in the galleries, but is this mission related, or just something good but peripheral to how the museum serves its community? This debate is going to come up again and again, in various guises, as museums grapple with whether, and how, to help their communities deal with challenging issues in coming decades. Today's guest post is from Jaclyn Peterson, manager of public programs explaining how Lincoln Park Zoo decided that in their case yoga is, in fact, a natural fit to mission as well as being good for their audience.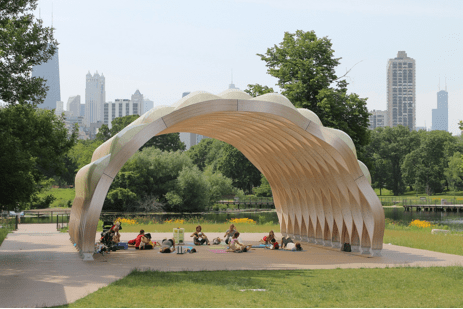 Lincoln Park Zoo recently joined the ranks of cultural institutions that are expanding beyond traditional programming to create new mission-driven opportunities that also encourage children and adults to be physically active. A new outdoor exhibit space, coupled with a community affinity for yoga classes at neighboring locations led to the creation of Yoga at the Zoo.
Each week during the summer, Lincoln Park Zoo hosts outdoor yoga classes adjacent to the Nature Boardwalk exhibit, a 14-acre urban ecosystem complete with a large pond and native wildlife.
When the boardwalk opened in June 2010, local joggers, hikers and dog-walkers immediately embraced the opportunity to blend enjoyment of nature with their own fitness goals, while helping the zoo achieve our goal of connecting people to nature. Visitors come to spot wildlife, from painted turtles to black-crowned night herons and use the Nature Boardwalk as a unique space for exercising.
We immediately recognized our new Peoples Gas Education Pavilion—a new partially enclosed education space on the banks of the pond—as an ideal location for yoga classes. Since the zoo's core audience is families, we began creating yoga opportunities for parents and caregivers to enjoy with their children. We started by offering Parent & Baby classes as well as adults-only classes.
However, we quickly shifted to classes geared to parents with toddlers ages 2–5, an audience that is a better fit for our membership base and better able to enjoy yoga classes. These classes are right in line with the goals of the
Let's Move! Museums & Gardens
initiative. They encourage children to be physically active at a young age, and they require parents to engage in exercising along with their toddlers—an important factor in forming long-lasting exercise habits. Instructors lead fun yoga poses, targeted stretching, together with other age-appropriate activities, like reading a storybook, doing a simple craft or exploring the natural surroundings.
Launching this new program presented challenges. We were careful to work with certified yoga experts during both the pre-planning and program development phase. We had to consider: How do people sign up for classes?
What if it rains?
Are the yoga instructors on the zoo's payroll?
What if a flock of geese comes through the day before class and leaves droppings all over the outdoor "yoga studio"?
Will local yogis forego the comforts of an indoor studio to combat the potential challenges of attending classes outdoors?
Not surprisingly, it was elements we did not consider that ended up being the hurdles we had to work hardest to overcome. We found that our registration set up was not nearly flexible enough.
While we hoped people would purchase passes for a set number of classes per month, participants wanted the capability to pick and choose when they attended. Additionally, some attendees were frustrated that there was not a better protocol for moving to a rain location and then communicating location changes.
More than once, participants showed up for class on a rainy day, were unable to find the yoga class, and had to go home.
Not a good thing!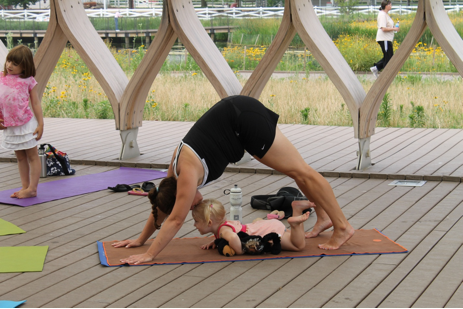 2011 is our second year of Yoga at the Zoo, and we've made great strides in streamlining the management of yoga classes and making registration more flexible for participants.
W
e committed to a reliable rain location and communication plan.
We created a whole menu of class pass options, from an unlimited summer pass to a monthly 2-class pass to a single class drop-in pass. In 2012, we hope to further expand our Yoga at the Zoo offerings, and incorporate yoga into some of our established programs, such as summer camp.
Some traditionalists may not immediately see the connection between yoga and the zoo's usual education topics, like animal adaptations and zoo careers.
However, we believe that there is a strong tie.
A healthy lifestyle is commonly linked to a healthy environment.
Organic farming, active forms of transportation and local production of foods are all beneficial for human health as well as the environment.
Educating children about healthy lifestyles is one way of bringing environmental consciousness to their own experience.
Yoga at the Zoo has been a great learning experience and has inspired us to continue thinking innovatively about future programming.
Who would have thought that a zoo exhibit turned outdoor yoga studio would work so well?
And in case you were wondering… yes… the geese do still leave 'gifts' in the yoga studio but that hasn't derailed a class yet.
The Let's Move! Museums & Gardens initiative brings the fight for childhood health in America to museums and gardens of all types. By signing up for the program, museums are part of a partnership not only with the White House, but also with a larger network of national associations and museums. For more information on the initiative, visit the IMLS website.