One trend highlighted in TrendsWatch 2012 is America's jittering progress towards a new educational era. I've been exploring a number of alternate futures for our learning landscape, in this blog and in the article "The Future of Education" I coauthored with Scott Kratz of the National Building Museum. In today's post Shauna Edson, an emerging museum education professional, helps extend this exploration, speaking as a learner who never enrolled in the formal educational system.
I'm something of a poster child for unschooling: California kid, pre-school dropout, tree-hugger, tie-dye collector, fiercely independent and curious about nearly everything. I taught myself instead of having my parents as "teachers." I followed my interests, not a curriculum. I never took a test until the SAT in preparation for college, which I got into just fine. And anything that I didn't learn at the "designated time" in my youth (such as, say, botany) I am teaching myself as I need it in my adult life.
In January, I knew almost nothing about orchids.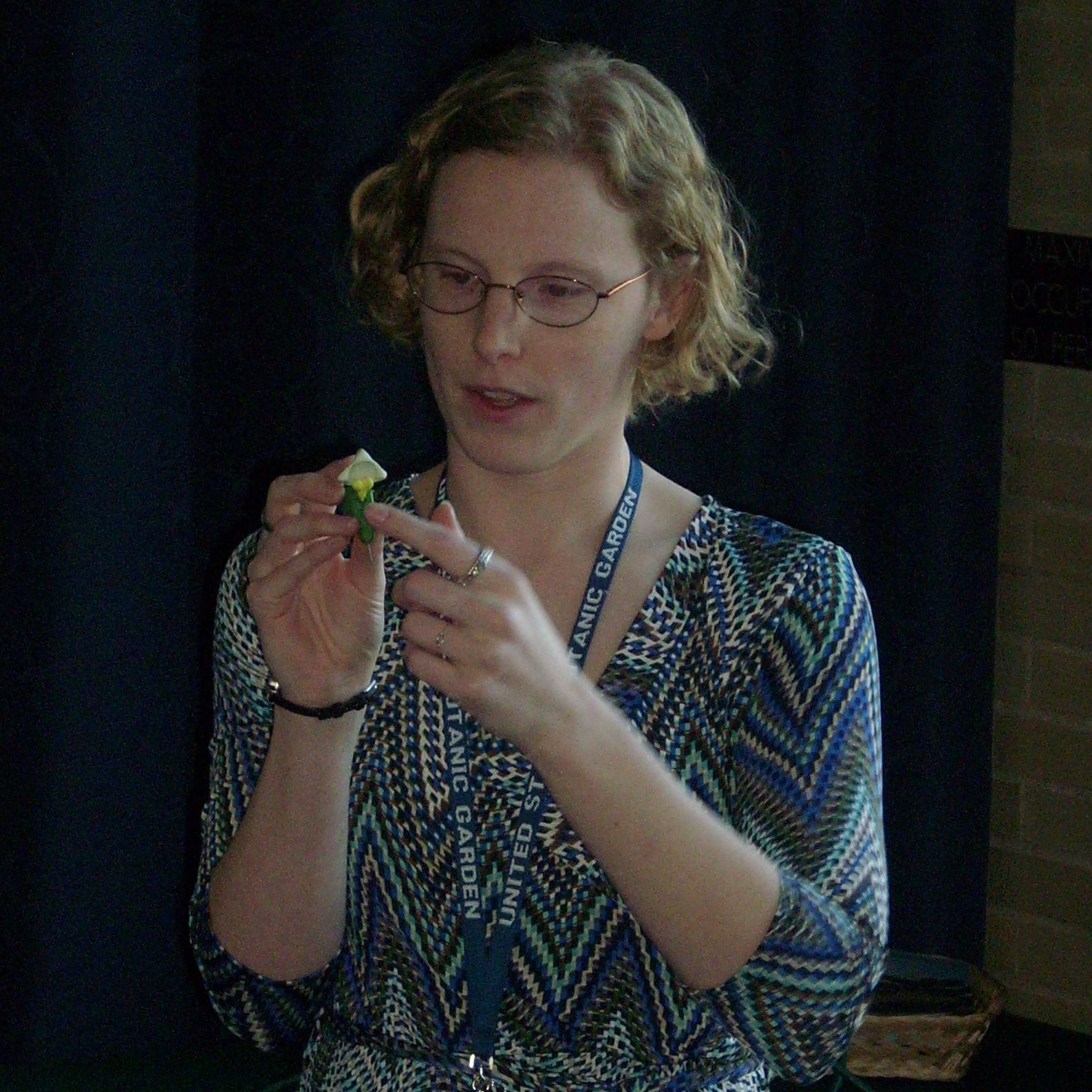 Photo Credit: U.S. Botanic Garden by Liz Fort.
In February, I was teaching other people why orchids are special (and why we should care).
Skip over related stories to continue reading article
I've been asked the usual questions countless times throughout my life ("what about socialization?" "how did you learn the things you had to?"). But recently, Elizabeth Merritt asked me something that I was delighted to answer: how could the unschooling model become a guide for the new direction of the American educational system, and how can museums play a role?
Musing on an answer to that question is the main component of my "Voices of the Future" video. The many skills that I gained from unschooling include self-motivation, confidence, problem-solving, resource-finding, the cultivation of lifelong learning, the freedom to be creative, and the ability to cooperate with adults and younger children, not just my peers. Do those ideals sound familiar? You might know them as 21st Century Skills.
I think the unschooling philosophy is one of the best ways to foster the skills every employer claims to be seeking. In a redesigned education system, students could decide what they were interested in, join teams, dream up projects, and solve real problems. Now before you panic at the thought of that, remember that this kind of learning doesn't require a "teacher"; the role is more of advisor, facilitator, resource, sounding board, audience, and even (gasp) colleague.
I will be the first to admit that unschooling isn't for everyone. It fit perfectly with my family's situation, my personality, learning style, and interests, but learning isn't one-size-fits-all. Some people prefer the structure of a curriculum, classes, and didactic teaching.
On the other hand, kids and young adults can teach themselves a whole lot more than we allow them to do in most schools. When they're given the freedom to do that, most of them won't play computer games all day; they'll eventually get up and do something that feels useful, worthwhile, rewarding and, above all, meaningful. If you're interested in graphics or art, building programs in ARTLAB+ when you know real people will see them and use them is pretty compelling. Hold that up against creating a PowerPoint presentation for your assigned-topic history report, which will be seen by your 20 classmates and then forgotten.
Museums, zoos, aquariums and National Parks have the fantastic ability to present a host of those real situations, and they are free-choice by definition (with the exception of school groups, the visitors are a pretty self-selecting bunch). The CFM has discussed this potential in two previous unschooling blogs, A Fringe Future of Education and Unschoolers on Museums Here's my take on museums and unschoolers.
Personally, I spent tons of time at the Exploratorium, Monterey Bay Aquarium and Yosemite National Park when I was growing up. All of those places invoke very vivid memories of discovering and marveling at something I had never experienced before, and the common thread is the interactive component. I learned what "4,800 feet of elevation" meant by hiking to the top of Half Dome. I learned the difference between a skate and a manta ray by touching real ones and watching them closely for many fascinated hours. My learning wasn't organized into classes or even subjects, so I don't remember us taking any "courses" or similar programs offered by museums. We preferred to do our own thing.
For museums that want to better serve the homeschooling and unschooling community, I say this: have a wide range of options available. Some of us will want to just wander on our own, and we'll do whatever self-guided things you have if they seem interesting. Others will want camps, course-like programs, or group activities that bring together lots of local homeschoolers and unschoolers. Some museums that are doing this kind of thing are the Science Museum of Minnesota, the National Building Museum, the Museum of Natural History in Providence and the Fort Worth Museum of Science and History.
Really though, museums, just keep doing what you do so well. We love you for everything you already are. You're there, you're real, you're interesting, and you don't make us do anything.
Also, we like showing up on weekday mornings when it's not crowded–it's a major perk of having an unschooling "schedule."