Today's guest post is from Phil Katz, assistant director for research at the American Alliance of Museums and my co-conspirator on TrendsWatch and some of the other trend analysis projects here at CFM. One theme we covered in

TrendsWatch 2012
was "Creative Aging." This caught the attention of the researchers at the MIT AgeLab, who invited CFM to send a representative to the symposium described below.
I spent October 5 in Cambridge, Mass., at a symposium co-sponsored by the MIT

AgeLab

and AARPon "Disruptive Demographics: Inventing the Future of Place & Space." The invited participants included a mix of industry experts (including architects, real estate developers, healthcare providers, insurance companies and retail giants like CVS and Procter & Gamble), researchers (including technology experts from IBM, Google and Nissan), and policy analysts with an interest in America's aging population—and me, the lonely representative of arts, culture, education and the experience economy. It was important for museums to be represented at the table.
Although the symposium began with a pretty high-level overview of demographic shifts and housing trends (provided by our friend James Chung of Reach Advisors), the focus was decidedly practical: "[what are] the opportunities and challenges confronting designers, developers, retailers, investors and communities in an aging society." The symposium was divided into three panels that barely contained a set of overlapping themes. Each panel included a roundtable of five-minute presentations by 7-9 speakers, followed by a general discussion.
The panels were ostensibly devoted to "Housing & the Future of Home," "Retail & the Future of Shopping" and "Living, Moving & Playing" (i.e., the future of community) — but one of the big lessons of the day was that the distinctions between "home-owner," "resident of a community or facility designed for older people," "shopper," "community member" and "medical patient" are likely to get messier and messier in the years to come. As more people opt to "age in place," there will be a greater need to connect them, both geographically and socially, to shopping, medical care, transportation, recreation and cultural resources—regardless of where they choose to age. (Boomers, it was suggested, will be less tolerant of sharp divisions between home and the rest of life's experience than their parents and grandparents were.)
I was part of the last panel, and started by noting the special demographic challenges facing museums (a tailing-off of older visitors, changing expectations of retirees as volunteers, generational trends in private giving that don't augur well for cultural organizations). I also talked about the work museums are alreadydoing to encourage communities of interest and place, attract users from different generations, and serve the unique needs of older populations while remaining true to their own missions (e.g., the wonderful programs that use museum objects to engage patients with Alzheimer's). And I made two specific pitches:
Researchers: use museums as laboratories for testing new accessibility technologies. (Accessibility was one of the symposium's recurrent themes.)

Real estate developers: include a space for pop-up galleries and partner with local museums when you build new neighborhoods, to make sure the residents have access to museum services even if the nearest existing museum is hard to get to.
The symposium was both live-tweeted (go back and look for the hashtag #ageready) and captured by a visual notetaker (the quick-fingered Peter Durand from Alphachimp Studio). Here are his notes from my brief presentation. You can find the rest of the notes on flickr—but be warned that they make the free-ranging discussion look much tidier than it really was. There will be a report based on the symposium in a few months.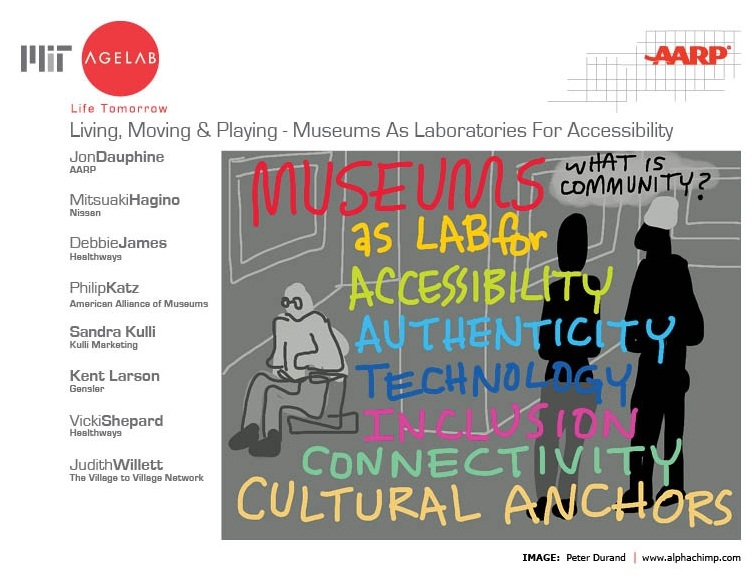 In the meantime, here are some of the highlights of the symposium for me:
Most people (and especially the Boomers) imagine their own futures to be healthier, more mobile and less "aged" than might be realistic to expect. We can see this in the development of new euphemisms to avoid the words "getting old" and the concept of slowing down, including "personalization," "easy," "well-being" (instead of sickness) and "universal design."
The smart money is on the convergence between "personalized medicine" and "personalized housing." The link between these may be smart devices embedded in everyday things. For example, Frances West from IBM described a project in Italy that uses smart sensors and data analytics to unobtrusively monitor seniors in their homes, enhancing their independence while allowing the local social services to stretch their health and welfare budgets. And researchers in Pittsburgh have developed a pill box that monitors subtle changes in behavior for the early signs of dementia. In the future, whole house could be set up to respond to individual medical needs.
"Gathering is the most important part of community" (a concise statement of something I already knew from developer Tony Green).
The MIT AgeLab has a body suit called AGNES (Age Gain Now Empathy System) that simulates the restricted mobility and diminished senses of a typical 75-year-old woman. CVS has used the suit to help redesign its drugstores for aging customers. (A children's museum in Israel is trying something similar with an interactive exhibit designed to encourage empathy among younger museum-goers by simulating the frailties of old age.)
Real estate developers and planners spend almost as much time talking about "authenticity" and "community" as museum professionals. We should spend more time talking about these things together.
Skip over related stories to continue reading article