In April, 2007, a small but influential group of historic house professionals, association and foundation staff gathered at Kykuit, the historic Rockefeller Estate in Pocantico Hills, NY, for the Forum on Historic Site Stewardship in the 21st Century. There they wrestled with the issue of how to reconcile the sheer number of historic houses in the US—by some estimates, over 18,000—with the resources available to support these nonprofits. The resulting recommendations included the call for the historic house field to demonstrate a "willingness to change its structure, programs, and services in response to the changing needs of that community." Six years later, we are still only beginning to see the first hints of change. What will, finally force historic houses to adapt? Sheer economic necessity, perhaps, as funding continues to constrict and core visitors age. Some icons will endure because national fame, status (and endowments) make them secure—Monticello, Mt. Vernon, Winterthur. Which of the other, smaller less famous historic houses survive, and how? Today's guest post, by Sheryl Hack, executive director of Connecticut Landmarks
and Susie Wilkening, senior consultant at Reach Advisors
, invites you to follow one attempt to implement the Kykuit recommendations, and reinvent the historic house.
Domestic spaces surround us, and in our daily lives are vibrant, living things.  Our homes are messy, conflicted places of respite and love. 
Yet historic house museums (as well as period rooms in art and history museums) have struggled to be dynamic and relevant in a changing society.
We don't mean to pick on historic house museums.  To the contrary, we love them.  And we believe strongly that historic house museums can be places of incredible relevance to visitors. 
At Connecticut Landmarks (CTL),
we have a great interest in rethinking how historic house museums can share remarkable stories that are relevant to not only visitors, but to the communities around them; we own twelve significant historic properties in Connecticut. But the status quo of guided tours, school programs, and the occasional public program is just too risky a path if we want to be a sustainable, and vital, organization in the future. Our previous work with Reach Advisors gave us considerable insight into how polarizing,
and even repelling, guided tours are for many visitors (and non-visitors). But if not guided tours, what?  And is it simply the medium (that guided tour), or are there other, more fundamental reason that historic house museums have struggled?

We suspect so. And thus we have commenced a big leap into the unknown.  Thanks to IMLS Museums for America funding
, we have the opportunity to turn one of our properties, Hempsted Houses
 in New London, into an experimental lab to try new interpretive strategies.
The Hempsted property is perfect for this endeavor as it is has powerful stories to share about race, slavery, social justice, and dramatic societal change. It has human stories that are heart-wrenching and heart-warming. It also has a multi-cultural neighborhood surrounding it that, despite the important role the property's owners played in the neighborhood's creation, more recently has found little reason to engage with the property.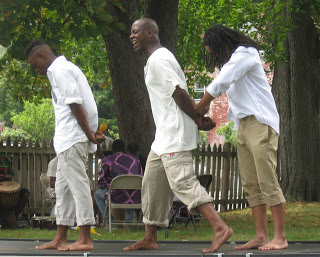 To reinvent the historic house museum experience, we decided to engage what is probably the toughest historic house museum audience out there:  teenagers. Partnering with The Writers Block, Ink, a local organization that seeks to give young adults the power to use pen and prose to ignite social change, next summer we will ask a group of teens to reinterpret the property in a way that they think will be compelling to their family and friends. We are going to provide art handling training, require historic accuracy, and we won't let them take down any walls, but generally we want to give them the freedom to share the stories of the individuals who lived, worked, fought, loved, rested, and even slaved at this property as they see fit. 
We have no idea what they will come up with, though we suspect it will not be the traditional guided tour. But we are hopeful that their ideas will spark new methods and ideas about how to present historic house museums , and we also hope that the process will help us better understand the why of the stories we choose to present.  If these teenagers can succeed in making this property appealing to their friends, we are betting that their ideas will be appealing to other, broader audiences. (Not that we are forgetting our traditional visitor, or those visitors who happen to love guided tours.  Other phases of audience research will incorporate their thoughts and ideas.) 
The teen research is one phase of a larger re-interpretation project at Hempsted Houses that we hope will give us a resilient and engaging strategy for re-interpretation at our other properties. As this project kicks off, we are delighted to share our process, its twists and turns, its successes and failures, with the field along the way with the project blog, FindingCommunity:  Engaging diverse audiences ina historic house
. On the blog you will hear from the entire interpretive planning team, including CTL staff and our consultants:  Louisa Brouwer (curatorial consultant); Robert Kiihne (RK Exhibits – exhibition planning); and Susie Wilkening (Reach Advisors
 – for audience and strategy work). Come summer, you'll also likely hear from our consulting teenagers as well.  We hope you will join us.