For the past three years CFM has sponsored an "artist interpreting the future of museums" in the AAM Showcase. (In 2010 it was the The Pinky Show, 2011 Tracy Hicks, and in 2012 the Drawing Club.) This year we are doing something a little different: demonstrating 3-D printing as a technology that may change how artists interact with museums, their data and their collections. (It may also have a profound impact on other areas of museum operations, including preservation, research, exhibit fabrication and teaching.) Jonathan Monaghan will join us as our "featured artist," and provides a little background on his work today on the blog. Jonathan will be available in the Alliance Showcase in Museum Expo™ to talk about his use of 3D scanning and printing and what these technologies might mean for museums.
One of the most popular video games of all times, Counter-Strike, was developed by a small group of individuals in their spare time, as a hobby, for fun, with almost no financial incentive. As a kid who played Counter-Strike, I soon discovered these online communities of developers and began to learn how to work with computer graphics software to make custom video game content. I did this simply because I enjoyed making video games rather than playing them. I was certainly not alone in this tendency, and I think digital technology has brought with it a certain creative capacity. YouTube, Minecraft, Wikipedia, Facebook, memes, Instagram; the content consumers are also the content producers. We build, share, repeat; it is the post-audience era. What is also interesting is that when we do this we tend to remix, respond to and reinterpret other creations and popular culture. So what does this have to do with museums?
Objects in museums can often feel static or frozen in time. It can be difficult to translate our wealth of artistic and cultural production into the digital age of active participation. However it is important to do so: if we can reconcile our past and present, perhaps we can gain some critical insights on the apparently seamless condition of our lived experience. I think this is something artists have picked up on since the digital age began to take shape. In Sweet Dreams, Contemporary Art and Complicity, art critic and UCLA professor Johanna Drucker describes the tendency in art since the 1990's to maintain a kind of complicity and even enthusiasm for contemporary culture. She describes how artists today regard popular culture and new technologies as no lesser a source of artistic reference than great works from our art history textbooks and museums.
As an artist with a background developing video games, combining high-end 3D technologies and their aesthetics with historical works of art was a natural impetus and is the basis for much of my work. "Life Tastes Good" for instance draws on references ranging from Coca Cola commercials to Zurbarán. As a result museums have always been a valuable resource for me and so when I was asked to participate in the Metropolitan Museum of Art's 3D Hackathon in June of 2012, I jumped at the opportunity to continue mediating and re-interpreting great works of art through new digital technology.
I, along with a number of other digital artists and programmers, descended upon the Metropolitan Museum of Art for two days snapping photos of museum objects and converting the images into 3D models. The artworks were digitized via a process called photogrammetry by utilizing the free, cloud-based software called Autodesk 123D Catch. The results were refined and uploaded to Thingiverse with their catalog information. The next day this same process was repeated by individuals in their local museums from all over the world. Almost immediately the web was flooded with a wealth of museum objects. While this certainly offers a whole new way to experience historic works of art, it also provides a valuable creative resource. Build, share, repeat. The museum objects are no longer frozen or static, they are downloadable and remixable; active content from which build on. As a result we may be able to learn from these museum objects more about our current culture than from the culture they came from.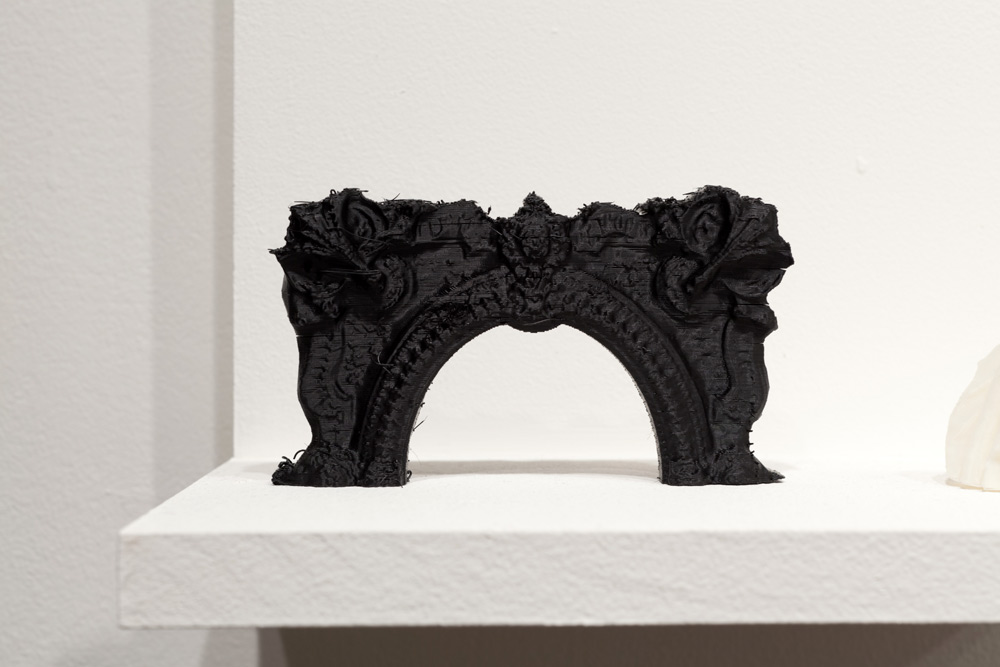 3D print derived from scanned classical sculpture
Don Undeen from the Metropolitan Museum of Art, Liz Neely from the Art Institute of Chicago, Adam Metallo and Vince Rossi from the Smithsonian Institution, Miriam Langer from New Mexico Highlands University, James Maza from the Walters Art Gallery and Baltimore-based artist ToddBlatt will be taking shifts in the 3D demo in the Showcase—I hope you stop by to get a glimpse of how 3D scanning and printing works, and schmooze with our guests about how their institutions are using this emergent technology.
Skip over related stories to continue reading article