Skip over related stories to continue reading article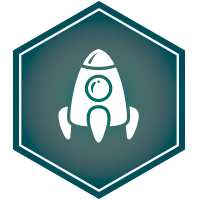 In the spirit of "practice what you forecast," CFM experimented with digital badging at the annual meeting last week. With the help of LearningTimes, we offered a badge to attendees who attended & commented on at least four sessions featured in our annual "Guide to the Future." Fifty people registered on the badge site, submitting ~90 comments, and 17 attendees earned the Future Traveler Badge.
I wanted to promote sharing of content, so from my point of view the resulting submissions were mixed, ranging from "awesome!" (appreciated, but a little more concise than I'd hoped for) to critiques of format (also welcome, but more appropriately directed as session feedback in the annual meeting app).
There were some highly readable, and shareable insight, submitted as well. Here is a selection, in case you want to eavesdrop on highlights of the sessions:
City History Museums: Canaries in a Coal Mine
"The idea of engaging people in a local history museum by reversing the timeline to show current events first and then related them to the past seems at once brilliant, obvious, and deceptively simple to do. Still, it seems to me that is the only way a city museum can behave if it wants to remain relevant."
Horizon Report, Museum Edition
Holly Witchey made an excellent point that is often overlooked or not clearly articulated by museums that are anxious to engage with audiences online: "social media" and "social networking" are not necessarily the same thing. Using the web as a social medium is about more than just collecting "friends" and pushing out bits of content to garner "likes". It is about museums participating in conversations with their audiences as learners, not just teachers.
"Struck by Nik Honeysett's anecdote about his children's non use of the term technology. Am reminded that my generation used something called "magic markers" and my son wanted to know what was "magic" about them" [#anachronisms]
Keeping Museums Young: Best Practices for Out-of-School Teen Programming
"There we're lots of great ideas shred (sic)* in this session. My break out group was very beneficial. Two of the women in my group worked at institutions with long standing teen docent programs and we want to start one at my organization which is why I attended. I also loved the Teen Historian Program, especially the state history exam review the teens developed for other teens, very creative and useful. The Historical Tweets were great " Guys, Guys let's just compromise so we can pass SOMETHING! #freemaine #slavemissouri #3630latitude #The_great_compromiser March 3, 1820″. Need I say more?"
[*I know this was a typo, but I love the phrase "idea shreds." May have to use that intentionally.]
Magnificent Masters of Museum Mysteries: Narrative Games in Museum Contexts
"I have been thinking about creative inspiration that comes from outside museum staff and so my ears perked up when Georgina recommended getting game designers to come to your museum, touring your space, and offering their fresh wacky ideas."
"Keep the games simple because learning the rules to the game is 50% of the struggle. Games with complex rules and/or open-ended games have not worked well in the past, and this is known because failure, testing, and retesting are important parts of creating narrative games."
Museum Teen Summit: Teens Share Expert Advice
"According to Museum Teen Summit surveys teens identified the three following qualities for teen programming in museums: 1. Engagement (challenging programs and activities) 2. Diversity (teens want to meet teens with different backgrounds and interests) 3. Interaction (lively conversations with museum staff and program attendees)"
"Will work for food" seemed to be the motto for these teens. Payment for consultant services was not a motivator – their passion for improving museums and making them more teen friendly was the driver. The Philadelphia Cultural Alliance is creating a teen pass program – allowing teens free access to museums – promoted via a teen council. The Cultural Alliance is paying these teens a stipend. After attending this session, now I am wondering if this could be setting up a negative rewards system"
Museums & Homeschool Learners: A Story in the Making
"My main takeaway here is that homeschool audiences aren't going to fit into predetermined programming plans, and we shouldn't try to force that fit. They'll arrive late and/or early, they'll benefit from longer programs, they don't need as much historical content as school groups, and they'll definitely have breast feeding moms. Know these things and plan for them."
"I heard a number of ideas that debunked some of the things we were doing at my previous institution that I will carry to my new institution and programming including: offer a timed organized curriculum – 3 hours – versus a whole day festival style program. Develop pre aad post activity materials and get into the hands of families. Homeschool parents will use and prepare their families for a visit. The museum can build relationships with these families and watch whole families grow up in the museum. Let the parents do some of the teaching."
No Walls? No Problem: Taking your Mission to the Streets
"The big takeaway from this session for me was that museums do not have [to] wait until they are in some dire circumstance to begin to take their missions to the street. Be everywhere. Share with your community where they live and work. Let them get to know what you have and invite them to visit and learn more."
"My favorite quotes from this session: "meet the community where they are;" "come across exhibition spaces by chance." I also appreciated the extensive web presence of the Chandler Museum."
On the Edge: A Museum Talk Show about Risk and Reward
"My major takeaway here is Nina Simon's reminder that in the museum field, we're lucky enough that the potential fallout from risky endeavors that flop is usually much smaller than our anxiety over taking that risk in the first place. Take the risks!"
Rethinking Museum Membership: How Participation and Philanthropy can Impact Visitor Engagement
"I'm excited to see where DMA will be with this a year from now. I remember when we implemented an admission fee at our museum, after being free for the first 13 years of its existence, we saw an immediate impact on how our visitors valued their experience – they stayed longer during their visits, bought more memberships, and started buying tickets to public programs that had previously languished. This session helped me see the transactional nature of that relationship with our visitors and brings into question how fully we are capitalizing on the potential for visitors to be partners in our mission. The data-driven approach to relationship building through the Friends program is an interesting angle on CRM."
And finally, a comment on the TrendsWatch 2013 presentation that Phil Katz and I gave, that makes me feel good about our work:
"Keeping an eye on the future is essential for museums survival, but it's sometimes difficult to pull our heads up from the work of keeping things running in the moment. This session provided a lot of food for thought – where can we leverage our core strengths to take advantage of trends and lay down foundations for future success instead of just running after the next shiny thing. I'm particularly excited about the role we play as educational institutions; the power of informal learning experiences SHOULD be applied to tangible outcomes, like getting a job, and the faster we can demonstrate our value in the real world through micro credentials, the better. I think there's great potential here to support adults in their second (or third or fourth) careers, not just college-age individuals. In our rapidly changing economy, where new skills are continuously emerging as essential, museums can be a safe and supportive learning environment to help adult learners accumulate the demonstrated experience they need to transition into new careers. Thanks for a very thought provoking session!"
This was very much a "toe in the water" experiment for me, to see what it would be like, technically and logistically, to offer digital badges at the annual meeting. If we do it again, I will try to make the assignments more rigorous–demonstrating some mastery of content, or contributing material relevant to the topic at hand. If you have any experience with badging at meetings, or thoughts on whether or how you would like to use such microcredentialing. I would love to hear from you.