Museums can learn a lot by looking at how other sectors—for-profit and nonprofit—are responding to the same trends and events that shape our operating environment. Religious communities, for example, are challenged by changing demographics, shifts in audience expectations, aging infrastructure, and finances—forces that confront many historic houses and historic sites. So I was particularly pleased that Karen DiLossi, director of Making Homes for the Arts in Sacred Places at
Partners for Sacred Places
, agreed to share a story drawn from her experience at the intersection of the secular and sacred worlds.
Adapt & Change, or Die—they're blunt choices that confront the historic churches and synagogues in the U.S. in our changing times. At
Partners for Sacred Places
, we encourage organizations to focus on the "adapt" and "change" options, and I want to share one example of how that approach is catching on.
Worship services at all too many mainstream churches once commonly hosted 1000 members or more, including people of all ages, now attract only 30-100 attendees, mostly senior citizens. Most of these congregations have moved their services to annexes, basements, or fellowship halls because the main sanctuary is too costly to heat. Facing bills upwards of four or five thousand dollars in the month of January, these congregants may be thankful, in a strange way, for global warming.
Climate change is not the solution, of course, and neither is business as usual when your historic worship site's beauty and future are on the line. Pastors who have a global perspective and who want their large facilities to be used for their entire community—as it once was 100 plus years ago—are turning to artists to fill their empty halls. For example,
Philadelphia's Hidden City Festival
, brings the public into many kinds of historic buildings, including churches, in a celebration of "the power of place through the imagination of contemporary artists." But this festival and others like it, while wonderful at getting the public into these houses of worship and putting a media focus on them as well, are episodic and their effect fleeting. Once the festival is over public attendance and media's attention fade.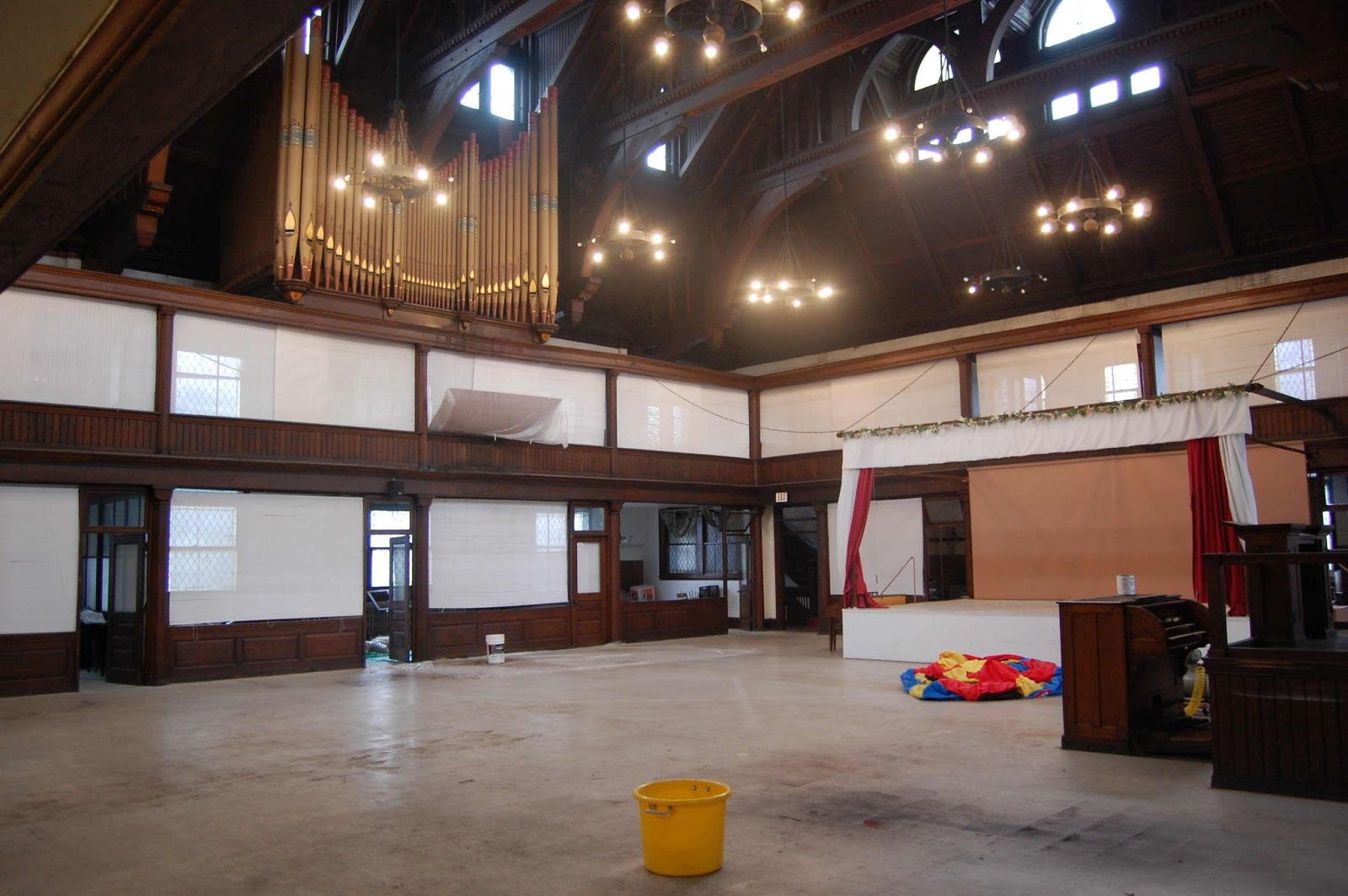 Interior of Shiloh Baptist before Brian Sanders' JUNK
(Photo credit: Partners'  staff)
How can art be embedded in places of worship in an ongoing fashion?
Shiloh Baptist Church
, located in a gentrified neighborhood of Philadelphia, is a great example of how a church can go from a closed-door facility to a "church is for more than just Sunday" arts facility. Under the leadership and vision of their Pastor, the Reverend Edward Sparkman, Shiloh Baptist has chosen change, and adaptation, in order to alter the course of their future. Their
Frank Furness
designed facility has at least an acre of space within its three buildings. On the second floor of one annex building alone, there is a 3500 square foot former Sunday School room with a ceiling height of 35 feet, a small chapel of 1500 square feet, a full size basketball court and two dining rooms that are each larger than most
NYC apartments
.
To capitalize on this beautiful unused space, Rev. Sparkman participated in the Hidden City Festival. With three exhibits within its massive structure, Shiloh was a highlight of the 2009 festival, convincing the Reverend that there was more to be mined in this approach of using arts to repurpose sacred space. The Reverend decided to try welcoming artists into Shiloh Baptist on a long-term basis, encouraging them to invest in maintaining and improving the space. The church has allowed these artists to come in and out at any hour, and to use their location to expand their reach with classes, mentorships, or apprentices. Are these artists members of the church? No. Are these artists awed and inspired by their new surroundings? Yes. They are also happy to have stable rental space, with no fear of eviction, at paying rent that compares favorably to retail or commercial rates. They are now solidly hooked into the church community. Skip over related stories to continue reading article
Creative and loving artist, meet charming and charismatic pastor.
This relationship is still evolving, but currently Shiloh Baptist, with its beautiful facilities, caring pastor, and aging congregation, is home to three arts groups:  A dance company, a theatre company, and a freelance theatre professional.
Brian Sanders' JUNK

, a company who dances both on the floor and suspended in the air, has found their home in the Sunday School room.

Brat Productions

, a rock and roll theatre company who lost their free office at another facility, is solidly at home and at peace.

By moving into the Shiloh Baptist space,

Madi Distefano

, AEA actress and professional director, was finally able to separate her work from her home.
Two more artists are interested in taking over a former Boy Scout room on the third floor of one of their buildings.
The lesson imparted by Shiloh Baptist's experience is: look beyond your organization and your own capacity. Sharing means caring and more importantly sharing can give you the ability to politely decline the unattractive option of "
or die
.
"