You may have been following Nina Simon's account of the
Hack the Museum Camp
recently hosted by the Santa Cruz Museum of Art and History, or perhaps you read Paul Orselli's
letter from camp
. Today Maria Mortati, who facilitated the event along with Paul and other "camp counselors," shares her take-away lessons from the Hack.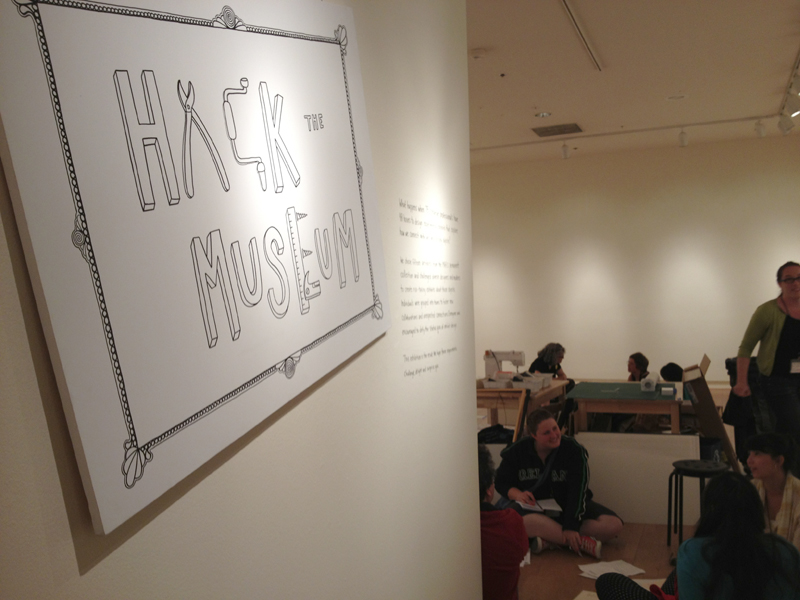 Main gallery entrance. The museum's talented
intern Iris Gottlieb did all the signage
If the future of exhibit development is short-term, high intensity, group efforts, I'm all in. I was a "camp counselor" at Hack the Museum at the Santa Cruz Museum of Art and History, put together by Nina Simon and her wonderful staff.
Campers
came from backgrounds in science, history, and art. They were diverse in their talents, institutional affiliations, and geography—from User Experience Design at Nokia, to Te Papa in New Zealand.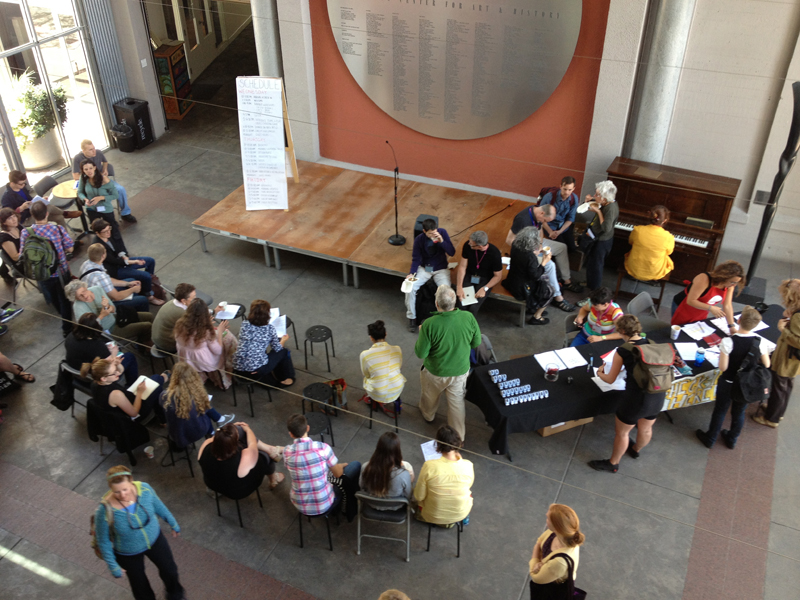 campers signing in on Day 1
The central challenge of the Camp was to develop an exhibit around an object from the collection in randomly assigned teams, in two-and-a-half days.
Kicking it off with a little front-loading
Day 1 consisted of lively counselor-led
workshops
such as: "Becoming An Office Supply Ninja Prototyper," (Paul Orselli) "Intentional Play," (Merilee Mostov) "Writing Prompts for Visitor Participation" (Nina Simon). Kevin Von Appen of the Ontario Science Center and I led a workshop called "Exhibits 101: The Three Big Questions" to help ground campers in the fundamentals. We took them through an exhibition development arc in an hour, structured as: "What's the Point?" "What's the Form?" and "What's the Voice?"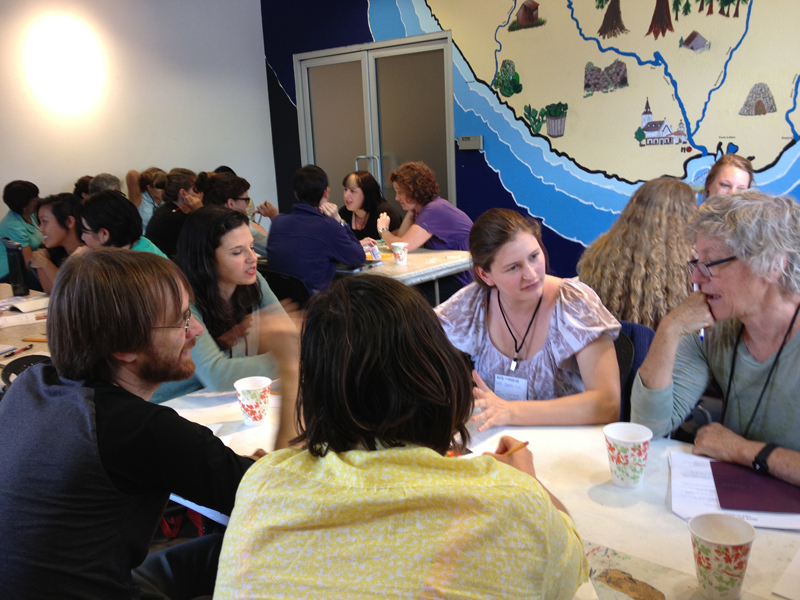 Campers at Merilee's "Intentional Play"
workshop
Teams were assigned in advance by Nina and her staff. There weren't any seasoned museums folks on our team, so I played more of a leadership role than I had imagined. We had terrific diversity: Balakrishna Chennupati, a UX Designer from Nokia, Lexa Walsh, a social practice artist from the Bay Area, and Sarah Groh, a guest services SCMAH staff member.
Once we met our teammates, we played a "white elephant" game to choose our object. One teammate ran to the gallery to claim a spot for our exhibit, while others went to see our object or talk to the curator. After dinner, each team came up with an exhibit concept and posted it on the wall in the gallery before calling it a night. Skip over related stories to continue reading article
Day 2: is unenthusement a word?
You know the truism that an object may not be compelling in a photo, but turns out to radiate energy in person? Our first impression, contemplating our object—an abstract sculpture—was that it didn't have much energy.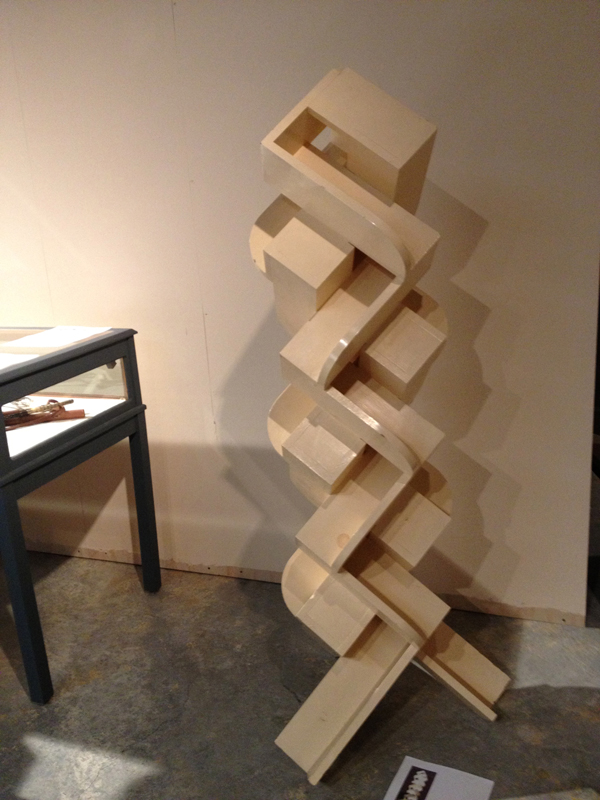 Untitled, Totem VII, 1977, by Peter Zecher
Honestly, it reminded us of a magazine or wine bottle rack. There was no background on the artist or the piece in the file, and we had 48 hours before our exhibit opening. So we started researching. We discovered that the sculpture was not from Santa Cruz- making it an outsider for MAH's local-centric collection. The piece hadn't been shown since it was acquired (if ever). The artist, Peter Zecher, died at age 50 in 1996, so there was not a lot of digital data about him. What the museum file
did
contain was a series of lovely hand-written and typed letters from 1980-83 between the artist and the curator, showing how the piece came to be at the museum.
We decided our piece had a singular tale to tell, so we gave Untitled: Totem VII a voice (and a Facebook Page
) and let the sculpture speak for itself:

our final installation: object emerging from a fictitious crate, treated like a cell.
What was experimental about camp?
The camp assignment—to take risks—was tricky. It wasn't entirely clear what MAH meant by "risk." (Nina wrote about this in a
post-camp analysis
.) Risk is context dependent, and museums or exhibits work well when they are context rich. It was hard for us, as out-of-towners in an unfamiliar community, at an extremely local, community centered institution, to assess that context.
Production Central
That said, I think many of the exhibits created by the camp teams engaged the community in fairly risky and certainly, inventive ways. Not only because their objects (unlike ours) were of the community—some literally took to the streets as part of their R&D. 
One team had a portrait of a former mayor, so they literally took to the streets to engage the community in developing the exhibit, including audio.
The counselors got a house together and that rocked- we had time to make awards and talk shop in a way that I rarely get to do at more formal gatherings. Many campers slept at the museum. Spending this type of time with professionally like-minded people helped solidify social and intellectual connections.
The future of museums should include player pianos and a confession booth
The museum has a player piano in the atrium, which served as the signal to come to gatherings. That music will always ring in my mind when I think of camp. Especially with Dan Spock at the keys:
Activities ranged from practical to fun. In addition to the opening workshops and "lightning talks," the museum set up a tent in the atrium with an iPad and created daily film "
camp confessionals
."
Though it looked chaotic at times, the overall experience was incredibly well-organized. The end result was a diverse exhibition, with a variety of interpretive techniques and approaches for helping audiences engage with an equally diverse set of objects.
What can you learn from the Camp?
While conferences are useful and informative, they can sometimes flatten passion. They are naturally geared more towards reflection than production. You may recall that in 2009, N.A.M.E. put together the
Creativity and Collaboration Retreat
. It was fun and informative. However, the MAH camp's tight focus around one of a museum's central creative acts was for me, more inspirational. It supported a conclusion that I've come to (along with many others): museums need to get more adept at producing vs. protecting. Hosting a "hack" like this is a good way to practice production.
The tight focus of Camp helped develop both the infrastructural and social dynamics needed for creative exhibit or program production. I recommend if you try a similar experiment, that you focus on a specific outcome and impose meaningful constraints—they will foster innovation and output. In the future, I could see a museum creating series of residencies or workshops around this idea or approach.
The objects we were working with weren't extremely valuable. That doesn't mean there isn't anything to learn from this model if you're a museum with priceless objects. When exploring engagement options, there is a lot of value in starting with less-sensitive objects. This avoids many of the rules and regulations that protect the objects, which unfortunately can hinder creativity.
This quote from the Santa Cruz newspaper illustrates campers reactions to the experience:
"Elizabeth Spavento, whose group explored questions about beauty in their exhibit centering around a historic Miss California scepter, said the overall experience of Hack the Museum camp was unlike anything she's experienced in her museum career. "I'm used to working with people that are like, 'Oh that'll never work,' or 'That'll never pass code,'" she says. "So it's nice to hear, 'Wow, I'm listening to your idea. And I like it.'"

If museums are places to engage ideas- either socially or in isolation, camp made the case to lead with the ideas. If museums are going to get this right, then it's essential to figure out how to start answering the question "can I do this?" with "yes."