I recently read a post on the New York Times blogs about a wiki edit-athon at Smithsonian American Art Museum here in D.C. That prompted me to ping Lori Byrd Phillips, digital marketing coordinator at The Children's Museum of Indianapolis. Lori first came to my attention as TCM's Wikipedian in Residence. She's written for CFM before about Wikipedia and about Open Authority—a term she first defined on this blog—and I invited her to give us an update on museum engagement with all things wiki in the past year or so.
It's funny how one little blog post can make such a big impact. In April 2011 I shared my thoughts about the importance of Wikipedia and open culture here on the Center for the Future of Museums blog. The post, "Museums & Wikipedia: The Future of Collaboration and Accessibility," became an important stepping stone for the growing GLAM-Wiki initiative—an international community of Wikipedians and cultural professionals who guide Galleries, Libraries, Archives and Museums in collaborating with the world's largest online encyclopedia. I elaborated on the GLAM-Wiki initiative in the fall 2011 Museum magazine. The Wikipedian in Residence model was included in the inaugural 2012 edition of CFM's TrendsWatch report, just as we were preparing to present at the AAM Annual Meeting in Minneapolis. We consider that meeting in 2012—one year after that initial blog post—to be the "watershed moment" for the GLAM-Wiki initiative. We had the sense that the broader museum community now understood why Wikipedia would be relevant within our organizations.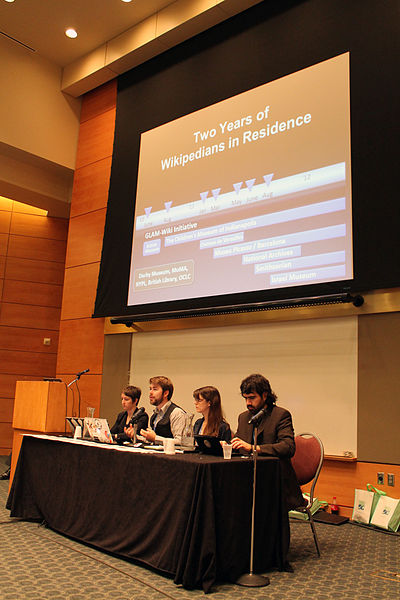 Wikipedians in Residence presenting
at the 2012 AAM Annual Meeting
cc by-sa 3.0 Sarah Stierch
We could not have been more appreciative of the platform provided by the AAM Annual Meeting, where we presented both an in-person panel and a virtual session called "Wikipedia in the Museum: Lessons from Wikipedians in Residence." Coming from the U.S., Australia and Spain, five Wikipedians in Residence arrived in Minneapolis expecting to convince attendees about the importance of museums engaging the wiki world. But we quickly found that the question was no longer, "Why Wikipedia?" but "How do we do this?" (If you are still curious about the "Why?" read my first blog post.) From surprise mentions in other presentations to an enthusiastic response to our own sessions, we definitely felt the WikiLove.
Fortunately, we were prepared to answer the "How?" question. In 2012 I served as the Wikimedia Foundation's U.S. Cultural Partnerships Coordinator, building the infrastructure to support Wikimedia partnerships among cultural institutions in the U.S. In this role, I kick-started the GLAM-Wiki community within the U.S. by hosting a GLAM Camp in Washington D.C. I worked together with this group to establish a new GLAM-Wiki U.S. Portal that makes it easier for museum professionals to find resources and get started on a Wikipedia partnership. On the U.S. Portal, you can use the Contribute page if you're considering what kind of Wikipedia partnership may be right for you or the Connect page if you're looking for a Wikipedian to help.
Skip over related stories to continue reading article
The most important result of my year with the Wikimedia Foundation was the creation of the GLAM-Wiki U.S. Consortium. The Consortium is a network of museums and other cultural organizations combined with Wikipedians and the GLAM-Wiki community who work together to share resources, discuss ideas, establish best practices, and collectively support one another's Wikimedia projects. We found that a number of museum professionals had themselves become experts in GLAM-Wiki initiatives, and it was time to connect these individuals with those just getting started—establishing a culture of "GLAMs helping GLAMs." The Consortium is led by an Advisory Board of museum professionals, librarians, archivists, and Wikipedians tasked with shepherding the Consortium forward and maintaining the momentum of U.S. initiatives.
We've only just begun. You can join the conversation by following the mailing list and checking in on the Wikipedia page. The Consortium also hosts monthly GLAMOuts (Google Hangouts On Air) with highlights from GLAM-Wiki members in the U.S. and beyond. If you are interested in hosting a Wikipedia edit-a-thon at your museum, or if you have any questions about starting a Wikipedia project, you can introduce yourself on the GLAM-Wiki U.S. mailing list, and we'll help you find someone in your area who can get you started.
Sometimes I find myself in awe of the community that has grown so quickly around the GLAM-Wiki initiative. In the past two years, I've watched cultural institutions go from hosting a total of three Wikipedians in Residence to nearly fifty around the world. I've been thrilled to advise museum professionals from incredible institutions across the US and watch them enthusiastically begin new projects. I've been humbled by the Archivist of the United States, during the 2012 Wikimania Conference keynote, proudly declaring himself a "huge fan of Wikipedians who are leading the way in connecting Wikipedia with the GLAM community." That's what can happen in the span of two years, thanks in part to a single blog post. I can't wait to see what the next two years will bring for Wikipedia and for open culture in museums.