From the moment I read that MoMA was launching the first museum MOOC, I wanted to cover it on the Blog. And not just because "MoMA MOOC" is so fun to say—these huge, virtual courses are a hotbed of experimentation, with some hailing the format as a revolutionary development with the potential to transform education. This week Lisa Mazzola, Assistant Director, School and Teacher Programs at The Museum of Modern Art, kindly fulfills my wish by blogging about the MoMA project, which was her first foray into the world of Massive Open Online Learning.
If you work in the field of education there is no avoiding the topic of MOOC's (Massive Open Online Courses). Until recently, the discussion about MOOCS has been exclusively within the context of higher education. This past spring that changed when MoMA teamed up with the MOOC provider

Coursera

to offer

professional development for K–12 teachers

all

over the world.
I have to admit I had a hard time embracing the idea
of MOOCs. Although I had been following the increasing popularity of this learning format fairly closely, I had never participated in one. I've come to realize, however, that MOOCs and museums are not such strange bedfellows. Both embrace
informal, free-choice, lifelong learning. Given the accessible nature
of a MOOC (massive, open to anyone and online), it is a good way for museums to expand their impact beyond the museum walls. Nonetheless, I proceeded cautiously, with lots of questions and not that many answers.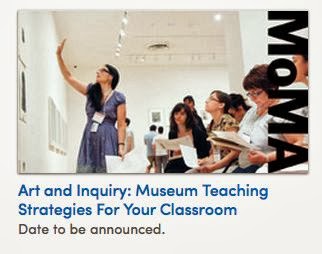 After some research, including attending a few MOOCs on Coursera, I decided to keep the topic of our course broad and focus on concrete skills and strategies that teachers could easily integrate into their teaching. In keeping with the interactive and collaborative nature of our on-site professional development, I decided that testing could not be the only metric for achievement in the MOOC and that I would require engagement through discussion forums.
Usually, I
customize my course content based on the audience, but given the volume of students in this course (over 17,000 people registered) I had to do some research
before producing content. We used a pre-course survey to guide planning, as most MOOC instructors do. We learned that the students (primarily women in their 20's and 30's) represented over 110 countries and all 7 continents. Sixty percent of the students self-identified as teachers, while the other 40% identified with a wide range of other professions including medical, design and business related fields. The teachers represented K-12, college/university as well as home school and informal learning environments such as museums and community centers. These demographics reinforced my feeling that the exchange of ideas and interaction in discussion forums had to be a key component of the course, not only to support our pedagogy, but also to help bridge the gap of language and context amongst this diverse student body.
To encourage students to engage with each other, we required them to post in the discussion forums, and this participation was factored into their final grade for the course.
Requiring students to post to discussion forums is atypical of most MOOC's, but I felt strongly that if we linked each week's content (video lectures, readings, online resources) with a required discussion prompt that invited teachers to share their ideas (and questions), it would garner rich content in a variety of contexts. For years I have heard from teachers that they don't like working in isolation—here was the opportunity to change that on a grand scale.
I wasn't convinced that, even when motivated by a grade, students would engage in deep discussion, but the quality of participation in the discussion forums far surpassed my hopes. Even the forums in which participation was notrequired saw a flurry of activity and resource sharing.
The MOOC allowed MoMA to share best practices and online resources with an expanded audience of self-selecting participants.

Eighty-one percent of respondents to our post-course survey said they felt engaged throughout the course and 92% said that they gained strategies that they

could easily integrate. The

MoMA Learning site

was one of our major resources for the course. Even though it was not designed for that purpose, 94% of survey respondents rated the site as "significant to supporting student learning".

This shows how the MOOC served an unintended purpose, and helped us gauge the effectiveness of our web resources in a non-traditional context. The MOOC also gave MoMA a forum to experiment with social media, incorporating

Twitter

(#artinquiry) and

Google Hangouts On Air

.
Overall the feedback we received about this first MoMA MOOC was overwhelmingly positive. For me personally, this was one of the most exciting and challenging projects I have worked on. I plan to continue to explore this platform and its potential.
While it remains to be seen how important a role MOOC's will play in education, I think they
provide museums with valuable opportunities for education, community outreach and multi-disciplinary collaboration,
beyond the museums walls. In her
"MOOCS and Museums"
post, Elizabeth Merritt astutely points out that Coursera's decision to bring Museums on board as content providers allows us a great opportunity to share our content within a larger context, but it also elevates museum-based teaching strategies and raises the profile of the field as a whole.
For those of you are considering entering into the realm of MOOCS, see these
tips
I included in another recent blog post about the making of the MOOC. I think my most important advice is to embrace discomfort and not be afraid to step into the unknown.
Readers—any questions for Lisa about her MOOC experience? Any experiences with making (or taking) a MOOC you would like to share? Weigh in using the comments section, below.
Skip over related stories to continue reading article