Earlier this month I blogged about Museum Jobs that Didn't Exist in 2003, and what they tell us about the evolution of our field. Evidently the essay hit a nerve, as it quickly became one of the most read CFM posts ever, (about 5000 page views and counting). It also generated passionate comments (ranging from the reader who dismissed new media specialists as "pixie girl presenters," to the "constantly curious" visitor who said "museums are boring…Thank goodness for these new audience development pros!") Given this level of interest, I am following up by interviewing some of the people occupying the "new positions" mentioned in the blog. First up, Adam Rozan, director of audience engagement at the Worcester Art Museum.
CFM: So, Adam, what is "audience engagement" anyway and why did WAM feel it needed someone to direct that function?
Adam: At the Worcester Art Museum, the Division of Audience Engagement was formed to help align the various visitor-focused departments and, in so doing, to create a team that thinks, talks and works to more effectively engage with our current and future audiences. We are advocates for the visitor and our goal is to champion their needs, wants and ways of engaging with us. By doing this, we can make the necessary decisions and plans to better reach and provide for such audiences now–and to grow our audiences for the future.
I tagged your position as one that didn't exist ten years ago. Did I get that right, or is it really an old job with new clothing?
Audience Engagement may feel like a new concept for museums, but it shouldn't. Born out of the need to better connect with and meet the interests of our current audiences, this approach was missing for a long time from the work that was happening in the field. Sure, web and other online efforts grew by leaps and bounds, moving rapidly into email, social media, and now mobile platforms, while other museum functions like marketing, membership or development have and will continue to lead the pack in understanding our audiences. But, for the rest of us in the field, our strategies and work too often did not go beyond the admission desk. The visitor came to the museum and chose his or her ticket based on their age and/or group that they were with, and that was the extent of how we "partnered" with our audiences. Fortunately, it is now becoming almost mandatory that we at least try to figure out how to better engage our visitors, and to do so in ways that embrace their experience before and after visiting, as well as onsite.
Skip over related stories to continue reading article
Do you think your position signals a trend in museum staffing? Might the Alliance of 2023 have an "audience engagement professional network?"
I am hoping that the smart museums will toss up their hands and realize that our futures depend on a new model, one that allows museums to play a role in contemporary society that balances the visitor's needs and wants with the safety, preservation and engagement of its collections. If we can adopt and implement more of this kind of thinking today, than we can move toward the bigger work, addressing how to sustain these institutions in the future, and enabling continued improvements in the work they do and how do they do it.
Tell me one thing that the Worcester Art Museum is doing now, that you think happened because they created your new division.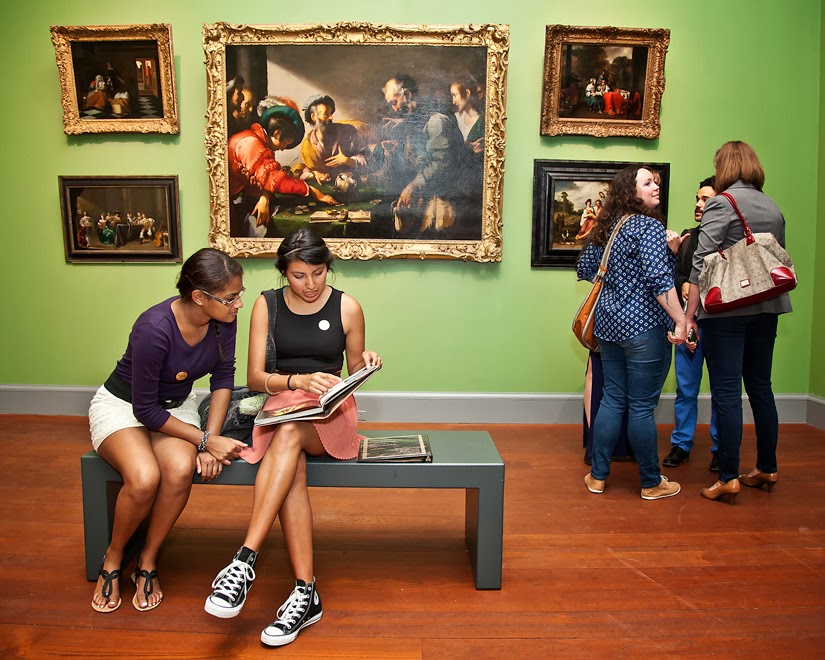 Norm Eggert photographer, Courtesy of Worcester Art Museum
Audience Engagement—along with an institutional focus on visitors—has opened dialogue and activities at the museum that may have happened sporadically in the past but are now happening daily, both programmatically and exhibition-wise. An example of how this is working can be found in our current exhibition [remastered], which is a re-hanging of our old masters collection. These three [remastered] galleries have been transformed into laboratory/gallery spaces, where active prototyping and sense of experimentation have become part of our exhibition presentation. For example, we are rethinking WAM's library, so for [remastered] we are experimenting with having relevant books in the gallery space with the artworks. And these books are not just art history books, but books on religion, history, literature and books for children, to name a few. Another fun example is how we've asked a variety of people, including community and academic partners as well as local students and clergy, to write labels for artwork. And most importantly, we're encouraging our visitors to write their own labels and interpretations on iPads in the gallery.
It's entirely possible that WAM would have come to these conclusions over time, but an audience-focused institution places the visitor in each and every conversation about the art. So, wondering what the visitor will think is now only as hard as asking the visitor for his or her input.
What do you wish people knew about your job, that would make it easier to do your work?
I really believe that we are further along the path of where we need to be than we sometimes think. Museums are not isolated from the economic and topical challenges with which our competitors—both those inside and outside our fields—are faced. The visitor is equal to our collection, and the experience at our institutions is now paramount. A sustainable, viable museum is one that opens each day with visitors visiting, using our facilities and engaging with our collections, programs and various offerings. We need to realize that museums are businesses that need to succeed and be relevant, like any other business; even if how we define "success" is different. And, of primary importance, audiences are why we open in the morning. Audiences are what make the work we are doing so exciting.
You can use the comment section, below, to follow up with your own questions for Adam. Also, please offer suggestions for other people in "new positions" I might interview for the Blog. Thank you!