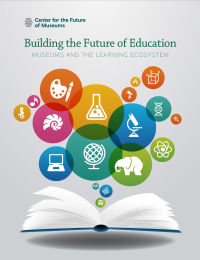 In September 2013, over four dozen educational policy experts, practitioners, funders, education innovators, reformers, student activists and others shaping the conversation about U.S. education converged on the National Building Museum in Washington, DC. Their goal: to launch a national dialogue about the future of education and how leaders from the worlds of education and museums can work together to integrate the nation's educational assets into a vibrant learning grid.
They came at the invitation of the American Alliance of Museums' Center for the Future of Museums (CFM), and The Henry Ford, in response to forecasts from CFM and other futures organizations that America is on the cusp of transformational change in the educational system. The current structure has been destabilized by rising dissatis- faction with the formal educational system, the proliferation of nontraditional forms of primary education and funding crises at state and local levels. Simultaneously new horizons are being opened by technological advances in communications, content sharing and cultural expectations regarding access, authority and personalization. A new era is beginning, characterized by new learning economies based on diverse methods of sharing and using educational resources.
This white paper summarizes the content and shares some of the ideas coming out
of the convening.