Michael Edson recently challenged museums to think about how we can help a billionlearners in this country. Some of that impact will be digital and online, through individual museum projects or platforms like Khan Academy. But our impact will also build on the cumulative effects of ambitious, embedded, local, face-to-face educational opportunities. Today's guest post by Ellen Spear, President & CEO of Heritage Museums & Gardens, tells the story of one such program.
In the face of agonizing discussions in our community about funding education, addressing the need to attract young families to live and work on Cape Cod, and debate on changing curriculum standards, Heritage Museums & Gardens, in Sandwich, Massachusetts, has been actively planning for how we can make a positive impact on the fluid state of public education.
Like many museums, we have for years been providing informal STEM (or should I say SHTEAM – science/history/technology/engineering/art/math – in essence, the whole person) and formal education programs, so it was not a big leap to envision ourselves as primary educators of children in our community.
Around the same time, the Sandwich Public Schools announced plans to create a "STEM Academy" for all 7th and 8thgrade students to better prepare them for new standards in high school and to provide better educational infrastructure. Seeing a possible collaborative opportunity, Heritage met with school officials to discuss how we could help.
It became clear that by focusing on preparation for success in public school through a more structured approach to preschool curriculum, Heritage Museum and Gardens could make the best use of our expertise while meeting the school system's needs. There is a growing body of research which indicates that solid early childhood education breeds successful citizens and saves society money in the long run. In addition, our state's Department of Early Education and Care has been planning to encourage the creation and adoption of formal STEM curriculum models for preschools, and thinking about how to begin implementation.
Stars aligned, and after careful planning and a $1.5 million fundraising effort for startup including over $160,000 from the Commonwealth of Massachusetts, we recently announced the creation of The Hundred Acre School, a preschool program that will open at Heritage this fall with a newly created STEM (read SHTEAM) curriculum for 4 and 5 year olds.
Developed in concert with our school system's curriculum specialists, the Hundred Acre School curriculum aligns and maps to the public school curriculum, utilizing the new national and state STEM standards. Another partner, the Sandwich Public Library, will serve as the out-of-school program provider for parents and children–an important factor for academic success. We are a private school for now, but our goal is to become a public school eventually. And we plan to be ready for the day when universal preschool is a reality.
Preschools are not unique in museums, but our approach to curriculum development in collaboration with the public school and public library, supported by the state's Department of Early Education and Care, may well be a "first." We hope that this will be a useful model for other museums and communities to follow.
Further, we see this as a start to what could be delivery of several grades of public education at museums. I can imagine the day when our institution IS the school for pre-k – 3rd grade in our community. (It is so very exciting to contemplate the children of our community growing up in our museum!) Museums can, in many cases, be more nimble with their facilities than a public school system, responding more quickly to changing demographic patterns. Compared with, in our case, the slow-moving town meeting process, bonding, de-commissioning buildings and construction project rules that public schools must follow we could be able to react efficiently and cost effectively to deliver what the town might need.
At Heritage, we have a lot of the 'stuff' that students study –right here in our horticulture, teaching and American history collections. We have 100 acres to explore, tied to STEM curriculum, outdoor discovery and daily exercise. We have gifted teachers and we have the trust and partnership of our community. We have the expertise in evaluation, creative program design and communication with parents and the community.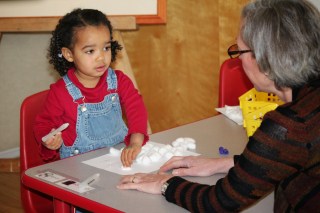 Ellen Spear with pre-school student
The next step will be to consider how to build enough public trust to allow tax money to follow the students to our institution as the provider of public school education. Creating the appropriate mechanisms for public accountability will be a challenge, but one worth pursuing.
This formal blending of museums, public education and resources is of vital importance to our institutions' futures and to the reinvention of the public school systems of the 21
st
century. And in the process it may change other museums in exciting and positive ways, as it is changing ours.
Skip over related stories to continue reading article