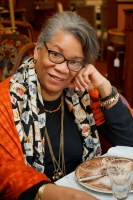 Jessica Harris
Are you coming to the annual meeting in May? Bring a hearty appetite for some exciting ideas on museums & food! Culinary historian
Jessica Harris
, CFM's 2011 lecturer for the "Feeding the Spirit: Museums, Food and Community" initiative
is teaming up with Larry Bain, founder of
Food for the Parks
, the non-profit that created the health and sustainability guidelines for food service in the National Parks Service, to present attendees with a feast of ideas at the Seattle Art Museum (SAM). Jessica and Larry will commandeer SAM's Taste restaurant, where they've enlisted executive chefs
Craig Hetherington and Paul Rosquita
to provide a tasty and informative brunch to fuel the discussion.
As readers of the Blog, you have an inside track on snapping up one of the limited supply of tickets when you register for the annual meeting. (Early Bird registration ends March 3.) Here are the event details:
What:
The Future of Food in Museums, a Tasty Trip to Catalonia
When:
Sunday May 18th, 12:15-1:30pm
The Seattle Art Museum is currently staging a Joan Mir
ó
show, so attendees will enjoy food that is made from ingredients locally and sustainably produced and cooked using recipes from Mir
ó
's native Catalonia. Jessica, Larry and Chef Craig will discuss the opportunities and challenges of working with food service providers, and how chefs can collaborate with museum staff to create menus for visitors inspired by and compliment the changing shows and seasons.
Skip over related stories to continue reading article
This gathering continues the exploration of museums & food begun at Feeding the Spirit. That symposium evolved in response to CFM's observations on how trends related to food, nutrition and obesity present opportunities for museums. We received a lot of feedback from people wanting more information about how to work with commercial food service providers to shape a museum's food service around these themes, in the service of mission-related goals. Larry and Jessica volunteered to dig deeper into this issue via this event at the annual meeting. I hope to see you there!