Here is a preview of part 3 of CFM's "glimpse of the future" demo at the annual meeting in Seattle. It's a little installation I'm calling "The Internet of Future Things," and came about through the collision of location-aware tech with object-centered futurism.
I wrote, in TrendsWatch 2013, of how the "Internet of Things" feeds on the proliferation of Internet connected devices that have the capacity to collect and share information, as well as responding to input. In museums, this technology is being harnessed in all sorts of interesting ways: for data collection, communication, and as a form of assistive interpretation. Museums (like retail stores) can use this technology to track people moving through the exhibits, recording their path and dwell time, and push out content to mobile devices, appropriate to a visitor's location.
In a particularly cool example, this past April, to mark the International Day of Mine Awareness and Assistance, the United Nations used location-aware tech to stage a high-impact [pun intended] installation at the New Museum. The "Sweeper" app used low-energy Bluetooth signals to communication with iOS devices. If a user of the app got too close to a Sweeper beacon in the exhibit, the device "detonated," first delivering jarring explosive recording through the device's headphones, then first-person testimony from a victim of landmines. As a follow-up, the listener was invited to make a donation to help support limiting the use of these destructive devices.
I've also written before on this blog about "artifacts from the future"—fabricated objects that embody the essential attributes of potential futures. For CFM's demo at the annual meeting next week, over a dozen museum folk have constructed such artifacts, representing technologies they believe will exist in ten, twenty or fifty years' time. To give voice to these objects, exhibitor GeLo is pairing each with one of its Bluetooth-enabled beacons. Download the associated app, and when you get within range of one of the "future things'" scattered throughout MuseumExpo, your mobile device will be able to access the associated information (text and audio).
(Download the free app for
Android devices
or for iOS),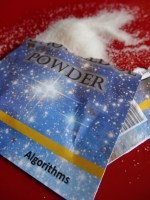 2050: Knowledge Powder
Artifacted by Kate Burgess-Mac Intosh
We pulled this together pretty fast, so we didn't have time to take advantage of all this technology has to offer. (No video, for example, of how Erika Kiessner's Privacy Veil can shield its wearer, or how to properly adjust the fit of your Personal Carbon Sequester Device.) That's fine, though, because in good part the goal of this demo is to encourage you to use your imagination. After all, location-aware technology is just at the beginning of its development. While you hunt for our "things," think about where this tech can go. How would you use it? What do you see as barriers to adoption? And (for that matter) what would you store in a NanoMemory Vessel, if you had one?
CFM's Artifacts from the Future will be distributed throughout MuseumExpo, with the majority positioned in the Alliance's Resource Center, at the public email stations, and at the GeLo booth (#2805). Look for the CFM robot symbol
marking the Things. To get a jump on your explorations, download the app ahead of time, and have it prepped and ready to go on your mobile device.
To hear more about how GeLo in particular is being used in museums, you can go to their presentation Monday, May 19 at 12:45 pm in the Solutions Center. If you are attending the Tacoma Museums evening event Monday night, you can see a beta deployment of GeLo devices at the Washington State Historical Society (you can download the associated app for that event from Android ahead of time.)
2025: Privacy Veil Urban Camoflage
Artifacted by Erika Kiessner
Skip over related stories to continue reading article