By the time this post goes up, session submission for AAM 2015 will have closed. I've had a hard time keeping up with all the great proposals streaming into the site and look forward to seeing how many match topics on my wish list. You don't have to wait until Atlanta for inspirational stories of museums working for social justice—CFM will continue to feature related stories leading up to the meeting. This week, Melissa Prycer, President and Executive Director of Dallas Heritage Village shares the story of how her organization became a valued neighbor for homeless children.
Summer 2012: Dallas Independent School District closes the historic City Park Elementary school. Located directly across the street from Dallas Heritage Village at Old City Park's entrance, staff were incredibly saddened that this hub of neighborhood activity was closing.
Summer 2013: Vogel Alcove, a non-profit that provides childcare for homeless children ages 6 weeks to 5 years, announces that they will be renovating City Park Elementary and moving their entire operation into the building by Spring 2014.
Summer 2014: Children from Vogel Alcove are visiting Dallas Heritage Village (DHV) a few times a month for specially designed field trip experiences
Skip over related stories to continue reading article
How did we become a go-to destination for homeless children? Dallas Heritage Village is located in the Cedars, a neighborhood just south of downtown that has been struggling for a long time. Over 90% of the students that attended City Park Elementary were homeless. There are many social service agencies near us, including the city operated homeless facility. For years, we've worked with these fellow non-profits in various ways, including providing free field trips, hosting special events, and providing job skills training through various building restoration projects. But these non-profit friends have never been located within walking distance of DHV.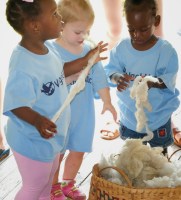 Photo by Vogel Alcove
Shortly after Vogel Alcove's big announcement, I sent their executive director, Karen Hughes, an email welcoming them to the neighborhood and asking her to lunch. My goals were pretty simple for that first visit: I wanted to find out more about their plans, and I wanted to make sure they knew what we had to offer. We've continued our lunch meetings, meeting about every other month. Through those conversations, our two organizations have begun working together in big and little ways, long before they moved into the building in March 2014.
Some examples:
Their kids made ornaments for one of the trees at our annual Candlelight event. Vogel Alcove staff and volunteers came to help us with activities, as well as share information about Vogel Alcove with our visitors.
Two of our staff members are now regular volunteers at Vogel Alcove.
If either of us have big events, we borrow parking from each other.
They've taken some of our excess mulch for their raised garden beds.
We're in each other's disaster plans.
My favorite part of our growing partnership began earlier this summer when I got an email from an old friend. Katie's daughter had been an important part of our Junior Historian program until she left for college. And now, Katie was working at Vogel Alcove! Through our blog posts, she had learned about the organization, applied for a job and now coordinates all of the enrichment activities for the children—from a garden program to field trips. We met in May to discuss regular field trips at DHV. Because Katie already knew us so well, we didn't have to waste any time explaining all that we have to offer to young learners. Education staff assist with the planning of each day, but the main ideas are coming from Katie and her team. A big bonus is that this began during the summer, so we've been able to utilize our Junior Historians to help out with each field trip.
I asked Katie to share her perspective on our partnership:
This summer, Dallas Heritage Village has opened its doors to provide a "home away from home" for the young children of Vogel Alcove who are experiencing homelessness. Walking back in time to picnic under the towering pecans and play yard games in the picket fenced backyards of the historic homes has provided our young children a connection to the past as well as a respite from the speed of urban life.

Working in close partnership with the museum staff, we have created customized experiences that accommodate the specialized needs of trauma-informed care while providing developmentally appropriate cognitive, physical, social, and emotional learning opportunities for our infants, toddlers, and preschoolers.
Photo by Vogel Alcove

Hearing stories told by grandparents; feeling soft, raw wool as it is spun into yarn; smelling fragrant herbs grown for made-from-scratch cooking; tasting sweet, juicy watermelon under a tree at a holiday picnic; and watching the chickens, donkeys, and sheep, the children have received authentic sensory-based learning experiences that develop emerging social, reasoning, and language skills in a historic context that is both supportive and calming. They will be able to continue to draw from these positive experiences as they transition to their next settings.
It may be unlikely that a social service non-profit will move in across the street from your museum. But all museums have neighbors, and it's crucial that museum staff get to know them. When I first met with Karen a year ago, I had no idea where things would lead. Though this partnership has definitely made our summer busier than anticipated, we have all learned so much from each other. Stay tuned—we're just getting started!