Read this
email I received yesterday:
My name is Andrea, and I'm a librarian with The Seattle Public Library's Reader Services department. Thanks for using Your Next Five Books, our online service for readers. I've created a list of suggestions for you right in our library catalog, which you can find here.
What a great mix of topics and styles! I've tried to create a list with a similar variety; all of the books on your list are available in both book and eBook format, so I've generally listed the format with the best availability. Here is a bit more about each title:
The Rook by Daniel O'Malley is a fun and fast work of fantasy. In this first in a proposed series, Myfanwy Thomas wakes up to find herself surrounded by dead bodies and her memory gone. Turns out – she's super high up in a secret British organization charged with keeping supernatural menaces in check. Now she just has to figure out who she is, and who wants her dead. Myfanwy has a great, witty inner voice. This is available in both book and eBook format.
For immersive fantasy, try Name of the Wind by Patrick Rothfuss, the first in his Kingkiller Trilogy. Like the Wizard of Earthsea trilogy, Rothfuss creates a complex, complete world full of magic and narrated by a really engaging main character. You can get this as either a book or an eBook, but there's a slightly shorter wait for the print book.
The Perfect Theory: A Century of Geniuses and the Battle Over General Relativity, by Pedro G. Ferreira, is the science title on your list. Ferreira accessibly breaks down the revolutionary nature of Einstein's discoveries, and how physicists have been working with it to make sense of the world ever since. Kirkus reviews called it "one of the best popular accounts of how Einstein and his followers have been trying to explain the universe for decades." This is available in both book and eBook format.
On the meditative, life-of-the-mind side of things, check out Man's Search for Meaning by Viktor Frankl. Frankl was a psychiatrist sent to Auschwitz during World War II, but he came out of that experience really positive. In this short book, he talks about his time in the concentration camp (nothing too graphic or gory), the psychological stages prisoners went through, and his observation that the way people imagined their future impacted their reality. This title, too, is available in both book and eBook format.
Ok, I've left futurist fiction for last because I'm not sure I'm on target. Pretty much all of the non-tech futurist fiction I can think of is post-apocalyptic in a sense, and I'm not sure if that overlaps with what you're looking for. In any case! On your list is Oryx and Crake, the first in Margaret Atwood's trilogy. Set in the near future, after an ecological disaster, this novel focuses on Jimmy as he adapts and remembers the past world. Also in this vein are Station Eleven by Emily St. John Mandel and California by Eden Lepucki, although those are both even more in the back-to-the-land category of post-apocalyptic fiction.
I hope you find something that piques your interest, and that this list is exactly what you had in mind. If it's not, please don't hesitate to reply to this message or to submit another request and we will try again. Happy Reading!
The Seattle Public Library
My email to the "Your Next 5 Books" service, and Andrea's reply, were sparked by this sign I spotted at the SPL while I was attending the Alliance's annual meeting last May: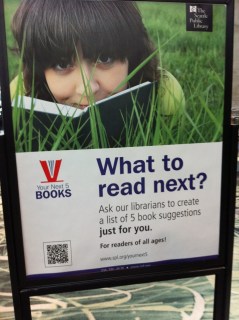 Let's skip over the embarrassing amount this correspondence reveals about my personal reading preferences and go straight to: HOW GREAT IS THIS?!?!?!
Some museums are already experimenting with services from the same gene pool. The Yerba Buena Center for the Arts offers YBCA:You ("You" as in "U" as in "University"—cute, yes?) For $15 a month participants in You get their own personal art coach to help them "navigate the myriad programs and events taking place each month at YBCA and elsewhere in the Bay Area" (along with discounts, access to exclusive events and various social meet ups). One participant in the program wrote: "The YBCA:You program has been one of the best investments I've made. I feel like it's a combination of continuing education, social hour, and life coaching — like a really good gym, but for art. I love it!"
Yes. I want a personal training coach for art. Or history. Or science. I want to check out a guide from a museum-based human library on my way into the galleries. Or a musician who will create a bespoke live soundtrack for my visit. What a great way to foster a personal and personalized relationship with the museum, and delve deeper into my interests.
I chose YBCA:You as my real-life museum example because it is low tech and based on face-to-face communication. The tradeoff is, it's resource intensive and hard to scale. Technology gives us ways to create "mass personalization" that can deliver similar services to far more people, albeit with a less human touch. Artsy, using the Art Genome Project, creates personalized recommendations based on the preferences I've programmed into its algorithm. (It's sort of like a Pandora or Spotify for art.) I've speculated (on this blog, and in this recent article in the NYT, that cognitive computing and natural language capabilities makes the Artificial Intelligence program IBM Watson a perfect candidate for a yet-to-be-invented digital "personal museum learning agent."
We live in a world in which people expect their experiences to be tailored to their needs. They want recommendations on what they might want to listen to, view, read or buy. They want shoes, clothes, even earbudstailored to their needs via bespoke tech. Museums can thrive by meeting the public desire for personalized culture with high tech or low tech strategies.
For now, I hope some museums try sticking up a sign at their front desk, and seeing which visitors take them up on the offer. Let me know how it works out…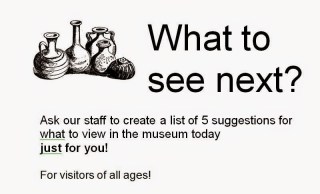 Skip over related stories to continue reading article