While I spend a lot of my time reporting to you about trends—things that change quickly or slowly over time, in a traceable direction—disruptive events are equally important drivers of change. Disruptive events come to our attention as overnight, headline news, and one of the biggest disruptive headlines of 2015 was the first steps towards normalization of the U.S. relationship with Cuba. I invited Stuart Ashman, President & CEO of the
Museum of Latin American Art (and former Accreditation Commissioner)
to share his thoughts on how this event may shape the future, in particular the implications for museums.
Much is being written about President Obama's announcements to take steps towards normalizing relations with Cuba. There are those who welcome the initiative and those who deplore the action.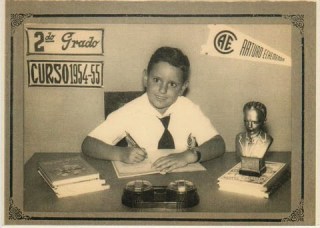 Stuart Ashman, 2nd grade, Matanzas, Cuba
As someone who grew up in Cuba and returns there often leading licensed people-to-people cultural exchanges, I cannot begin to express my elation at the President's unexpected good news. I say unexpected, because many of us who had been hoping for such a move, had become discouraged at any lack of action as we now applaud the President for his courage and his wisdom.
Anyone who travels to Cuba is puzzled by the fact that the United States lists Cuba as a state sponsor of terrorism; that we don't do business with Cuba, and that any transactions with Cuba are governed by the US Treasury Department's Office of Foreign Assets Control and the "Trading with the Enemy Act" –Please!!!
The Cuban people love Americans and American culture. They know about American culture, our cars, our baseball, our cities. They love American movies and rock and roll music. And we love Cuban music, and Cuban dancing and the whole romantic notion of that idealized paradise island – especially since it has been forbidden fruit for over five decades.
We have an important shared history. Cuba's famous poet warrior José Martí who organized Cuba's struggle for independence from the Spanish in 1895 spent most of his life writing and raising money for his efforts in New York. Teddy Roosevelt and his Rough Riders from Las Vegas, New Mexico were key players in the battle of San Juan Hill in Santiago the Cuba during the Spanish/American war, or as the Cuban's call it the Hispano – Cubano – Americano war. This was a joint effort between our two countries to release Cuba from the conquering Spanish; and the relationship continued in the next century, including Fidel's fund raising activities for the revolution in New York's Waldorf Astoria in 1955.
So now, we are going to restore diplomatic relations. Wow! I never thought I would live to see the day!
But what does it mean? It means we are going to start talking with each other in a new way with an effort towards normalizing, maybe even being friends!
And what does this mean for the arts and museums? Well, you need to know that AAM President Dr. Ford Bell traveled to Cuba in 2009 and experienced it first- hand. Subsequently, through our mutual efforts, we brought seven Cuban museum professionals to the AAM "Museums without Borders" conference in LA. So, AAM was working behind the scenes to "normalize" relationships – at least in the museum world several years ago.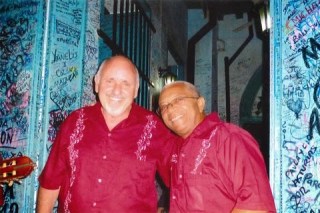 Stuart with CUQUI from the musical group
Tradisón at La Bodeguita del Medio in Havana
What it also means is that things will get a bit easier. There is no banking relationship with Cuba, so shipments of works of art and purchases of art usually have to go through companies in Madrid, Paris or Mexico City. I recently organized an exhibit for Cuban artists Esterio Segura and had to ship the works via Madrid to LA – talk about inefficiency and added cost – not to mention the additional risk to the works. Another thing that may be made easier is the Cuban artists' ability to get a visa to come to the US. Though artists have had certain privileges from both the Cuban and the US governments, a normalized scenario could make it more like traveling between the US and Europe or the US and Mexico – both of which don't require much bureaucratic maneuvering.
Also, only a select few Cuban artists have been able to market their work in the US. This initiative will open doors to hundreds of very capable and relevant Cuban artists who have had to rely on sales to visitors or the occasional show in Europe or Latin America. This is very exciting!
What is also exciting is how this will affect the artistic expression in Cuba, much of which has had to do with economic difficulty, issues of migration, and the concern about the unfriendly giant to the North. It will be very interesting to see how these artists manifest their new vision.
Cubans have suffered immeasurable economic difficulty and scarcity of material goods while we in the U.S. seem to have a surplus of everything. Walk into any supermarket and witness the myriad of cleaning supplies that are available; go to a hardware store and find any number of nails, screws and fasteners; go to any drugstore and choose from dozens of cold remedies and pain relief medications. Almost none of these are available in Cuba, not to mention the most basic everyday items like shoestrings, scotch tape, ballpoint pens, writing paper – oh, and yes tools and art supplies? Hopefully these will be easily accessible to Cubans in the near future. This will relieve a measure of their unimaginable anxiety for the acquisition of these most basic necessities.
In the scientific arena, Cuba has been exporting doctors and medical personnel for years and has been developing vaccines for any number of diseases including Diabetes, certain cancers, and infectious diseases. This new opening will be a boon to scientists in the US and in Cuba. They have been hungering for this connection for decades.
In many ways, this historical action is akin to the takedown of the Berlin wall. There was a general feeling of euphoria around the world, but the greatest impact was felt by the peoples on both sides of the wall who now could be reunited with their families, their friends and their neighbors. I look forward to that same reuniting between the people of Cuba and the people of the United States of America.
President Obama hinted about visiting Cuba sometime in the future. He should go with First Lady Michelle and the girls. They can see the educational system in Cuba, the country's racial diversity, the spirit and warmth of the Cuban people – if he ever has any doubt about his decision to open the doors, it will disappear after this visit.
¡¡¡ Que viva Cuba y que viva Barack Obama!!!
Skip over related stories to continue reading article