Back in 2001 AAM sponsored a survey which showed that 87% of respondents viewed museums as "one of the most trustworthy sources of objective information." We cited that figure a lot in the following decade. commissioned by the Institute for Museum and Library Services also showed that museum visitors overall rated museums very highly on trustworthiness–4.62 on a scale of 1-5.)
But Jim Gardner has an uncomfortable take on that data. (Jim is in charge of the presidential libraries and museum services at the National Archives, and before that was director of curatorial affairs at the National Museum of American History). Jim suspects people trust museums because they think we present unmediated facts, in the form of our collections. They don't realize museums even do"interpretation," selecting and arranging objects that support a particular argument or point of view, shaping the visitor experience through how the exhibit is designed, how the label text is written. That's a pretty depressing thought.
I remembered Jim's skepticism when I recently revisited some 2013 research from the (U.K.) Museums Association on public perceptions of—and attitudes to—the purposes of museums in society. The Museums Association conducted focus group studies to inform their Museums 2020 initiative, which is designed to build public and government support (and funding) for the sector. To this end, they convened focus groups to answer the question "what do citizens consider to be the most important purposes and roles against which public funding for museums should deliver?"  The study addressed this in a number of creative ways, including giving participants a "budget" to spend on various museum functions, and asking them to envision what might lead to the demise of museums in the future.
In line with the AAM and IMLS research, the Museums Association research found that museums hold a unique position of trust, especially in contrast to the media and government. Why? Because museums are seen as "guardians of factual information" that "present all sides of the story." <
Skip over related stories to continue reading article
When invited to weigh in on what does not fit in the essential purposes of museums, the UK participants listed promoting justice and human rights, and providing a forum for debate. These activities were cited as "undermin[ing] the essential values of trust and integrity that people cherish with regards to museums."
Untangling some of the nuances of that feedback, the report notes that the panelists felt museums:
Can address controversial subjects, but should address all sides of the issue while remaining neutral, rather than taking a stand; can appropriately have a "moral standpoint" but not a political standpoint—museums are expected to give "unbiased and non-politically driven information,"
That's particularly sobering in a time when, at least here in the US, science is becoming widely politicized. Media, similarly pressured to provide "balanced" coverage ends up presenting opposing views as if they have equal credibility.. most notably "balancing" scientists documenting climate change with the rare scientist who is a climate change denier.  How would this translate to expectations of museum coverage of an issue? Does presenting scientific consensus on the projected consequences of climate change constitute taking a political stand? Currently even the issue of vaccination is becoming politicized, with the current Republican presidential candidates taking stands on parental choice.
Here are a couple of particularly sobering quotes from the Museums Association study:
"Adopting a subjective and opinionated stance, or seeking to influence visitors' opinions, is strongly opposed and would be seen as infringing the museum's trusted objectivity."  Said one participant "if I want someone telling me what to think, I'll pick up a newspaper or turn on the telly. That's not what museums are there for."
I find this particularly sobering as we approach the Alliance's annual meeting in Atlanta, with its theme of "The Social Value of Museums: Inspiring Change." I've pointed out before that museums may have to choose one of two roles: facilitator or advocate, between being a trusted place for dialog and taking a stand on an issue. If a museum advocates action on climate change or human rights, or simply maintains the scientific reality of evolution, it may close the door to engaging with people who disagree with these positions, and end up preaching to the converted.
What I hadn't considered is that the public might reject both those roles, as indeed the participants in the U.K study did. "The idea that a museum would go out of its way to incorporate controversial or divisive topics was seen as puzzling and [was] branded a 'must not' purpose. Furthermore, debates and controversy were seen as possibly undermining one of the core museum purposes, namely to provide a family-friendly, enjoyable and entertaining day out."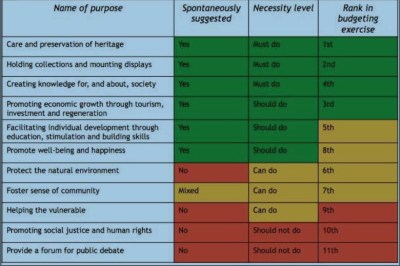 From: Public Perceptions of–and attitudes to–the
purposes of museums in society. Britain Thinks for
Museums Association, March 2013.
Edelman's 2015 global Trust Barometer research shows Americans overall trust the public nonprofit sector more than their British counterparts do, but doesn't give any indication that the behavior that earnsthat trust (for government, companies, or NGOs) is any different in the U.S. than across the pond. Do we have any reason to believe the U.S. is fundamentally different than the U.K. when it comes to public trust and museums? American museums overall receive very little government support compared to their U.K. counterparts. Perhaps the source of museums' funding may influence public opinion about museums' public responsibilities. I suspect not, however, if only because I think most people are pretty fuzzy on where U.S. museums get their money to begin with.
Mostly what I want you to take away from this mishmash of information, these hints and indicators, is the realization that museums can't take trust for granted. If the public trusts American museums more than the government, or business, or the media, we can't assume it's because they trust our expertise, or our opinions. (Another sobering nugget in the Edelman report: when it comes to content creation, people trust their friends and families as much as they trust academic experts.) And if we want the public's trust, that might mean having to stick to "just the facts." Even if we think the "facts" (as embodied in our collections) don't speak for themselves.