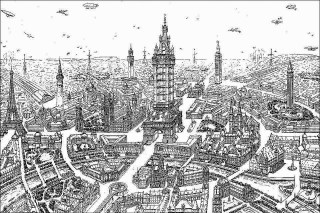 Eugène Hénard, 'The Cities of The Future',
published in American City, January 1911.
I just downloaded a report that looks like a fascinating futurist read. "A Visual History of the Future" looks at how past depictions of the future have shaped our thinking about cities and influenced urban design. It was published last September as part of the U.K.'s Foresight future of cities project, which looks at the opportunities and challenges facing cities over the next 50 years. Before I dive into the Visual History, let me take a moment to share two massive, real-world projects to build the city of the future.

There are several attempts underway to build the "city of the future" from scratch, rather than through the slow process of upgrading existing infrastructure. Songdo International Business District, in South Korea, is one. In this $40 billion dollar project, Korea took a well-rounded approach to design, paying attention to quality of life issues like walkability, green space, education and culture. And Golf. Ten percent of the city is devoted to a giant greenspace modeled after Central Park. Across the Central Canal from the park is the IBD museum and the Songdo Ecotarium. It is scheduled for completion in 2015, and expects 65,000 residents by 2016.


A bit over 4,000 miles away is Masdar City in the United Arab Emirates, an "$18 billion experiment in high-tech, low-resource living..the world's first large-scale carbon-neutral development." According to the Fast Company article I quote at the beginning of this paragraph, Masdar City is perpetually stuck in an "opening soon" status largely because it focused exclusively on business–with no thought to how people would live, shop, recreate and otherwise inhabit the high tech hub. One commenter has opined that the design reflects a "gated community" mentality that essentially abandons the mess of existing cities to build utopias for the rich.
Skip over related stories to continue reading article
I haven't visited either Songdu or Masdar (dang it) so I can't give an independent review. Your Futurist Friday assignment is to play virtual tourist, as I have (using the videos above or others available on the web) to think about your idea city of the future.
What principles should shape its design?

What amenities would make it "livable" to you?

What elements of existing urban design would you like to leave behind?
And, perhaps most importantly, are there steps you can take to help build this vision of Utopia in your own city, rather than starting from scratch?