I started organizing a demonstration of the oh-so-trendy Google Glass right after our 2014 conference (suspecting even then I'd be featuring wearable technology in
TrendsWatch 2015
). Then in January Google announced that they were halting public sales of Glass to focus, for now, on business applications for fields that have a specific need for heads up, hands off displays. (
Medicine
, for example, or
engineering
.)
My colleagues at AAM started acting like my dog had died. "Oh too bad," they said. "What are you going to do now?" So they were startled when my gleeful reply was "THIS IS PERFECT!"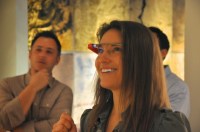 Google Glass at the Bard
Graduate Center Photo:
Raffi Asdourian
Because really, this is exactly the challenge museums have to deal with. How do you know when a new technology is going to catch on? How do you decide whether and when to embrace Glass, or Hololens (holographic augmented reality goggles), or Oculus Rift (virtual reality headset), or Apple Watch (smartphone-on-a-wristband)? It's famously difficult to forecast the rate of adoption of any given technology and even the experts get it wrong. (I bet computer technologist Ken Olsen got heartily sick of being reminded of his pronouncement in 1977 that "There is no reason for any individual to have a computer in his home.")
The decision about which new device to focus on isn't even entirely under museums' control. One trend we've seen in the past few years is the rise of BYOD—Bring Your Own Device. Rather than letting a museum provide the technology they need to access digital content, many people prefer to use their own personal digital devices (e.g., smart phone, tablet).
So what's a museum to do? Spend time and money targeting a mainstream platform may already be passé by the time the project launches? Aim for the cutting edge of emerging tech, only to find that the chosen device never catches on?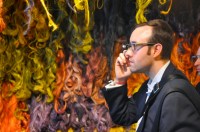 Neal Stimler with Glass at the
Bard Graduate Center
Photo: Raffia Asdourian
There is no magic answer, but this problem—predicting which devices your audience is going to "bring"—isn't going to go away. It will only become more complicated as we enter an era dominated by wearable technology, as devices that live on the wrist, the face, or even in the user's body supplement or supplant hand-held devices. Market research firm IDC estimates that vendors will ship over 45.7 million devices in 2015—that's up 133% from last year. Some projections put that figure at 126 million by 2019. (Figures from Motley Fool, which published a nice slide deck on the future of wearables.)
Hence, CFM's Museum of the Future demonstration, because in 2020 a significant portion of museum visitors will be using wearables, and a portion of those (plug in your forecast here) will be some kind of heads up display, whether it's Glass, Sony's equivalent device that clips on to the user's own glasses, BMW's Mini Augmented Vision (which is primarily designed to interface with your car, but hey) or a device like Hololens oriented towards augmented reality.
Our mock-museum in MuseumExpo will be populated with reproductions provided by museums in Atlanta and elsewhere, with interpretive content delivered via an application created by GuidiGO, a Google Glass Certified Partner for museums. You will be able to put on Glass, try out the application and use it to spur your thinking about wearables. Come with your pen (or twitter account) at the ready, as we invite you to share your thoughts on:
What roles wearable technology can play in the museum of the future.

What wearable tech can do differently, or better, than hand-held devices.

Your idea for the "killer application" for Google Glass or other wearable tech in museums, for visitors or for staff.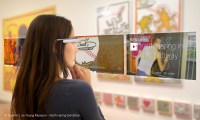 GuidiGo for Glass tour of the
Keith Haring exhibit at the
deYoung Museum
How can you make the most of the demo? Read the chapter on wearable technology in TrendsWatch 2015 (that's the chapter that opens on page 41 with an amazing and totally apropos "beefcake" shot). Check out Neal Stimler's posts on "Seeing the Met through Glass". Neal is going to be on hand at the demonstration in Atlanta to share his thoughts first-hand as well—thank you, Neal. Read Barry Joseph's thoughtful analysis of wearable tech, plotted into the Mooshme Matrix of Place-based Augmented Devices. At the meeting itself, drop by Creating Tours with Google Glass, Tuesday 1:45-3 p.m. (room B209), with staff of the Fine Arts Museum of San Francisco and Antenna International. And if you have your own favorite piece of wearable technology (Narrative Clip wearable camera? Google Cardboard—an inexpensive way to experience Oculus Rift-like virtual reality?) Please bring it to Atlanta and be ready to share!
My heartfelt thanks to the corporate partners helping us design and build the demonstration:
Malone Design/Fabrication
MBA Design & Display Products Corp.
And to the museums who have contributed reproductions and content:
National Baseball Hall of Fame and Museum
Skip over related stories to continue reading article