This article originally appeared in the May/June 2015 edition of the Museum magazine. 
We have become a nation of food-obsessed individuals. A glance at television's offerings reveals that we revel in watching food competitions where seasoned chefs badger hapless newcomers, savor mano a mano duels between home cooks and hardened professionals, and delight in traveling to places near and far sampling weird food and vicariously tasting the fare of points known and unknown. It is only logical that this national obsession would eventually turn up at our museums.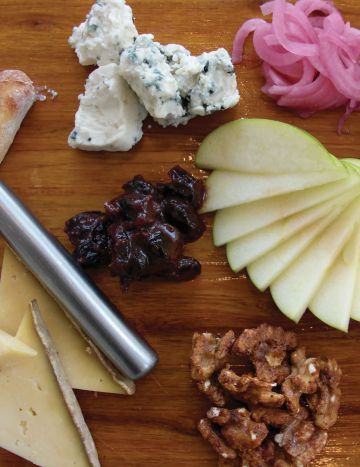 Mitsitam Café provides a gustatory continuation of the lessons learned in the exhibit spaces. It was a quiet revolution that is ongoing.
It's been a long time coming. Perhaps the first glimpses came in the 1960s and '70s while the nation was watching Julia Child extol the delights of butter on our televisions, and James Beard and the Galloping Gourmet introduced us to world cuisines. Then, some of the museums in the avant-garde began upgrading their cafeterias. I remember joining the Museum of Modern Art in New York because its restaurant offered a Midtown Manhattan haven of calm: a bright room with sleek furnishings, where as a single woman I felt safe, and as a budding food lover (the horrific term foodie had yet to be invented!) I could escape the Schrafft's-like luncheon options that otherwise prevailed when one was on a limited budget. They even served wine! Had I lived in Paris in the late 1980s, I would no doubt have spent a great deal more time in the restaurant of the Louvre. I can still recall being taken there by friends. The fresh taste of a salad of perfect string beans and fresh lettuces lightly dressed with a citrus vinaigrette remains as vivid on my palate as the restaurant's view over the newly renovated courtyard remains in my mind's eye. In each case, the restaurants were a reflection of the food ethos of the times, but bore little relationship to the exhibition spaces.
Skip over related stories to continue reading article
In intervening years, there have been other many museum meals. Some were delightful for their food or their ambiance. Others were simply disguised reiterations of school cafeterias complete with the litany of food woes that dwell therein: fried and overcooked fare that was too often calorie heavy and overfilled with salt and sugar. Those two poles, with little middle ground, remained the norm for museum restaurants until 2004.
Then, the National Museum of the American Indian opened Mitsitam Native Foods Café. Mitsitam means: "Let's Eat!" in the native language of the Delaware and Piscataway peoples, and the cafeteria was a revelation. Its self-proclaimed mission is to continue and enhance the museum experience. It features native foods that come from five delineated Native American culinary regions: the Northern Woodlands, the Northwest Coast, the Great Plains, Meso-America and South America. The menu includes traditional items like fry bread, grilled wild elk loin, and cedar-planked wild salmon. There are contemporary twists on traditional dishes, such as buffalo burgers, dried cherry doughnuts, and salads prepared from wild rice and watercress. The café provides a gustatory continuation of the lessons learned in the exhibit spaces. Further, the service areas are not divided traditionally into soups and salads, meats and vegetables, but according to geographic divisions, so that the visitor can sample a taco or fry bread from the Southwest alongside a quahog chowder from the Northeast. The menu is also inflected seasonally. The museum has even had a garden grow some of the foods of the Native peoples and supply some of the ingredients for the café. It was a quiet revolution that is ongoing, as the café remains one of the most popular dining venues on the National Mall.
Certainly, many museums are now incorporating fine dining into their offerings. Overseen by culinary legend Danny Meyer, The Modern at MoMA is a far cry from the eatery that began my love of museum dining decades ago. Boasting three stars from the New York Times, a Michelin star, multiple James Beard awards and an entrance that makes it accessible beyond museum hours, it is clearly not a traditional grab-and-go cafeteria. Dining has become such a part of its museum experience that MoMA can boast two other venues: Café 2 with Italian food, light fare and an espresso bar, and Terrace 5 with light dishes, seasonal foods, and wine and cocktails. Panini, soups and grilled asparagus with burrata can be had at AMMO at the Hammer Museum in Los Angeles, an outpost of Chef Amy Sweeney's culinary empire and the New Orleans Museum of Art boasts an eatery curated by Ralph Brennan of the much-awarded Brennan family. Some museum restaurants, for these, are more than mere cafeterias, have even scaled the culinary heights: Nerua at the Bilbao Guggenheim, like MoMA's Modern, is so exceptional that it too has earned its own Michelin star. But while they are all very fine establishments, they do not as a matter of regular practice do what Mitsitam does—extend and enhance the museum- goer's appreciation of the exhibits. (For an indication of potential new direction, see page 51.)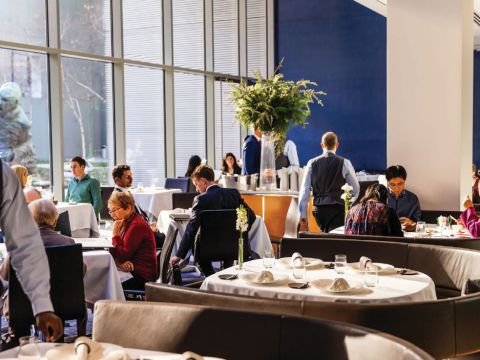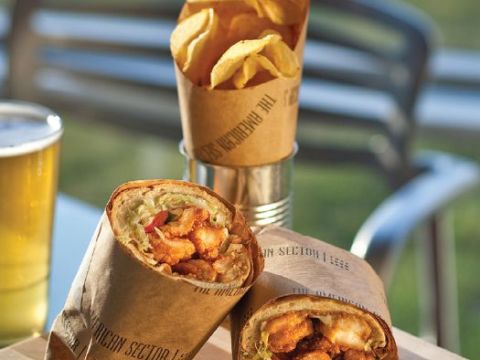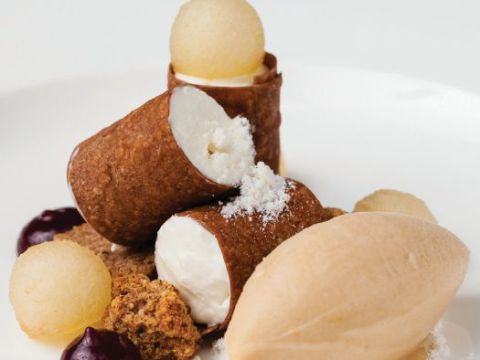 MoMA's restaurant, The Modern (top), has won accolades for refined dishes such as the Ricotta Cannoli (bottom right).Bottom left: Shrimp Po' Boy at the National World War II Museum's American Sector restaurant.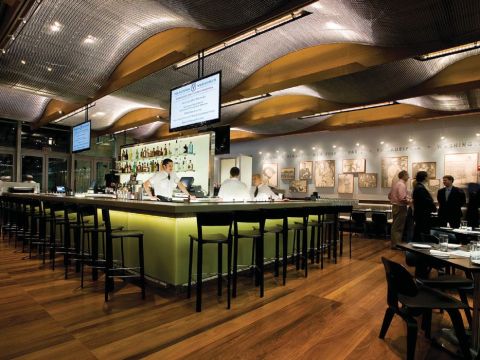 Mitsitam redefined the increasing potential for the use of food studies in the museum context. If that were not enough, the display space outside the café has also been given over to food-related exhibits and showcases not only serving vessels from around the American Indian world but a brief display of foods developed by them that have become a part of our everyday life in the United States. Cornflakes and quinoa share space with potatoes and hot sauces (chiles were domesticated by Native peoples). In that manner, even while in line for the cafeteria, a continuing lesson is being taught—one that is grounded in food studies.
The discipline of food studies is rapidly growing in the academy, and departments and programs are springing up around the country and indeed the world. The discipline is fluid in scope and can overlap more traditional areas of study from anthropology to zoology. It also touches on new disciplines that reflect contemporary world concerns such as environmental studies. The influence of food studies provides ample potential for creativity and for enhanced cafeteria and fine dining experiences at virtually every type of museum.
Consider some opportunities. Artists from da Vinci to Warhol have kept journals in which they detailed their culinary preferences. More than a decade ago, a series of cookbooks that celebrated the dining habits of various artists were published: Monet's Table, Van Gogh's Table, Cézanne and the Provençal Table, Matisse: A Way of Life in the South of France, Picasso: Bon Vivant, Toulouse-Lautrec's Table and more. Lautrec himself authored a cookbook. Frida's Fiestas: Recipes and Reminiscences of Life with Frida Kahlo presents the recipes and entertaining styles of another part of the art world. These books detail an artist's culinary preferences, along with images and recipes. The favorite dishes of artists would make for an interesting series of art museum cafeteria specials that would enhance the visitor's experience of the artist's world. You may ask, "Does one understand Monet better after learning about his blue and yellow kitchen and his love of food?" That is not the point. In this food-obsessed era, knowing about Monet's kitchen and perhaps sampling one of the dishes he served may be an entry point to the appreciation of his art for someone who might otherwise not care.
It's not all about the Impressionists, French artists or even art museums. The Field Museum's "Chocolate" blockbuster show of 2002 offers another case in point. The wildly popular show explored chocolate throughout history and around the world and is still traveling. In its second decade of touring, it shows no sign of stopping, indicating a national fascination with food but also offering ample opportunity for cafeteria connections. Who wouldn't savor a taste of chocolate using a recipe from Montezuma's time or a cup of the chocolate that Marie Antoinette might have shared with her suite of followers? Even the smallest museum dining facility could provide such fare or partner with others who can. Institutions could offer chocolate-themed dinners, afternoon teas or simpler tastings. The complex culinary histories of sugar, coffee, tea or salt offer possibilities for exhibits large and small, all with opportunities for the creative museum kitchen.
In Washington, DC, the 2011 exhibit "What's Cooking, Uncle Sam? The Government's Effect on the American Diet" at the National Archives spawned an extremely popular pop-up restaurant: the America Eats Tavern, researched and designed by DC chef José Andrés, featuring dishes from the country's past like pickled watermelon salad, Maine lobster rolls and fried chicken with slaw, as well as historic cocktails. Opened near the Archives, the restaurant became so popular that in perhaps a unique case of a museum exhibit creating an ancillary business, it outlived the exhibit that created it. In 2013 Andrés opened a permanent America Eats Tavern at the Ritz-Carlton, Tysons Corner in McLean, Virginia.
The American Sector restaurant at the National World War II Museum in New Orleans has offered period-appropriate
dishes like chicken potpie. Today there is an authentic soda fountain and a special collaboration between restaurant and museum that allows visitors to dine with a curator in a private area with a menu that often fits the theme of the discussion.
Certainly, there is a fine line to tread. It would be naïve not to recognize that some folks will never change. After all, the museum cafeteria is generally a profit-generating enterprise that must be available to all level of museumgoers,
from budget-seeking families to connoisseurs. There may always have to be a burger, a chicken dish, a salad and a vegetarian special, as well as those chicken tenders for the kids. However, there is still ample room for adventure.
The Smithsonian, perhaps learning from the lesson of the Mitsitam Café and as custodians of the wildly popular "Julia Child's Kitchen" exhibit, has committed to using food as a lens through which to see American history. It also seems to be in the forefront of a growing movement to continue the exhibit in the cafeteria and indeed enhance the understanding of the museum's experience via the palate. In April of 2014, the National Museum of American History, home of the exhibit, formed a Kitchen Cabinet of leaders in food scholarship, culinary history and food-related businesses tasked with shaping food-related events and exhibits in the upcoming years in an attempt to show us who we are through food.
The influence of food studies provides ample potential for creativity and for enhanced cafeteria and fine dining experiences at virtually every type of museum.
The difficulty of defining a people through its food and connecting the cafeteria to the exhibit spaces became abundantly clear to me in 2011, when I was asked by the Smithsonian National Museum of African American History and Culture to help conceptualize its cafeteria space. The first challenge was the complexity of presenting the full range of African American culinary history in the United States that spans the early years, crosses the privations of the period of enslavement and extends into the current era of new black Americans who are more recent arrivals from all areas of Africa and its diaspora. Also to be considered were Pullman car porters and juke joints, cakewalks, rent parties, church dinners on the grounds, Juneteenth barbecues, Pinkster Day picnics and cowboy chuckwagon cooks. There was a half a millennium of history that included agricultural labor, a long tradition of working in food service both as enslaved and paid laborers, and a cultural and culinary diversity that is often subsumed by race and its history. The seemingly innumerable ways to connect the cafeteria with the exhibit spaces stretched out like an unfurling banner celebrating the past; it was all about keeping communication lines open between curators and chefs and allowing each to experience the excitement and enthusiasm of the other. All too often this does not
happen. The process is ongoing, so I'm not giving away any secrets, but suffice it to say, when the museum opens, culinary history and museum-goers' appetites will both be well served.
Now museum cafeteria kitchens are being encouraged to self-correct and retreat from the stodge that some are
still serving. Not only is it time to get beyond the limp grilled chicken Caesar salad, hot dogs, and sodas that have become synonymous with museum cafeteria dining, it is also time to make the dining experience a continuation of the museum's mission. Clearly, every museum does not have the budget to support a chef-driven major dining establishment. Some will be smaller spots with limited menus and still, others may only offer periodic specials. But changes are possible with a sure knowledge of the museum and of food in all of its aspects, and a new sense of collaboration between exhibit and cafeteria staffs. If the "object all sublime" in Gilbert and Sullivan's Mikado was "to let the punishment fit the crime," perhaps the contemporary museum's objective should be to let the food fit the venue.
---
Jessica B. Harris is a professor at Queens College/C.U.N.Y. in New York, and the author, editor or translator of 17 books, including 12 cookbooks documenting the foods and foodways of the African diaspora. She has lectured widely in the United States and abroad and has written extensively for scholarly and popular publications.