I never have enough time for long-form reading, but every summer I queue up a few things and make time to dive into them. Preferably sitting on the porch. With lemonade. And cats. Here are the next four on my list—these summaries are based on the preliminary nosing around that led me to conclude they were worth a long read. (All of these are available as free PDF downloads via the links provided.)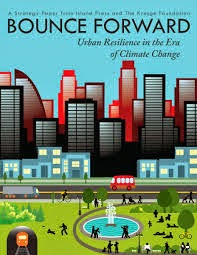 Bounce Forward: Urban Resilience in the Era of Climate Change. (The Island Press, 2015, 366 pp.) The Kresge Foundation is devoted to creating opportunities for low-income communities, is keenly aware of the disproportionate impact climate change will have on those vulnerable populations. So the foundation partnered with Island Press on the Urban Resilience Project—a combination of literature review, interviews with diverse experts and a convening of advisors to work out a unifying framework. The resulting report presents a holistic framework for creating resilient cities—adaptable systems for energy, transportation, food, water and housing that can anticipate, plan for and mitigate the impact of change.
Why Read This? The principles of resilient design summarized in this report can help museums with their own risk mitigation planning. I also hope it encourages staff to think about how their museum can contribute to the resilience of its own community.
A Visual History of the Future (UK Government Office for Science, 2014,142 pp). This report was commissioned by the UK Government's Foresight Future of Cities Project. The authors did their best to make one of the coolest topics ever as dry and academic as possible—maybe because they think it makes the report more credible? But even slinging around terms like "dominant paradigm" and "heuristic visualizations" can't smother the awesomeness of the content. These drawings, prints, paintings, screenshots from the past 100 years—by artists, film makers, architects, futurists—deal with enduring challenges. See, for example, Studio Linfors' 2009 "Cloud Skippers," a design for lifting housing away from coastal disasters via helium balloons; or Oscar Newman's 1969 proposal for burying Manhattan to protect it from nuclear attack. If those seem too far out, you might prefer Shimzu Corporation's "Green Float" concept for floating cities designed to be carbon-negative (carbon absorbing) in its operations.
Why Read This? The point isn't the realism or practicality of these visualizations (many are surreal and totally impractical) but their ability to free up our thinking to play with radically different ideas for urban planning. (As a bonus, the text and images often reference futurist films and novels, which then go onto my reading/viewing list.)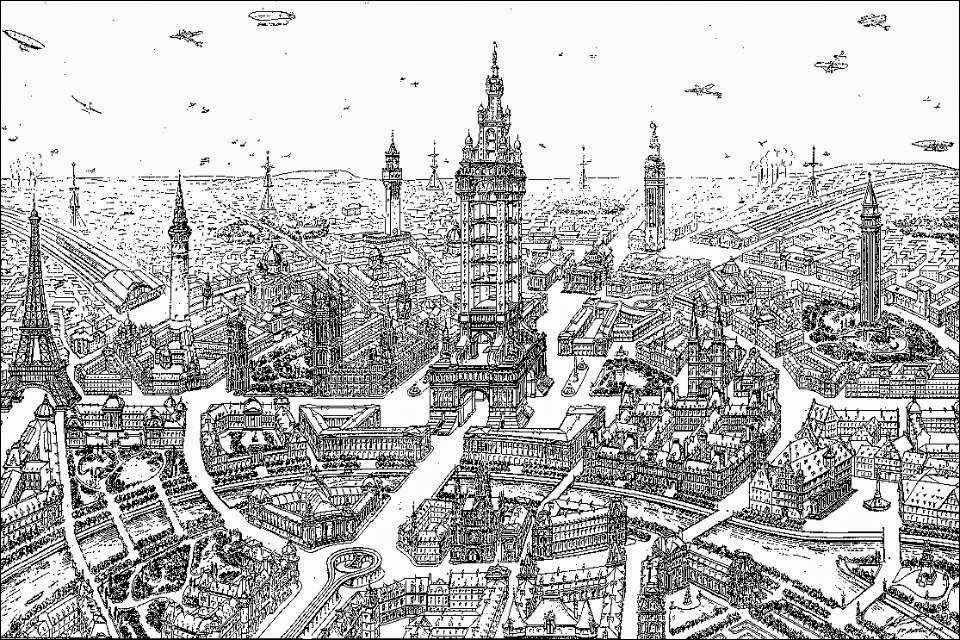 Eugene Henard, The Cities of the Future, 1911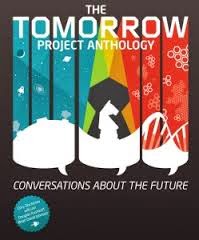 Living Tomorrow (Intel Corporation, 2015, 139 pp.) This is the latest installment of submissions to The Future Powered by Fiction competition sponsored by Intel, the Society for Science and the Public and ASU's Center for Science and the Imagination in 2014. (The challenge invited 13-25 year olds around the world to contribute science fiction stories, essays, comics and videos.) This collection presents eleven entries focusing on futures shaped by biological and environmental challenges, a nice change from our usual monolithic focus on digital technology. You can find the winning entries from the competition here, along with an earlier anthology of additional entries (Dark Futures). Later this summer Intel will release the final installment—Journeys through Time and Space.
Why Read This? The trends that provide the basis for these stories—manipulation of the human genome, radical longevity, food scarcity and increasingly sophisticated pharmaceuticals—are quite real. Stories on each of them pop up in my scanning on a regular basis, (and often find their way into Dispatches from the Future of Museums). These young authors help us imagine where these trends may take us, before the consequences take us by surprise.
Certifying Skill and Knowledge: 4 Scenarios on the Future of Credentials(KnowledgeWorks Foundation, 2015, 17 pp.) I'll read pretty much anything put out by KnowledgeWorks, CFM's sister organization that conducts forecasts around education. As we explored in TrendsWatch2013, credentialing is a major barrier to the widespread adoption of some of the most promising educational innovations. How do you prove to a college that you are ready to matriculate even if you didn't go to high school? How do you convince an employer you have the skills and knowledge needed for a job when much of your training drew on non-traditional sources? But slowly, slowly, alternative methods of credentialing are gaining credibility. This forecast looks at four potential futures: the baseline (business as usual with some variation around the edges); two alternative futures (one dominated by alternative credentialing, one in which technology tracks and catalogs all that you do), and one wild card in which we can read the brain directly to measure cognitive, social and emotional skills.
Why Read This? In Building the Future of Education: Museumsand the Learning Ecosystem, we envision a future in which museums play a major role in mainstream education, rather than being relegated to the edges as "nice but not necessary" resources. This future is premised on finding ways of credentialing that go beyond standardized testing, grades and transcripts, so museums have a vested interest in helping to test and implement alternative systems.
So, that's my summer reading. I would love to hear what's on your desk pile, bedside table or iPad. Share?
Skip over related stories to continue reading article