The Economist just released the 2015 edition of "The World If"– a companion to their annual compilation of predictions. I'm working through it today, and you can, too.

The editors pose one of my favorite questions: "What could happen given certain assumptions." Or, as they put it "just suppose…" My favorite essays this year complete that phrase with: 

If Hillary Clinton is President (with special attention to the consequences for undocumented immigrants, the push for a higher minimum wage and paid maternal leave.)

If the World Introduces a "Piketty Tax" (to decrease wealth inequality.)

If Autonomous Vehicles Rule the World (which I respectfully think is not so much if, as when, with immense impact on urban planning and mobility. In other words, with direct consequences for museums.)

If Every Woman Has a Smartphone (globally, it could "shatter isolation and unleash their powers like never before," improving health, economic condition and social status.)

And while you get started on those, I'm going to go read  If Lying Makes Your Nose Grow. Hey, its Friday after all. Enjoy.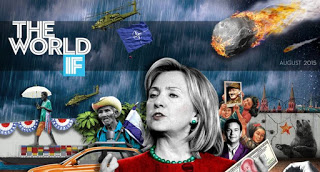 Skip over related stories to continue reading article