One of the themes CFM focuses on in
TrendsWatch 2015
is the changing climate of risk facing museums. Fully a quarter of museums & related organizations in the IMLS MUDF database are located in coastal areas with high vulnerability indices. I've been keeping an eye on new museum construction to see how architects, designers and engineers are meeting this challenge. Leann Standish is Interim Director and Deputy Director for External Affairs at Pérez Art Museum Miami, a modern and contemporary art museum located in Museum Park in downtown Miami, Florida that is dedicated to collecting, preserving, exhibiting and interpreting art of the 20th and 21st centuries. In this week's guest post, Leann shares how PAMM's new facility is primed to meet the rising tides of the 21
st
century.
When Pritzker Prize-winning architects Herzog & de Meuron took on the task of designing the
Pérez Art Museum Miami
(PAMM), a waterfront museum in the most hurricane-prone major city in the US, they faced a myriad of challenges.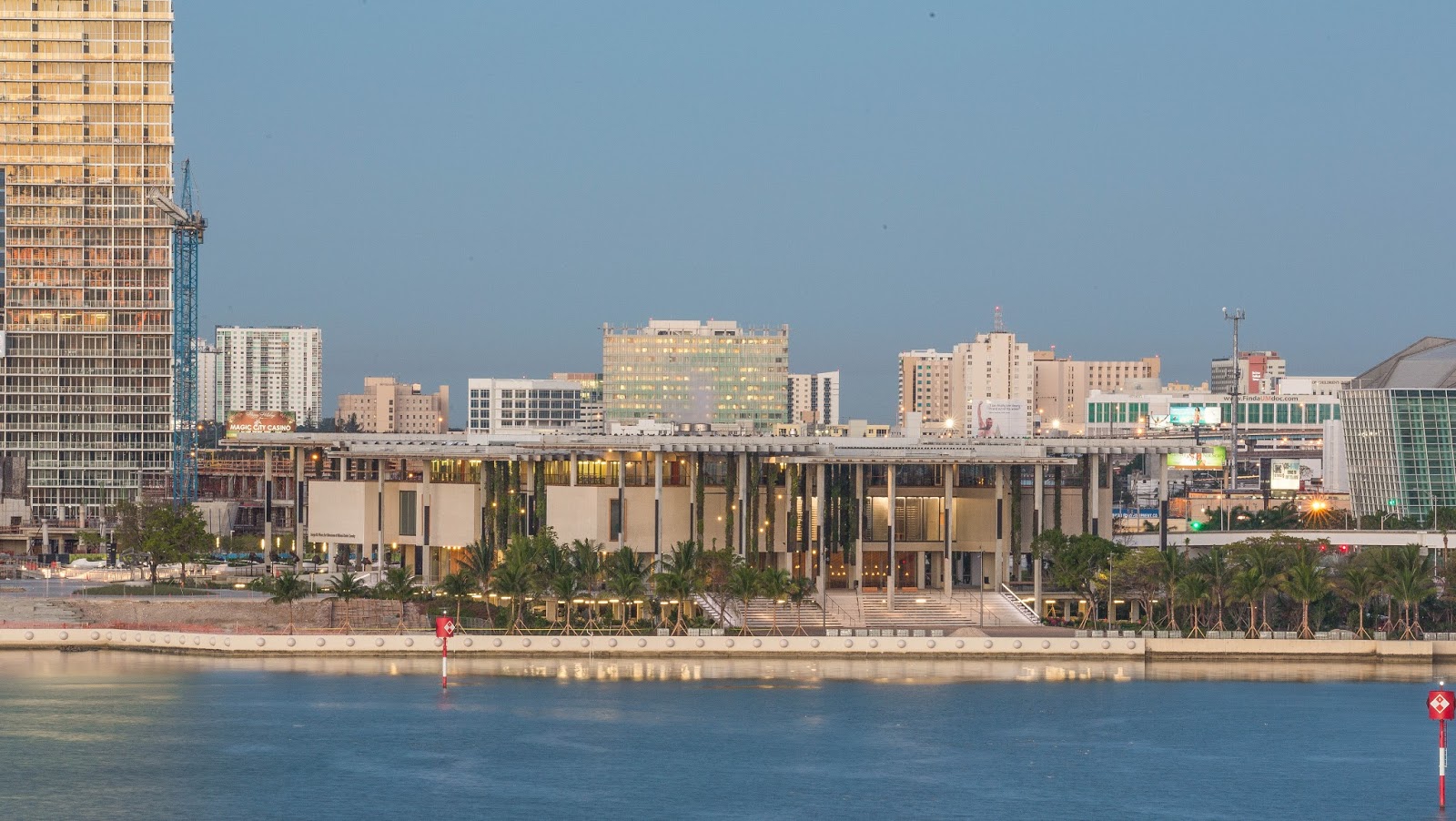 PAMM Buidling by Daniel Azoulay
According to the National Oceanic & Atmospheric Administration, Miami has a 48% chance of experiencing the impacts of a tropical storm or hurricane in any given year, and as we saw with Hurricane Sandy's flooding of Chelsea galleries in New York in 2012, storms not only damage buildings, they can destroy one-of-a-kind works of art.
PAMM, which opened to the public in December 2013, was designed both to connect the interior of the museum—and the museum experience—with the context of the outside world, but also to keep the outside elements out. There's far more natural light at PAMM than at any museum I've ever been to—one can gaze out the length of Government Cut to the Gulf Stream while experiencing art in
the building
. Yet we obviously need the art to be completely safe. To that end, Herzog & de Meuron responded with innovation, designing a building that can withstand a Category 5 hurricane, and that is braced for a potentially chaotic 21stcentury.
Herzog & de Meuron elevated the first floor of the museum above the 18-foot high-water mark left by Category 5 Hurricane Andrew in 1992. This elevation also acts as a cushion for projected effects of climate change.

In cases of extreme rain, storm surge or flooding, gaps in the floors of the patio surrounding the museum allow water to drain into the parking garage, located underneath the museum.

A power generator on the third floor of the museum ensures electricity to the building even if lower floors are affected by flooding. The generator has enough fuel to sustain the museum for three days, and can be refueled by truck. If roads are blocked, as is often the case after a hurricane, we can refuel by barge, thanks to our waterfront location.

Our second-floor windows are the largest panels of hurricane-resistant glass in the US (17.5 feet tall by seven feet wide, each weighing 2,500 pounds). Engineers in Germany tested them by shooting 2x4s at them at hurricane-force speed.

The entrance doors of the museum are not only majestic teak, they're 550 pounds each, with a multi-prong pin system that locks the doors in several places to secure them against category-five hurricane winds.

Our famous hanging gardens, designed by Patrick Blanc, are designed to withstand a category five hurricane; the plants can easily be replaced if need be, and the architects and Blanc reinforced the fiberglass tubes with stainless steel armatures, so the mechanical system and irrigation system remain intact.
PAAM Bayside Stair Photo by Juan E. Cabrera
Another little stroke of genius is that we don't have to install special exterior reinforcement such as shutters—Herzog & de Meuron designed the building to be hurricane-resistant as is. As a result, we can focus on securing artwork if natural disaster strikes. Our plan, in the event of a major hurricane, is to de-install and place in storage as much of the art as possible, starting with the most sensitive works, such as particularly rare works on paper that are sensitive to humidity and temperature fluctuations. (Fortunately, hurricanes come with some warning; a "hurricane watch" is issued 48 hours in advance of "possible" hurricane activity, and a "warning" is issued 24-36 hours in advance of "likely" activity.)
Herzog & de Meuron located our art storage 146 feet above sea level to ensure security from flooding and water damage. The storage space has a Heating, Ventilation & Air Conditioning (HVAC) system specifically designed to handle humidity levels that might follow a storm event. As for the outside sculptures, we worked with engineers to ensure pieces such as Mark Di Suvero's
La Plume de Pierrot
are resistant to hurricanes up to category five, and have protocols to de-install works such as Jonathan Borofsky's bs or Konstantin Grcic's
Netscape
.
Miami is a city with experience when it comes to disaster preparedness and disaster relief. In addition to our own measures, PAMM is part of The Alliance for Response (AFR) Miami group, as well as the Heritage Preservation's Alliance for Response initiative. This way we can pool resources and respond quickly in the event of an emergency.
The thing about working at a museum, and being responsible for its content, is that the content is worth more than just money—there is no insurance policy that can replace a singular original piece of art. That piece came from history, came from one person's mind, and has resonated with thousands more. There is intangible, sentimental, and cultural value to the artwork we protect. We here at PAMM have the good fortune of working with a relatively new building that was not only aesthetically inspired by the subtropics, and also cleverly designed to withstand the subtropics' tempestuous nature. The results are a pleasure to behold, but also a case study in design solutions for the 21
st
century.
Has your museum used resilient design for renovations or new construction? Please share your story, and links, in the comment section below.
Skip over related stories to continue reading article