In the next decade, museums will make a transformational shift from seeing "digitality" as an area of specialization, separate from and in addition to traditional means of doing their work, to digital as an inextricable element of their being, interwoven into every element of museum-ness. I've been recruiting several colleagues to report from the front lines of this transition. First up, Jeff Inscho shares how the Carnegie Museums of Pittsburgh are finding their way into the post-digital future via the Innovation Studio, a research design and development laboratory that launches this week.
For the most part, the underlying foundation of emerging technologies that frame our contemporary way of life remains hidden from view, an invisible yet integral element to our collective existence. And for all its revolutionary promise, digital technologies also have a way of detaching us from the present moment, pulling us from real-world moments into a screen-based void.
If we learned anything from Paul Ford's recent masterful essay,
What is Code?,
it's that many aspects of our modern lives are controlled by a largely unseen layer of binary. These hidden ones and zeros help us figure out where we're going and what to watch. Code helps us stay connected with the people we love and teaches us a world's worth of new things.
When you think about this brave new post-digital world in which we live, and specifically a museum's role within it, you may wonder how museums will respond to this shift. Will we shy away and ignore the new reality, or will museums face the digital landscape head-on and embrace its non-linear, evolving and iterative nature? Carnegie Museums of Pittsburgh chooses the latter.
TRANSFORMING MUSEUMS FOR THE FUTURE
Museums, by and large, are institutions rooted in tradition. Our missions emphasize the care and scholarship of our collections, and the experiential learning that happens around those objects and specimens. These are noble and worthy efforts, but many museums struggle to strike a balance between their tradition and legacy, and where that legacy will carry them into the future.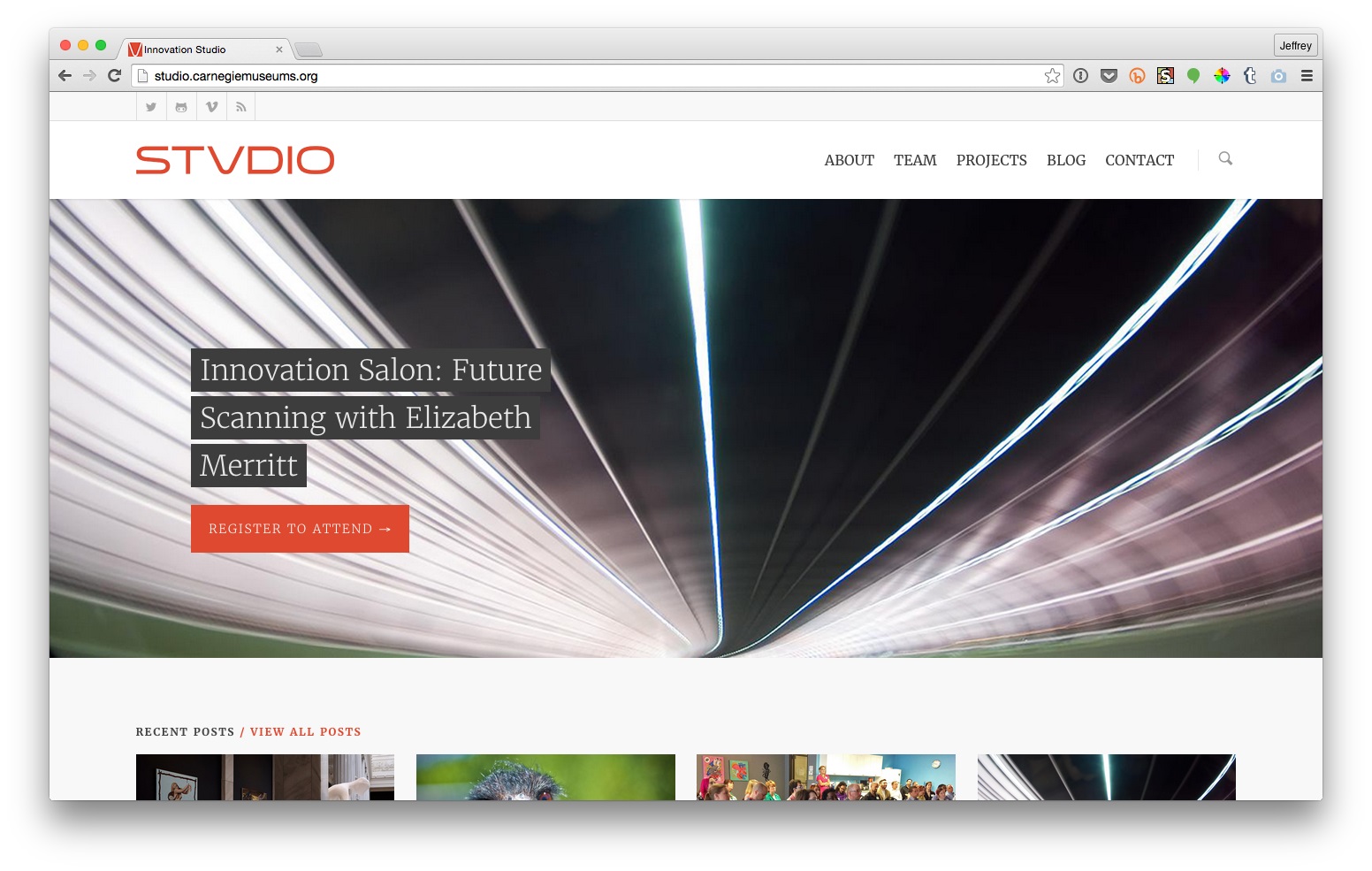 Screenshot of Carnegie Museum Of Pittsburgh's Innovation Studio
Our museums are varied and diverse and the collections in the city of Pittsburgh (where I live and work) are a great example. The Carnegie Museum of Art is home to Monet, Van Gogh, Giacometti and The Carnegie International—the oldest contemporary art exhibition in all of North America. The largest and most comprehensive collection of works by a single artist is enshrined at The Andy Warhol Museum. Thousands of children and families become awestruck by dinosaurs at the Carnegie Museum of Natural History and robots at the Carnegie Science Center.
The Innovation Studio, established just a few short weeks ago and formally announced today, is the new research, design and development laboratory at Carnegie Museums of Pittsburgh. Our mission and mandate is to optimize our museums for the invisible layers of code that drive modern life and inspire new ways of thinking about the relationship between emerging technologies and the museum experience, effectively transforming ourselves for the future. We plan to do this by relentlessly focusing on the following key areas:
Building 21st century infrastructure
Crafting delightful experiences
Fostering creative partnerships between cultural and technology communities
Enabling digital adaptation throughout CMP
Undertaking just one of these things for one museum would be a daunting task. We're working on four goals, for four distinct institutions. This type of initiative could only be possible at Carnegie Museums of Pittsburgh, where the Studio can leverage the reach, breadth and resources of the CMP commonwealth. For true transformation to take hold across Carnegie Museums of Pittsburgh, it's essential that we tackle each of these key areas together because they are interrelated and impact each other. A holistic approach is a healthy approach.
DEVELOPING AND DESIGNING IN THE OPEN
We don't claim to have all the answers. Like many other institutions, we're figuring this stuff out as we go. As cash- and staff-strapped cultural non-profits, we need to rely upon and learn from each other. Our friends at
Cooper-Hewitt Labs
,
Tate
,
BKM Tech
,
SFMoMA Lab
, the
MetMedia Lab
and the
Center for the Future of Museum
s have set an incredibly important precedent with respect to process and knowledge sharing.
In that spirit, The Innovation Studio is committed to designing and developing in the open. Our code will be open sourced whenever possible. Our events will be free, open to the public, documented, and made available online. We will share the good, bad and ugly aspects of projects over on
the Innovation Studio blog
.
This will be a long journey, as shifts of this magnitude don't happen easily or overnight. We are effectively at the start. Now it's time to take some baby steps toward tomorrow and begin the hard work ahead of us. We look forward to sharing our experiences with you. In addition to the Blog, feel free to follow us via
Twitter
,
Github
, and /or
Vimeo
.
Skip over related stories to continue reading article
If you are in the Pittsburgh area, I'll be joining Jeff for some futuring around digitally-related trends at the Studio's first Innovation Salon on Thursday, September 24. Registration is free, but required—you can
sign up here
.