When I tell people I'm a futurist, I inevitably get some jokes about crystal balls and Tarot decks. Ironically, I actually HAVE a Tarot deck on my desk: one that I've hacked to create a "forecasting deck"—a clever tool to help people imagine different futures. I was working on a post reviewing some of the forecasting decks available via the web when I stumbled across a deck-in-progress, being funded via Kickstarter by my friend and fellow futurist Jasper Visser (
Inspired by Coffee
). I promptly pledged to the campaign, and invited Jasper to tell us more about this new forecasting tool, and how it can help museums future-proof their strategic plans
Everyone who has tried design thinking or
gamestorming
in their museum will recognize how creative approaches can help to generate new ideas and solve complex problems. When negotiations have stalled, it often helps to stand up from the table and move around to get the conversation going again. Likewise, using techniques different from memos, corporate brainstorms or whatever is the norm in your institution, can help you look with fresh eyes at impossible challenges.
Cards for Culture
—Museum Edition is based on this insight, designed to provide a playful approach to strategy development for museums. It's a box with three decks of cards: strategy, trends and inspiration cards. Like a standard 52-card deck, you can use these cards in different ways to develop your strategy, inspire innovation and guide transformation processes.
The development of the cards was a long process, of which the
current Kickstarter campaign
is only one step. Erik Schilp and I have been working together on innovative solutions that help organizations address complicated issues for years. These solutions often share the same characteristics: they're highly accessible, use digital thinking and game mechanics to involve as much people from an organization as possible and combine bottom-up with top-down approaches. I hope you back

the project on Kickstarter

, but in any case I hope to inspire you to use play, creativity and new ways of working together to advance your museum strategy, and come up with new ideas for the future of museums
Games are best explained through playing them, so I'd like to invite you to play one round of Trendwatcher (one of the six ways we've outlined in the user manual in which you can use the cards). Trendwatcher uses the trends and strategy cards to help you to make your strategies trend-resistant, and come up with new ideas. It's a fairly straightforward game: at random, you play one of the 16 trend cards with current trends that are shaping the future of museums: Skip over related stories to continue reading article
You played the trend 'Participatory governance'! All over the world, bottom-up initiatives challenge museums to reimagine how they can involve their audience in a meaningful way.
Some of the "inspiration cards" present case studies of organizations that allow their audience to take responsibility. To explore what this trend means for your museum, go through the 64 strategy cards with your team, and select those that you believe are impacted by the trend. The strategy cards are organized in eight themes (story, leadership, audience, organization, community, society, space and assets). For this sample round, let's play three strategy cards at random: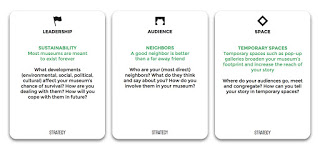 We've played sustainability from the leadership theme, neighbors from the audience theme and temporary spaces from the space theme. (Please note these are prototype cards, the final deck may change slightly.)
Next you formulate questions using the strategy and trend cards. For instance, "How does participatory governance impact the sustainability of our museum?", "What responsibility would our neighbors be willing to take (or are they already taking) for our organization?", "Can we experiment with participatory governance in a temporary space?"
Exploring the questions with your team and other stakeholders is an incredibly valuable process. Not only does it ensure that you think about all aspects of an integrated, future-proof museum strategy, it also generates new ideas and insights.
Erik is currently assisting a new museum of arts and crafts of India within Mumbai International Airport. Using the deck for that project, just five random cards played in this exercise created insights which led to three new programs.
Cards for Culture
has been inspired by existing cards based toolkits, such as
MethodKit
and
Drivers of Change
. We like how they make complicated topics accessible by breaking them down to individual pieces, and then link these pieces together visually. The content of Cards for Culture, and the different ways to use the cards, are especially developed for this purpose only. I believe the game and its contents are unique in the sector.
We've gone through a range of prototypes and playtested repeatedly, in a range of settings and in different countries. One of the results of this has been the addition of joker: four risks and threats that could disrupt your museum. The jokers add an extra dimension to all the ways in which you can use Cards for Culture. Let's play one: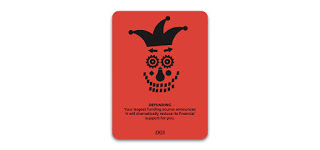 What would you do? How does this relate to participatory governance and can you turn this threat into an opportunity?
In Pisa, we used the cards (and especially the jokers) to challenge project pitches with relevant questions. "How is this project affected by changing demographics?", "How can this be used to improve funding to your organization?". We call this game 'Pitch perfect' and it's a powerful and fun way to challenge ideas and strengthen projects.
'Trendwatcher' and 'Pitch perfect' are just two examples of how you can use Cards for Culture – Museum Edition. In the user manual, we've outlined 4 others, with many variations. Moreover, what we've noticed is that every time we introduce the cards to new people, they come up with their own ways to use the cards. A group of small museums explored how they could use the cards online to foster collaboration. In a large museum, a department plans to use the cards to better integrate its work in the overall organization.
It's these responses to Cards for Culture that make me most happy: people claim the product and are endlessly creative with it. It's also – probably – why the Kickstarter campaign is going well: people recognize Cards for Culture as a tool flexible enough to be applied in their (unique) museum reality, and structured enough to actually help them and their organizations move forward. That's exactly what we set out to make, and a valuable addition to the conferences, management books and workshops that are currently available to museums looking to develop a future-proof strategy.
Which leaves us with wrapping up our sample round. What is your response to the trend of participatory governance? Which elements of your museum strategy does it affect and how? Is it an opportunity, a threat or – ultimately – also a new approach to strategy development? We look forward to seeing your responses in practice in museum around the world!
Cards for Culture – Museum Edition is developed by Erik Schilp and myself and designed by Robin Stam.
Support our campaign on Kickstarter
before Sunday 22 November 2015, 11:59pm CEST and be among the first to receive a box with 100 high-impact cards for strategy development in museums.