In today's guest post, Katherine Prince—Senior Director, Strategic Foresight at KnowledgeWorks, announces the publication of their 10-year forecast on the future of learning. You may recall that Katherine gave us a preview of this project back in September. You can review CFM's work with Knowledgework on trends in the future of education in the report

Building the Future of Education: Museums and the Learning Ecosystem

. Follow

Katherine

and

KnowledgeWorks

on Twitter and comment below to help build the next era of learning.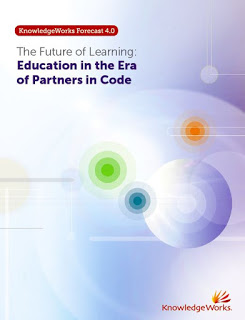 Exponential advances in digital technologies are changing our world at an unprecedented pace, ushering in a new era of partners in code that promises to change learning dramatically. Even though education has historically been slower to move than many sectors, the pace of change that we will all face over the next ten years will likely bring to the fore essential questions about the purpose of education; who shapes it; and what it looks like for different learners, for different organizations, and in different places.
In releasing The Future of Learning: Education in the Era of Partners in Code, my hope is that museums and other education stakeholders across the learning ecosystem will step back from today's realities to envision how changes at play in the world today could impact learning and how we might all shape learning so that it supports every young person in navigating the emerging future.

 
For museums, that future kaleidoscope involves using two lenses: one focused on what learning might look like and the other focused on what museums might look like.

 

Overlaying the two lenses reveals a myriad of possibilities for how museums might shape the future of education and let themselves be shaped by it.

 

Among them:
 

Could some museums become central contributors to diverse learning ecosystems in which fluid school structures cross traditional institutional boundaries?
Could museums, with their experience in engagement design, heighten their expertise in designing learning for flow – and share that expertise with other kinds of learning organizations?
Might museums come to tag their – and possibly also others' – learning resources by origin, values, and impact for use in highly customized artisanal schools, some of which might be based in museums, at least some of the time?
Could museums' authority shift as new benefactors take the lead in creating new educational approaches?

 

What exciting possibilities might emerge from sharing authority with learners in new ways?
Could funding flow to museums through new channels; for example, via Smart Learning Fast Passes that unlocked distributed learning experiences when learners were ready for them and transferred money to providers?
Could museums help teach learners how to make an impact on the world around them as part of their education so that they developed the skills necessary to navigate increasingly volatile landscapes?
As these possibilities illustrate, many of the drivers of change shaping education are also likely to impact museums.

 

The five major societal shifts listed below are pointing the way toward the new era of partners in code.
 

Optimized Selves

– Discovering new human horizons as we seek new ways to understand ourselves and to optimize our performance as human beings.
Labor Relations 2.0

– Negotiating new partnerships with machines as automation proliferates among the non-routine, complex cognitive tasks that once seemed like the exclusive purview of knowledge professionals.
Alternate Economies

– Finding the right niche as new kinds of economies change how we create value and as people seek experiences and interactions that align with their personal value sets.
Smart Transactional Models

– Creating self-managing institutions as authority shifts from hierarchical institutions to communities and as innovations in encryption technologies such as blockchain, usher in more transparent and distributed models for structuring transactions.
Shifting Landscapes

– Innovating in volatile conditions as new relationships with work, growing income disparity, and environmental volatility demand new strategies and structures for navigating turbulence.
These drivers of change could come together in many ways, creating new opportunities for museums to shape engaging and challenging learning experiences for and with young people as well as new challenges in doing so.

 

Take a closer look for yourself and play around with possibilities.

 

Looking through those two kaleidoscope lenses, what happens if you combine one possibility with another? Then what happens if you add in a third? Then exchange one of those possibilities with another?
Imagining future possibilities in this way gives us all the chance to explore what learning might look like, what museums might look like, and what we might want to create.

 

How might museums shape learning for the emerging era of partners in code?
Skip over related stories to continue reading article