Museums and community partners create vibrant learning opportunities every day and we're proud to highlight powerful examples of such work. We invited Dorothy Kosinski, Director of the Phillips Collection, to tell us more about an innovative collaboration between her institution and the Town Hall Education Arts Recreation Campus (THEARC) in Washington DC's Anacostia community. Follow ongoing news about this project on Twitter: The Phillips Collection, Dorothy Kosinski , and THEARC .
Just a couple months ago on a brilliant October afternoon, I had the privilege of attending and speaking at a groundbreaking ceremony for Anacostia's
Town Hall Education Arts Recreation Campus (THEARC)
, celebrating the third and final stage of the community center's expansion. THEARC's Phase III expansion will add a new, 92,000 square foot building to the campus by 2017, making room for several new resident partners, including The Phillips Collection. With a hardhat on my head and a shovel in my hands, I was honored to stand alongside our fellow partners in a shared commitment to serving our community.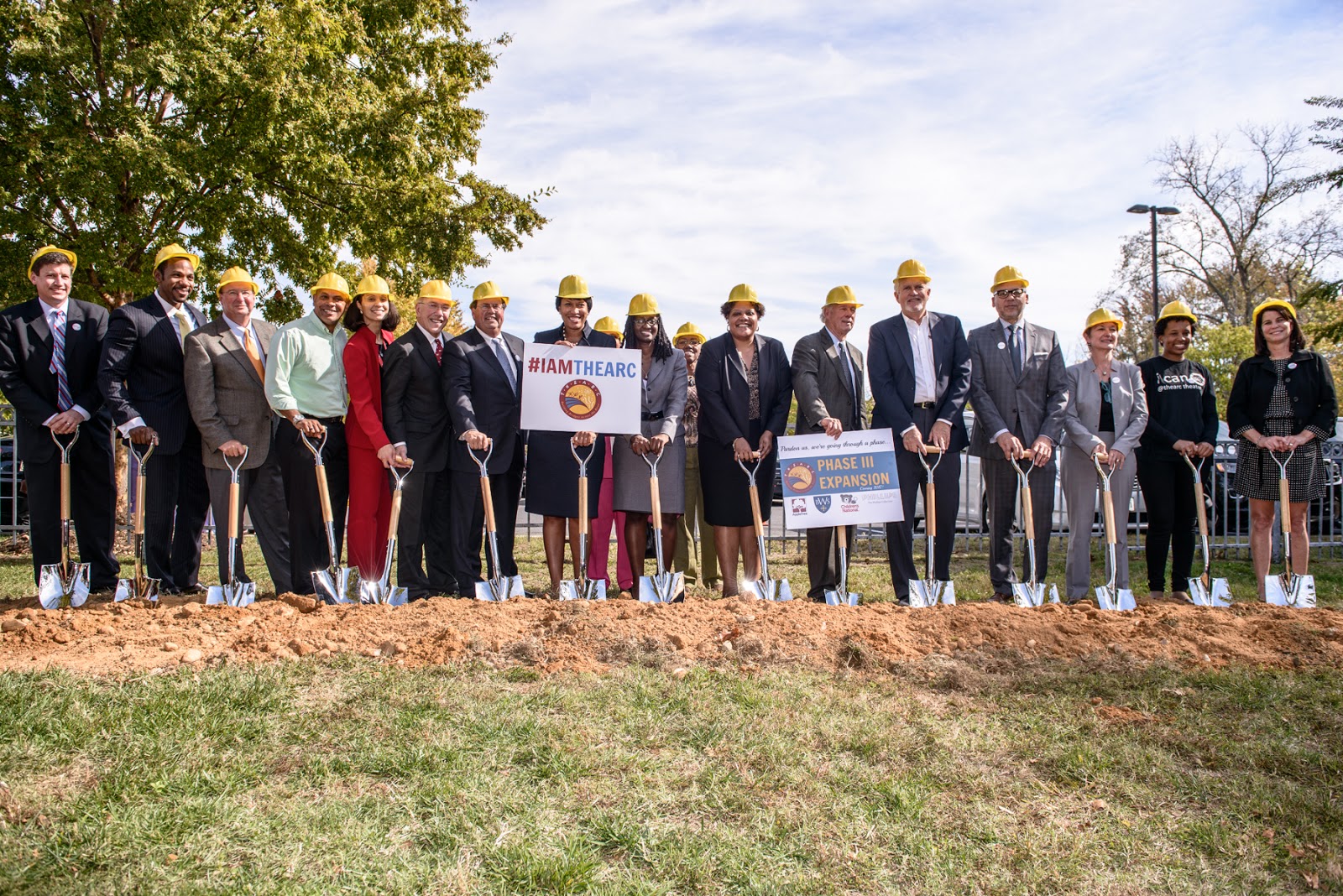 Phase III groundbreaking ceremony. Photo Credit: StereoVision Photography for THEARC
Building on the Phillips' mission as "an intimate museum combined with an experiment station," we envision Phillips@THEARC as a dedicated offsite "experiment station" inviting DC residents to explore cross-disciplinary programs in our new, light-filled arts-integration studio and community art gallery. The Phillips will work closely with leaders from DC's Ward 7 and 8 communities, our broad network of non-profit and for-profit partners, and current resident partners at THEARC to co-create programs based on community need. Focusing on two of the museum's core competencies—art and K-12 education and art and wellness—these free, multi-generational programs may include daytime art discussions for older adults living with chronic illness; after-work art and meditation classes for adults; collaborations with Wards 7 and 8 schools infusing art into K-12 curricula; professional development sessions for DC teachers; and children's book workshops for young children and their caregivers. There are boundless opportunities to be explored, and we look forward to co-curating a program that meets community needs.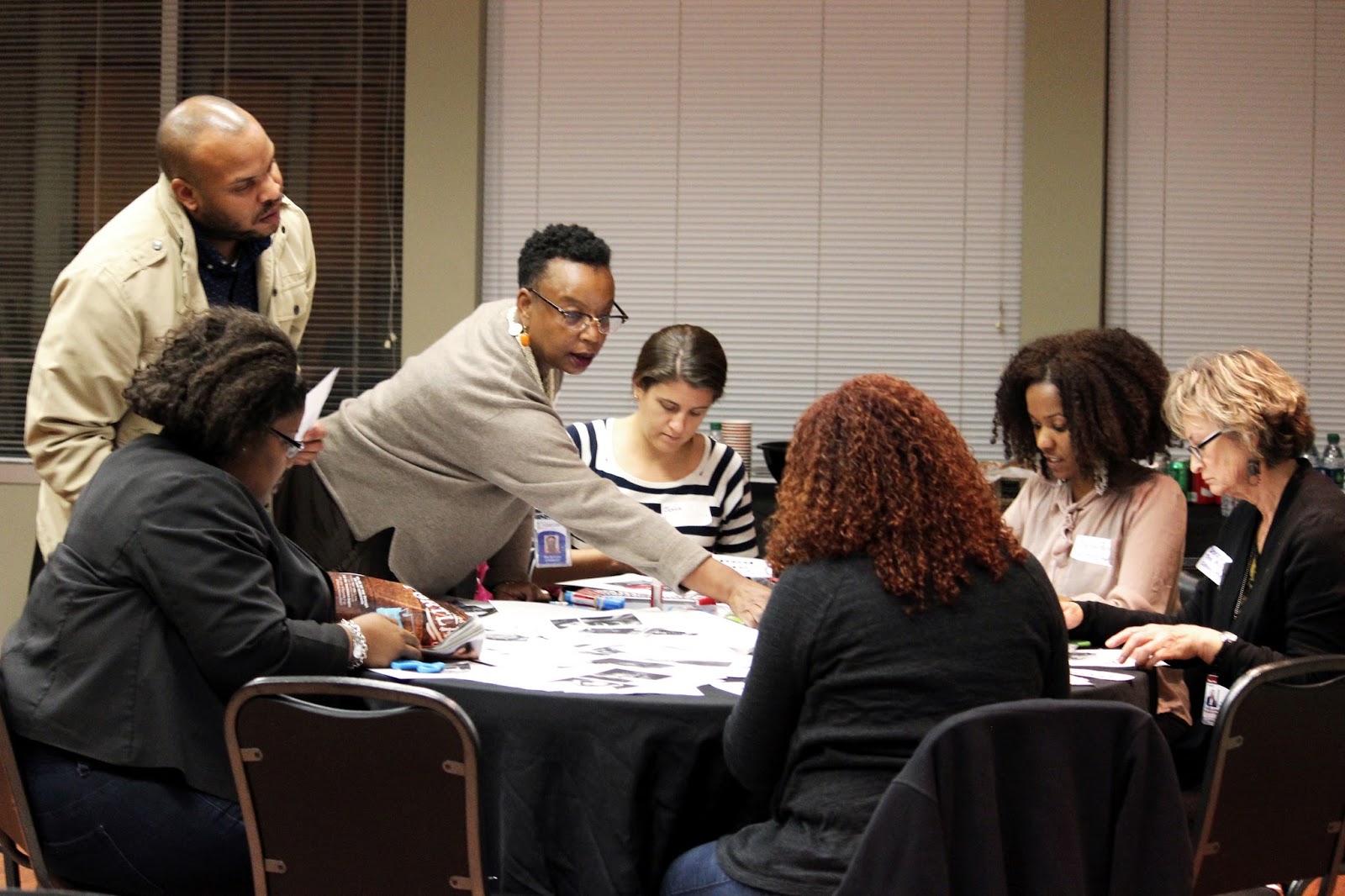 At the Phillips@THEARC Curriculum Slam, local educators brainstorm Prism.K12 lesson ideas to integrate into their classrooms. Photo: Laura Hoffman
But these efforts can't wait until 2017; we need to start building on our vision today! To launch our partnership with THEARC, the Phillips is training teachers from the THEARC resident Washington School for Girls and nearby Turner Elementary School in
Prism.K12
, the museum's innovative arts-integration methodology for K-12 teachers. Our educators will also foster a global dialogue through an Artful Exchange, exploring religious and ethnic tolerance between students at these DC schools and Bosnian children as part of a Phillips initiative with the U.S. Department of State. In a fresh approach to teacher workshops, Phillips@THEARC hosted a Curriculum Slam earlier this month, during which two teams of DCPS high school teachers showcased lessons they developed tying together Prism.K12 strategies and
Question Bridge: Black Males
, a video installation about black male identity in America, on view at the Phillips through the New Year.
My colleagues and I are thrilled to embark on this journey with an organization dedicated to giving families East of the river access to high quality academic, artistic, cultural programming and social services—resources that have been historically out of their economic and geographic reach. Working with our community partners, we will develop arts-infused programs that have a meaningful impact on the students, teachers, and multi-generational families we serve.
This collaboration comes at a pivotal moment for the Phillips—as we approach the museum's centennial celebration in 2021, Phillips@THEARC is evidence of our strategic plan in action.
Our partnerships cannot be superficial or convenient, but must reflect deep engagement and commitment.
At the Phillips@THEARC Curriculum Slam, local educators continue to brainstorm Prism.K12 lesson ideas to integrate into their classrooms. Photo: Laura Hoffman
At the Phillips, we believe that when we weave art into our personal experiences, we increase our quality of life. Throughout our long history of co-creating K-12 programs with Anacostia schools, we have been providing highest-need DC areas with direct access to exceptional visual art programs. With over a decade of research and evaluation, the Phillips has become a national leader in arts-integrated teaching and learning, developing a rich portfolio of programs with DC public and public charter schools. Phillips@THEARC continues to extend the museum's service beyond our walls, fulfilling our institutional goal to collaborate throughout the DC metropolitan area to broaden audiences and reaffirm the Phillips's role as a vital contributor to community well-being. I am delighted by this tremendous moment for the Phillips—through our residency at THEARC, we will no longer be visitors to Anacostia, we will have a home there!
Skip over related stories to continue reading article