Hi—Sylvea here. I'm excited to announce the launch of CFM's "Future Fiction" project, a national challenge in which we invite museum professionals, educators, futurists and community members to share their stories of an educational future for the US in which museums play a starring role. I'm managing the challenge, and look forward to seeing your submissions in the coming weeks.

Why the challenge? It's a creative platform for showcasing stories (or photos, videos or drawings, if you prefer) that illustrate the "vibrant learning grid" described by educational forecasts such as the Alliance report Building the Future of Education: Museums and the Learning Ecosystem and KnowledgeWorks' 2020 Forecast: Creating the Future of Learning.

We look forward to hearing your vision for the future of education. Finalists will get bragging rights, a small cash prize, and their work will be featured in Alliance publications such as Museum.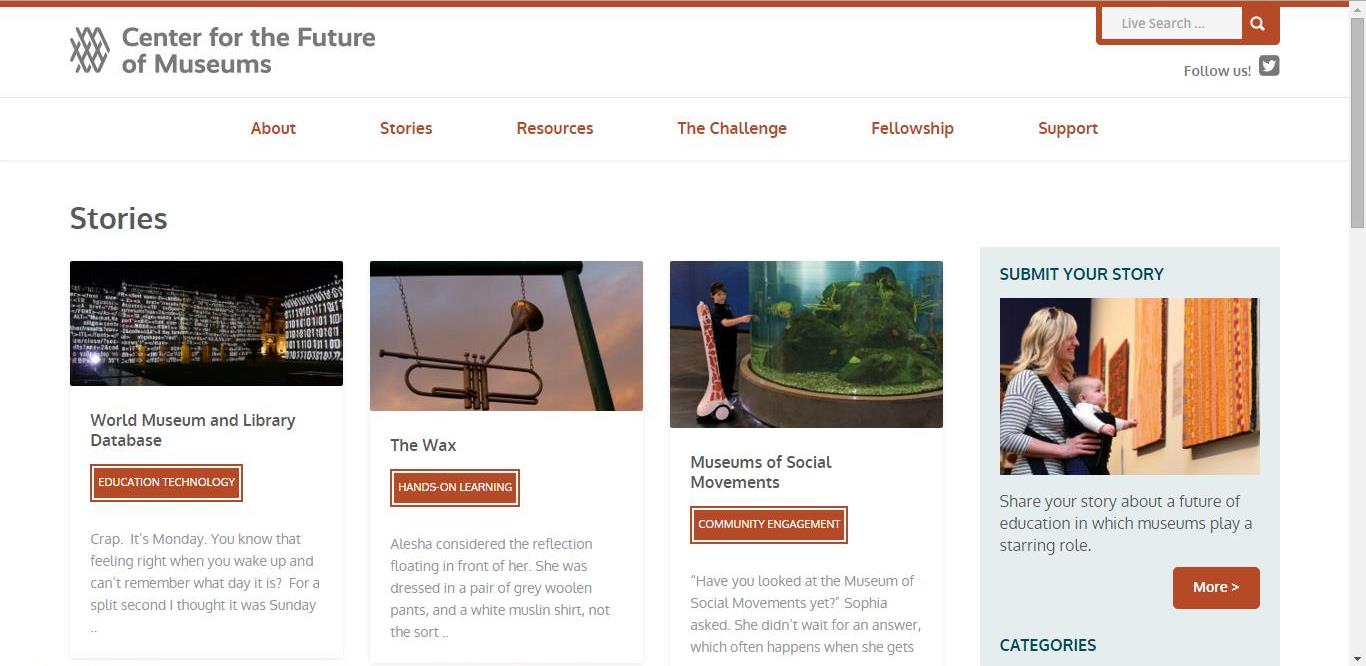 We will showcase some of the best stories on our Vibrant Learning website.
So, here's the challenge:

The Assignment: Tell me a story
…about a future of education in which museums play a "starring" role
What will it be like to be a learner in 2040? Will students go to "school," or study with a mentor over the web? Will all their friends learn the same things, at the same time, in the same way, or will each have their own personal learning plan? Will there be increased attention toward programming, maker spaces, and applying skills? One thing I'm sure of: the best educational future for the US will make full use of the incredible resources provided by our museums—people, information, powerful places and (of course) all the cool stuff. Hence, this challenge

:
…
help museums imagine the role they can play in the typical P-12 learning landscape for children in the future
.
Skip over related stories to continue reading article


We don't know what children's education will look like in the coming century. There's pretty strong consensus, however, that it will be more personalized, immersive, hands-on, passion-based and self-directed than what we have today. Tell us a story that describes what you think the learning landscape might look like in twenty-five years and make sure that your submission highlights a future where museums play a starring role. Stories have power, and your ideas can inspire museums to build the best possible future for the next generation.

If you want to submit images, sound recordings or video instead of or in addition to text, email futureofeducation@aam-us.org and I will work that out with you.


Need some help getting started on your story? Elizabeth shared some writing tips in this blog post. Also, you can look for inspiration in the sample stories contributed by futurists, educators and museum folk on

T

he

C

hallenge website.
Guidelines
Prose: up to 2,000 words (this text can take any form—a story, diary entry, letter, vignette, poetry, tweet stream, etc…or other documents from the future)
Award
Runners Up (up to 4 entries) $500
We will disseminate award within 60 days of challenge closing
01/19/16 Open for Applications
03/14/16

Application Deadline
Mid-March Announcement of Awardees
We've recruited a marvelous team of futurists, museum professionals, and education advocates to read and assess your submissions.
These folks will be assessing how well your story:
1. Explores a fundamental shift in P-12 education by either filling a void or solving a problem in P-12 education.
2. Capitalizes on the primary strength of museums—access to original objects, while also showcasing your artistic freedom to exaggerate and invent fictional worlds.
3. Inspires wonder, awe, and sheer unbridled joy of learning.
4. Is clearly written and thoughtfully organized.
We want to hear your vision for the future of education.
Ready to write? Super. Email me if you have any questions. I look forward to reading and sharing your great ideas!