I'm the first to admit it can be hard to catapult from dealing with today's urgent problems to thinking about the long-term future. Fortunately, futurists have developed many tools to help guide organizations through the process of questioning their assumptions about the present and envisioning alternative outcomes. I've blogged in the past about some such tools—including
implications wheels
and
scenario development
. Today I'd like to introduce you to another useful (and fun) way to stimulate futures-thinking: forecasting decks.
I like forecasting decks because they are intuitive and accessible (most people feel comfortable dealing a hand of cards) and because, when well designed, they provide a lot of step-by-step support for participants. There are a bunch of great decks available on the web, many of them for free. Here is a brief review of some I've tried:
An Inventor's Toolkit: Governance Futures Lab was created by the Institute for the Future in 2013 for the ReConstitutional Convention, where social inventors and innovators put their creativity to work trying to design new governance systems. (As the preamble to the toolkit notes "Today's governments are stuck using 18th century tools to solve 21st century problems. These failures not only perpetuate suffering today, they ripple through time, constraining choices for generations to come." Great quote.) I like this deck a lot. While it focuses on examining "core weaknesses" of current government structures, its four-step process—investigate, re-think, design, prototype—can be applied to a broad range of topics. I adapted part of this deck's framework for my advice on how to develop a story for the CFM Future Fiction Challenge (which I hope you are planning to enter!) What "core weaknesses" of museums would you focus on?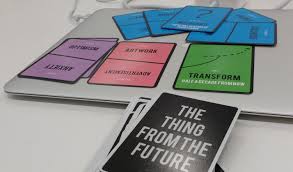 The Situation Lab's The Thing From the Future introduces a fun twist by challenging players to invent objects representing a range of alternative futures. The hand you deal specifies the resource constraints in this future (e.g., growth or collapse), where the object might be found (e.g., home, work, grandma's house), what kind of object it is (general shape or type) and what kind of mood it evokes. Participants can simply describe their imagined future object, but it's even more fun to have people mock up a prototype. I ran this exercise with students in Johns Hopkins' Intersession seminar last year, and they had a blast with it! This deck is less strategically focused than IFTF's toolkit, but it provides a fun, low-pressure entry into future thinking. You might enjoy using it as an introductory exercise or icebreaker for a planning session. You can see how other organizations have used this deck by searching for #FutureThing on Twitter. The Thing From the Future is available as a free print and play edition or you can order professionally printed decks for $40 each.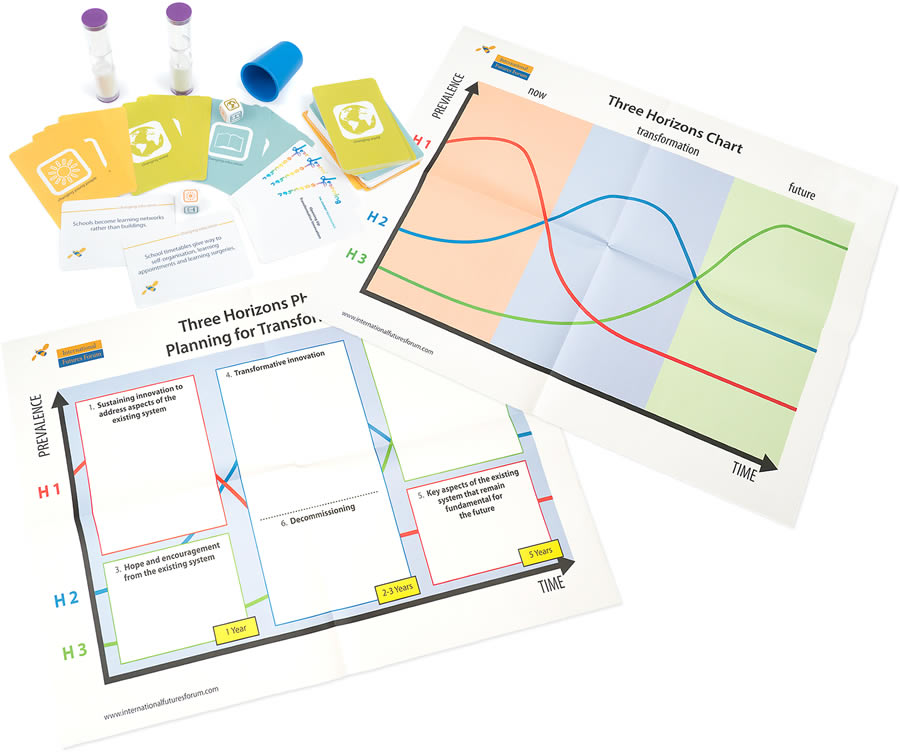 Nicole and I have been studying the "Three Horizons" framework for futures thinking, which helps navigate the sticky middle distance between the present and a distant, desired future. The International Futures Forum offers a Three Horizons Kitto help implement the framework. It was designed and developed originally for use in education, in particular for school improvement planning, but it's been modified since for many different settings, with change cards prepared for areas including healthcare, higher education, social care, philanthropy, arts funding, public service reform, and inequalities. It's not free–IFF invites people to write for decks tailored to their sector. I'd be interested to see what they would come up with for museums, specifically.
One deck recently debuted that is tailored for our sector: "Cards for Culture: Museum Edition" created by Erik Schilp and Jasper Visser and designed by Robin Stam. It consists of 64 cards posing strategic questions around eight themes (story, leadership, audience, organization, community, society, space and assets) together with 16 trends cards, 16 examples of real world best practices, and four jokers representing catastrophic disruptions.
Visser and Schilp suggest six ways to use the deck, ranging from a 90 minute session that uses the cards to explore and critique project proposals

and even

longer engagements. The most intensive is a series of eight, 2-hour sessions designed to guide the development of an entire strategic plan. Quite a commitment, but I suspect it would be incredibly productive for any organization that can devote that kind of time to the exercise. If you try this at your organization, please let me know—I'd like to know how it worked out.
Cards for Culture costs € 79, and purchase gives you access to a site with updates on trends, and links to related resources, as well as examples of museums, products and practices that Visser and Schilp find inspiring.
(This video is from the Kickstarter campaign Visser and Schilp ran to fund designing and printing the deck. The campaign concluded successfully—I was a supporter!—so you can ignore the funding pitch, but the video gives you an idea of what the finished deck looks like.)
Skip over related stories to continue reading article
I highly recommend forecasting decks as a way to introduce a bit of futures thinking—or a lot—into your operations and planning. Wet your toes with some of the free resources linked in this post, and consider diving in with some of the professionally printed decks as well. And let me know how it turns out! I'd love to hear about your experiences with these and other compilations of cards for the future.