Finding a stable business model for museums in the 21st century is going to take more than patching the old income streams. The goals and expectations of government funding and philanthropy are changing, and there's more competition for traditional earned income streams. To regain our financial footing, museums need more than a better restaurant and a new travel program: we need new ways to embed ourselves in the economy. What could that look like? Well, in TrendsWatch 2014 I highlighted one example: the way in which the New Museum is capitalizing on the reputation of the museum, its connections, expertise and its aura of "cool" to create a business accelerator-cum-co-working space called New, Inc. That business model looked so promising I've been waiting for other museums to give it a try—and two years later my wait is over. In this week's guest post Katrina Sedgwick, Director and CEO of the Australian Centre for the Moving Image tells us about her museum's foray into the accelerator/co-working world. Follow ACMI on Twitter!

Three weeks ago, the Australian Centre for the Moving Image (ACMI) in Federation Square, Melbourne – the world's most visited museum of the moving image – announced a second site. ACMI X is the first collaborative working space for the creative industries set up by a major cultural institution in Australia.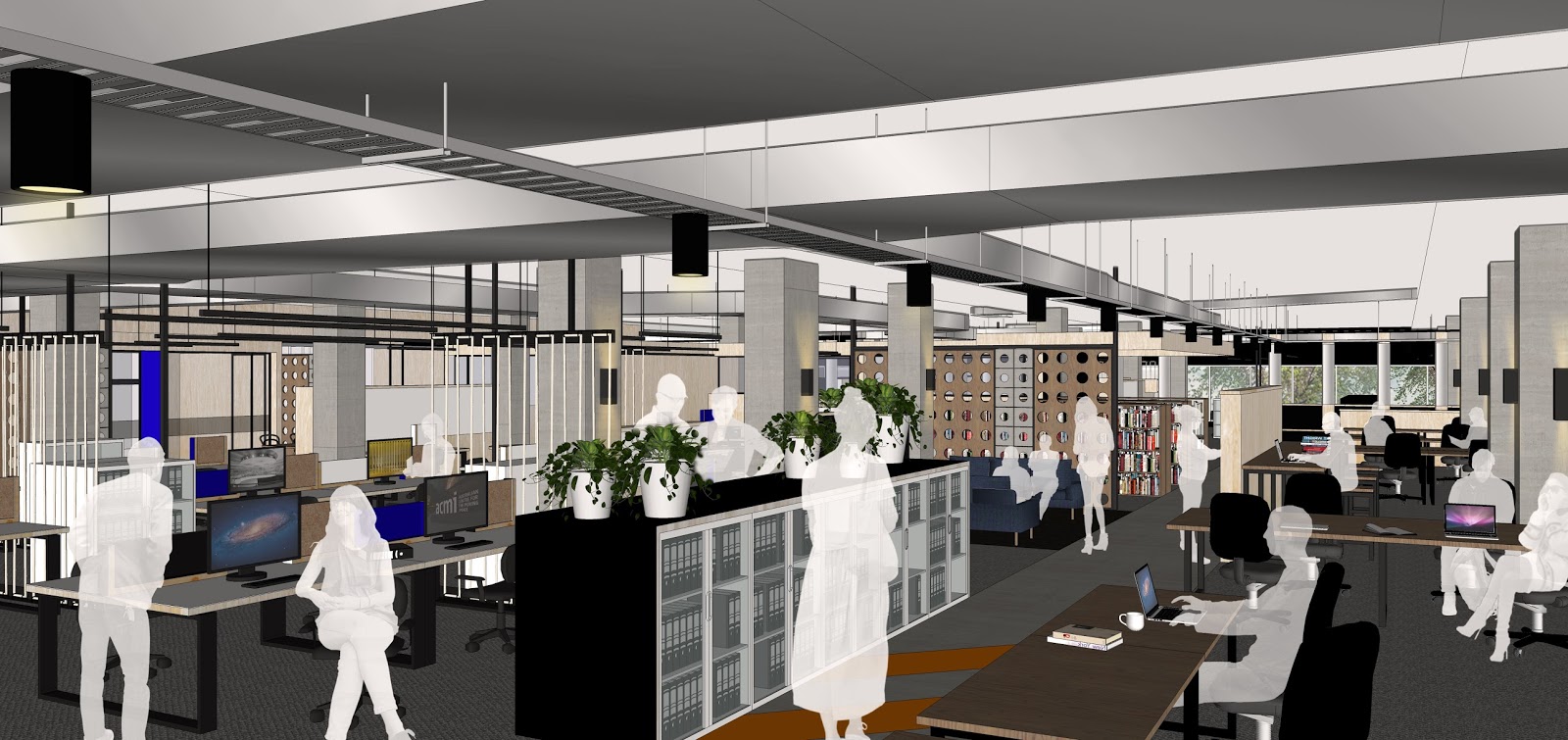 Rendering of co-working office space at ACMI X

ACMI X is a 2000sqm office space, designed by award winning architects Six Degrees, that will not only house eighty of ACMI's programming and operational staff but also will establish a 60 seat co-working studio. Located in the heart of Melbourne's flourishing Southbank arts precinct it will also host the Melbourne offices of the National Film and Sound Archive (NFSA) and the Australian International Documentary Conference.

ACMI X is a new type of co-working community, one that unites start-ups and practitioners from across the creative industries alongside a renowned cultural institution committed to redefining the role of the museum in the 21st Century by exploring the possibilities that lie at the intersection of culture, technology and entrepreneurship.
Skip over related stories to continue reading article
When it opens in late April, ACMI X will house a cross disciplinary community – from filmmakers to tech startups, from games developers to artists working with the moving image, to app developers, graphic designers, theatre makers, VR and AR producers to script writers. Entry is by application. These diverse businesses and practices will be housed inside our office space – working alongside our team daily.

Why did we do it?

ACMI was established 13 years ago. Seemingly ahead of its time back then, ACMI celebrates the moving image across its myriad forms – film, television, games, visual art (and increasingly across the performing arts) and digital culture. We host a dynamic year round program for over 1.2 million visitors annually including exhibitions, screenings, talks and workshops, an education program for more than 70,000 children each year. We look after and increasingly share our collection and that of the National Film & Sound Archive through our Australian Mediatheque. Essentially we have a broad and distinctive brief – one that spans the now oft labeled 'creative industries' – and sometimes it's been hard to explain to our audiences and to industry what we do. We are seeking to find new ways to demonstrate and support this breadth of practice and content.

The moving image has become ubiquitous, particularly with the arrival of the smart phone and tablet. Furthermore, digital technologies have made sophisticated moving image production tools affordable for artists across the spectrum, boundaries are rapidly blurring.

Audiences too are rapidly evolving – they aren't so interested in traditional definitions – film/television/visual art – they're interested in the story and how they can engage with it, through whatever device is available to them. This too offers creatives and businesses new opportunities.

Arts forms are merging, platforms are rapidly evolving, businesses and practitioners can collaborate in ways previously unimagined. Traditional 'siloes' are being broken down. And in the context of a museum of the moving image that's a very exciting thing for us and for our audiences.

But the reality of this collaborative potential can only be realized by enabling proximity. We all naturally sit within our own bubbles. How can ACMI enable the conversations – often spontaneous and informal – to occur, to nurture this collaborative and creative cross disciplinary potential? And how can we harness this energy and inspire our own working practices and programming.


Since we were established in 2003, we've not been able to fit all of our staff on site at our museum. Eighty people, including all of our curatorial and programming staff, have been based in an office that spanned over three floors. Our organization was physically silo'ed. I joined ACMI as Director CEO last year and wanted to find new ways to work together as we re-imagined what a 21st Century museum could be.

In a wonderful piece of timing, our office rental lease was up after a decade. Instead of being trapped within a physical structure that limited our options, we had the rare opportunity to move – and to find a new space big enough to expand our footprint on a single level.

We took this opportunity to extend our open plan footprint to 2000 square meters, moving into a building owned by the Australian Ballet, adjacent to the National Gallery of Victoria, Arts Centre Melbourne, The Melbourne Recital Centre, the Victorian College for the Arts (Melbourne University) and others.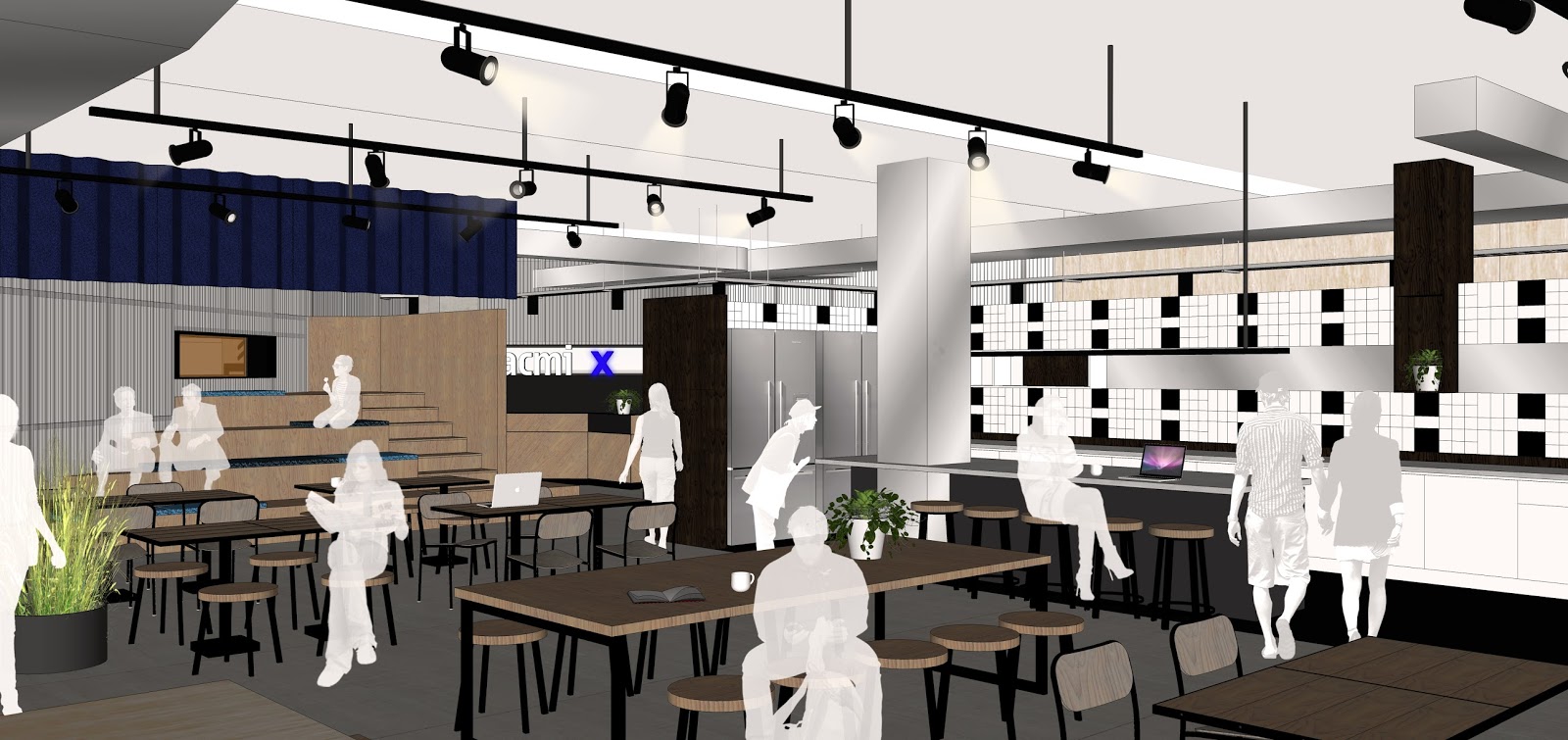 Rendering of central social hub at ACMI X

ACMI X features open plan offices for our staff, for the small team of the AIDC, and for the 10 local staff of the NFSA with whom we are developing a truly participatory and shared archive in coming years. It dedicates 300 sqm to the 60 desks of the co-workers. Dotted throughout the office footprint are six formal meeting rooms, a dozen informal meeting spaces, and a library area complete with reading nooks. We also have a central social hub with a large kitchen, café with banquet seating, and arcade games. By day it's a meeting place, by night it becomes an event space for up to 100 people – for pitching sessions, meet ups, and for our industry events program. Permanent desks are $600/month and come with Aarnet – an internet that works at enormous speeds with the capacity to transport large datasets across the globe. We are also establishing an industry membership program at $30/month, enabling access to ACMI membership benefits, the ACMI X membership program and the opportunity to hire a hot desk for on a daily basis.

For ACMI, ACMI X enables us to leverage our considerable resources back into the sector. It enables a space where proximity engenders spontaneous and accidental conversation – for our staff and for the ACMI X tenants. It may not be that we will collaborate, or that our tenants are necessarily going to make work together but we are going to be sharing ideas, and exploring new ways of working. It enables us to build a community of industry around our museum. It also enables rich partnerships with universities and their post grad students across multiple disciplines and faculties. And it enables deep and dynamic partnerships with donors and the private sector.

ACMI also has 1.2 million visitors through our doors each year. ACMI X creates a pathway for practitioners to access our audience during the process of making work. Say for example you are a games developer – how fabulous to be able to access our audience during the beta testing phase of your work. And our audiences are hungry to be a part of the process.

A 21st century museum model is about enabling audiences to access and explore the creative process; it's a two way conversation – not just about showing the final object. ACMI is eager to support and collaborate in the making of work throughout the journey and to make this accessible and transparent.

Since ACMI X was announced we have been flooded with enquiries. We move in March 21 and begin to welcome our tenants starting mid-April. It's a bold experiment for us but already we can see the benefits of opening our doors and embracing industry.