CFM's report Building the Future of Education envisions a future in which museums are integral parts of a distributed network of resources that support all learners. We are continually on the hunt for fragments of that future that exist in the present, and today exhibit developer Steve Whitt tells us about one such predictive project: a partnership between Roto, the design/build firm where he works on exhibit development, and the local Dublin City Schools. Roto's story demonstrates that the future learning grid can be beneficial for all parties–students bring value to the relationship as well. And it also reminds us that the resources spawned by museums reach beyond museums themselves: in this case, to the outsourced labor of exhibit development. You can follow Roto and Dublin City Schools (including Dublin City Schools STEM Program) on Twitter to keep an eye on this project.
As both a designer and builder of interactive museum exhibits, Roto's work covers the full spectrum of development activities. Informal and qualitative testing has long been a part of our standard practice, but we've now formed a unique partnership with our local school district, Dublin City Schools, to not only bolster our testing program but also to form a mutually beneficial partnership with the community.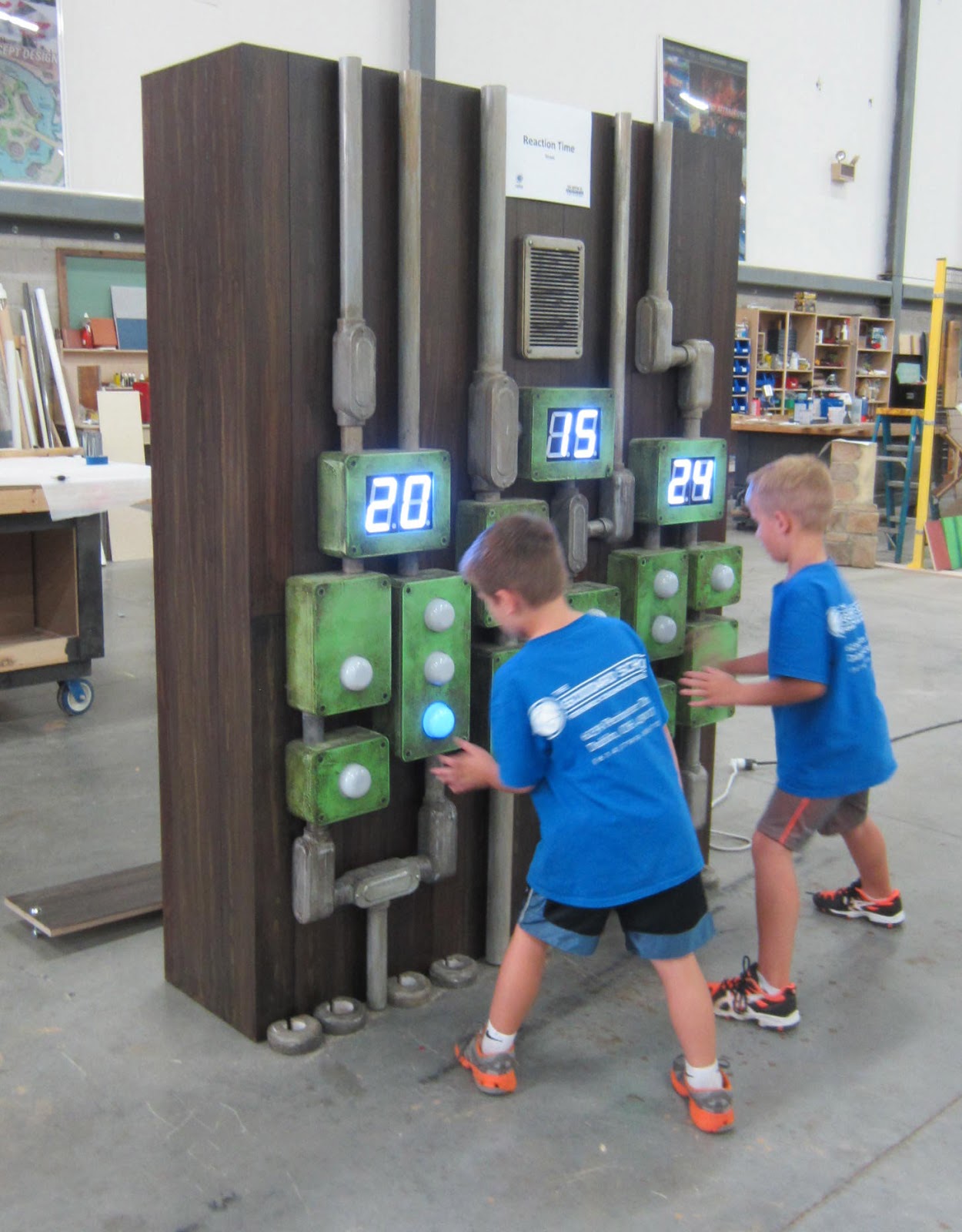 Image Credit: Roto
This partnership includes Roto staff volunteering in Dublin classrooms on select days as part of the district's broad STEM initiatives, as well as mentoring and advising Dublin teachers and students via teleconference. Roto has invited both educator and student organizations to utilize our facilities for conferences and workshops, and we have participated (as a member of the STEM community) in career days and mentorship programs.
We've now begun hosting entire classes from Dublin Schools at Roto for a combination of exhibit/gallery testing and STEM enrichment. When Roto identifies a testing need, we contact Dublin's STEM coordinator with date, grade level, and number of classes desired. Those teachers interested in participating submit their names for a lottery drawing (there are always more interested teachers than spots available). Roto even offers a stipend to cover transportation costs, often one of the greatest obstacles to class field trips.
Dublin students help Roto test exhibits and ideas at every stage of the design process. Some testing involves brainstorming and giving valuable age-specific feedback on early exhibit concepts. Other sessions focus on "paper testing" of interactives in the pre-construction stages of development to discover obstacles to effective learning early on. Nearly-finished exhibits and functional prototypes undergo informal and qualitative testing to investigate ergonomic, programming, and signage issues.
In addition to exhibit testing, Dublin students also participate in interactive presentations with members of Roto's design, engineering, and fabrication teams where students get hands-on experience with the tools and techniques Roto uses every day. Classroom teachers are regularly share with Roto the class' goals and course of study; from this information we identify the experiences that can most benefit the class during their visit.
Our testing day also features a tour of Roto, during which students are able to observe employees applying a diverse array of skills. As a design-build firm, Roto's team includes not only engineers, craftsmen, artists, and designers, but also writers, teachers, project managers and "business people."

Near the end of our time together, all students and testers gather together to ask one another questions and reflect on the experience. One of the most intriguing moments occurs when a student asks the inevitable question, "How do you get to work at Roto?" The students are often surprised at the diverse backgrounds and fields of study represented by in the work of exhibition design and building.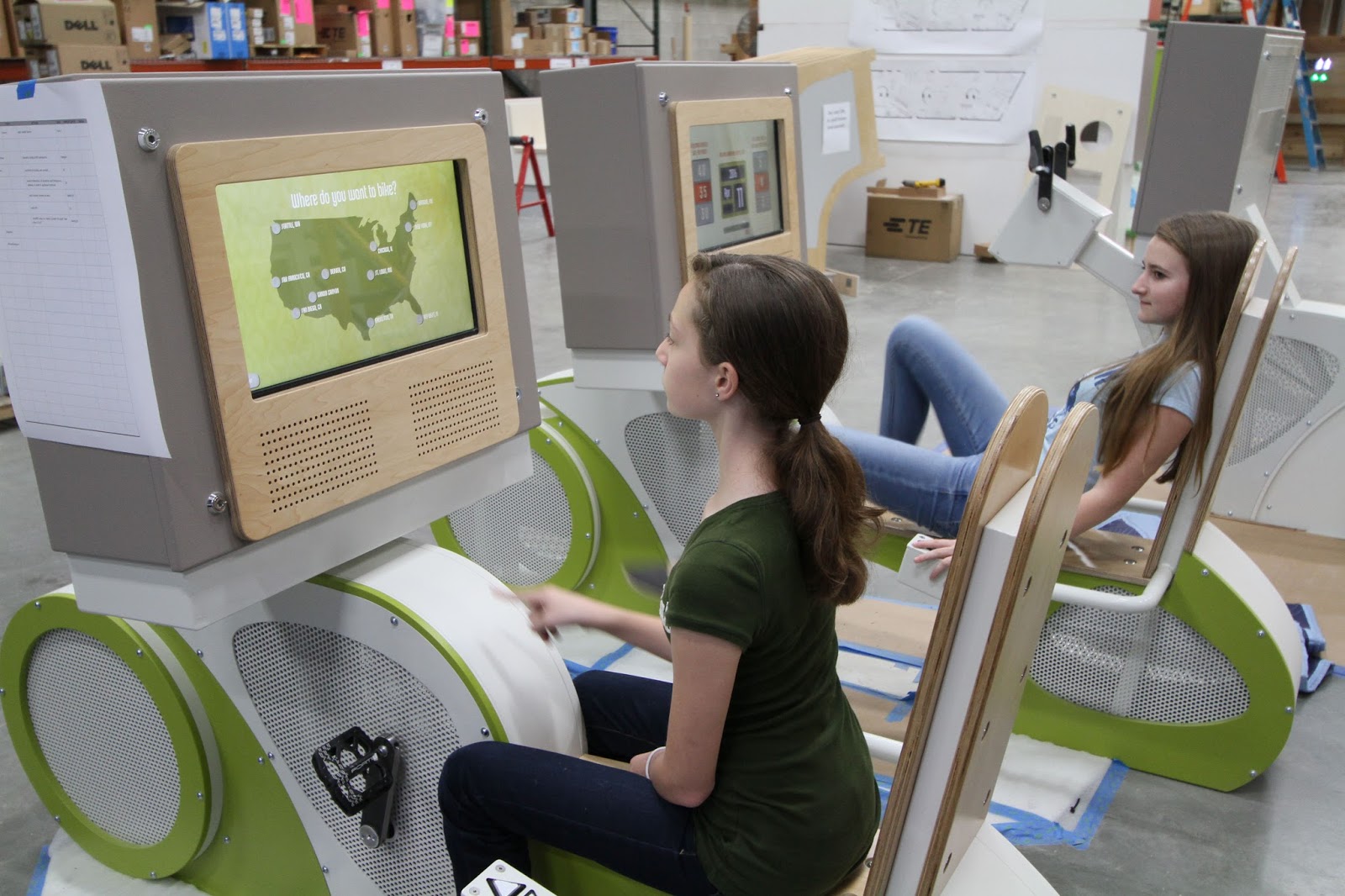 Image Credit: Roto
Our partnership with Dublin City Schools also extends well beyond Roto's needs for exhibit prototyping and testing. Last school year, for instance, we assisted students at Eli Pinney Elementary with a playground improvement project. This year Roto is assisting that same school with a project in which students are building their own science demonstrations to help teach younger students about sound and light. As part of this program, the entire Eli Pinney 5th grade has visited Roto for a testing program, one class at a time. Dan Lowe, one of the fifth grade teachers at Pinney, said, "Through experiencing, hands-on, what the experts at Roto do, my students have gained real world knowledge of how their creativity, perseverance and problem solving skills can be put to work in and out of the classroom." Andy Hatton, Dublin's Director of STEM Curriculum, adds, "We are truly proud and honored by the partnership we have with Roto – a world class company right here in Dublin, OH that is not only willing, but actively seeking ways in which to partner with our learners at all levels."
The impact on Dublin students can be seen in their genuine excitement and authentic investment in their learning experience, as seen in this music video created by 4th graders at Riverside Elementary.
Skip over related stories to continue reading article
Roto is excited to continue our relationship with Dublin City Schools. While the original impetus for the program was simply to formalize exhibit evaluation practices that had grown organically, it is the strong alignment with our organizational mission to the goals of informal learning in all its forms that fuels our continued commitment.