Monday musings are my way of sharing "brain blorts": brief, off-the-cuff thoughts about something I have read (or in this case, heard) recently, both to help clarify my thinking an in the hopes of generating discussion and response. I give myself 15 minutes or so to jot down a summary of the article(s) stuck in my brain, and outline why I think they may be important.

In TrendsWatch 2016, I observed that society seems to be deploying museum staff like "cultural hazmat teams" to handle socially toxic artifacts. Last week, listening to episode 203 of the excellent 99% Invisible Podcast, I discovered that libraries have a long tradition of playing this role, creating storage areas–in Germany called "Giftschrank," or "poison rooms"–to contain material that might contaminate the reader. Originally these rooms contained religious heresies, later they quarantined works deemed sexually deviant. "Giftshranks" are in the news again because the Bavarian recently decided to authorize the republication of Mein Kampf for the first time since the end of WWII. Hitler's fictionalized autobiography was deemed politically contagious for many decades, locked away in the Bavarian State Library and guarded by vigilant librarians who screened users for potential Nazi tendencies.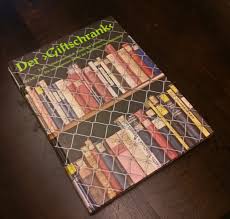 The podcast is about 38 minutes long–I recommend you queue it up in your playlist. Listen to the history of how libraries have deal with quarantining untouchable materials, and think about the lessons this approach might hold for museums. In an era moving to privilege open access, what role might museum staff be called upon to play in deciding who should, or should not, have access to racially or culturally offensive materials?
Skip over related stories to continue reading article